Robin's lost axe is a quest in the game.
Where is Robin's Lost Axe?
Robin lost track of her axe in Stardew Valley in the south area of Marnie's ranch. She remembers the last time she used her axe to chop some trees south of Marnie's ranch. For completing the quest, you must find and return it to its owner, Robin.
Also Read: Stardew Valley: Geologist or Miner? Which One To Go For?
Finding Robin's Missing Axe
The woods beneath your farm area, south of Leah's house, are where Robin's missing axe can be recovered. You can find her axe at the bottom of the hill, down into the woods, if you walk in a straight line directly from your farm. To find the lost axe, we have provided a step-by-step guide for you. This guide will help complete the quest of finding Robin's lost axe. In the end, you'll be rewarded for completing the quest.
Here's How To Do It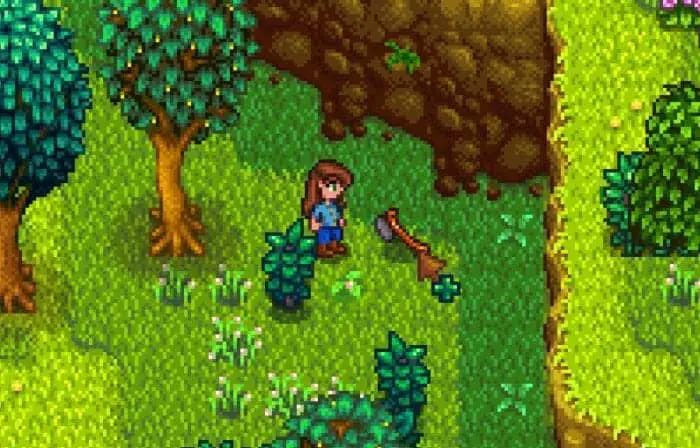 You must first drive to Marnie's ranch in Stardew Valley, which is located south of your farm. There are two ways to get there. You can either go through Pelican town (Jodi's hometown) or continue west on the circle. Alternatively, if you can get past the overgrowth to the south of your farmhouse, you can get there immediately.
It would be beneficial if you kept walking in the south direction. You'll end up at the water's edge. When you reach the water, turn south and follow it until you arrive at the bridge.
Pass the bridge and proceed eastward. If you continue east, you will shortly come to a forest.
In the forest, proceed eastward through the trees until you come to a cliff.
After crossing the ledge, turn south.
Don't stop moving in the south direction unless you find Robin's missing axe.
Bring the axe to the Carpenter's shop. (Carpenter's shop is north of Pelican Town). You will find Robin at the Carpenter's shop. Your quest will be done after you give Robin the axe.
The mission for Robin's lost axe should be completed by finding and returning the axe to her. By opening the journal, you can earn the quest's reward of 250 pieces of gold. How can I get the journal to open? Simply hit the "J" key or click the (!) symbol. If the "J" key on your keyboard doesn't work, sign underneath the Total amount of Gold. Is the journal still unopened? To obtain 250 pieces of Gold and one friendship heart, click the reward at the bottom of the "Robin's lost axe" task. You will receive a reward at the end of each quest.
Stardew Valley is a fantastic game because it requires players to use both skill and tactics. Stardew Valley somehow seems to be realistic in the sense that it encourages us to finish the actual missions more quickly. 
Also Read: How to Design a Farming Layout for Your Junimo Hut?
About Robin
In Stardew Valley, Robin is a friend of Gus'. She is married and lives with her husband Demetrius and two children at 24 Mountain Road on THE MOUNTAIN. Sebastian is the name of her son, and Maru is the name of her daughter.
Robin has her own carpentry shop and is the town's only carpenter. She works in her carpenter shop from 9 a.m. to 5 p.m. every day (except Tuesday and a portion of Friday).
Robin delivers gifts via the mail on a regular basis. If your friendship level with Robin is more than zero, she may send you a present in the mail. To boost your chances of receiving a gift from Robin, become a better friend and raise your friendship level with her. She also occasionally sends out free recipes, such as pumpkin soup.
Quests of Robin
Robin's missing axe quest: Robin will write you a letter on the eleventh day of spring. She will explain that she misplaced her axe while cutting a few blocks of wood and has been unable to locate it. She will reward anyone who assists her in locating the axe with 250 gold coins. After finishing this Robin's Lost Axe task, the player will get 250 gold coins and one friendship heart.
On the 21st day of winter, Robin will write you a letter. She'll expect you to deliver her ten hardwood pieces. Upon completion of this task, you will earn 500 gold coins and one friendship heart as a reward.
Keep an eye out for the sign that says "Help Wanted" in front of Pierre's General Store. At the board of Help Wanted, your pal Robin nonchalantly demands Store or Wood. You will be rewarded with 8x the item's base value as well as 150 friendship points.