Terraria is a game focused on crafting, exploration, and survival. The game employs procedural creation to generate a new environment in each game. Terraria places a strong emphasis on repurposing components discovered during excavations and spelunking to build new objects, structures, and machinery.
Many gamers may become confused as they advance in Terraria, unsure of where they should go or what they should do next. Terraria is a free-form game in which players are not restricted to go anywhere or accomplish anything. You are free to create and achieve your own objectives, whether you are a constructor, warrior, adventurer, collector, or anything else.
Many people have been curious about how to favourite items in Terraria because doing so prevents you from mistakenly erasing an item from the inventory. Favourite items cannot be quickly heaped, tossed, thrown, or dumped till they lose their preferred position. You can learn more about how you can favourite items in Terraria below.
How Can You Favourite Items In Terraria On A Mac Or Pc?
First and foremost, you should be aware that you can only "favourite" an item in the PC and Mac versions of Terraria. Other gaming platforms have a similar but unique mechanism, which will be described briefly below. However, before we go into its details, here's what you have to do to favourite an item in Terraria on Mac or PC:
Open the inventory.
Select the item while holding down the Alt key.
Once you do that, the item will be surrounded by a border.
Keep in mind that if you put a favourite item into the equipment spaces and then return it to your inventory, the favourite status will be lost, so you'll have to press Alt and select it again to favourite it.
D-Pad Hotbar Console Controls: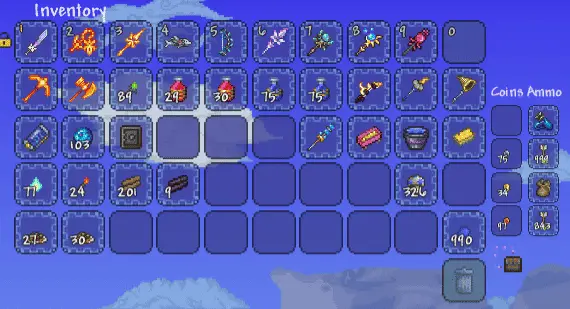 It is important to remember that connecting an item to the D-Pad is not the same as selecting it as a favourite. For one thing, console versions of games lack the "quick trash" option seen in PC versions. Inventory organization is a little more difficult as a result of this, and it also protects you from unintentionally deleting goods you wish to preserve.
Just do the steps mentioned below to attach or link an item to the D-Pad and designate it as a favourite on Xbox One and PlayStation 4.
Launch the inventory.
Choose the selected item.
Use the D-Pad to select a direction.
By doing so, you may add that item to the Hotbar instantly by hitting the directional button you assigned it to.
Radial Hotbar on the Nintendo Switch
Terraria for Nintendo Switch does not allow you to favourite an item. You'll have to settle for the radial Hotbar. To access your finishing products, enter the Hotbar by pressing the left or right bumper. You can also use the analogue stick to aim at the chosen item and, once highlighted, simply press the button to equip it. Hopefully if you're playing on a PC or Mac, you'll be able to favourite an item of Terraria after reading this article.