Hello, players! Have you already made your dream city? If not, what are you waiting for? Here we are talking about Cities: Skylines, one of the most popular city-building games in the last few years. This single-player game came out of the Paradox Interactive house, and you can find it on the Steam platform.
Also, this game can be played on various game consoles, such as Xbox One or PS4, so you really have no excuse not to download and install it today. In this article, we will talk about tunnels and how to build them in your city.
Tunnels, more precisely, their construction often gives headaches to players, and forums and discussion boards are flooded with questions and tips about building tunnels. Stay with us and learn how to build tunnels and improve the look of your city..
Cities: Skylines is a city-building simulation game that came out in 2015 and continues to expand the community of players of this game. In this game, you have to be the mayor of the city, the leader of the city, whatever you want to be called.
You start from scratch and have a budget; you build industrial zones, residential houses, and commercial buildings that will provide jobs and entertainment for your citizens. In addition, you have to build roads and connect city zones with traffic, take care of the environment, and take care of your citizens' quality of health and life. Sounds like a lot of fun.
Here, we will answer the question that interests you, and that is how to build tunnels in Cities: Skylines.
Also Read: How to Deal With "Not Enough Buyers for Products" Problem in Cities: Skyline?
How to Build Tunnels in Cities: Skylines?
Tunnels belong to the category of underground roads, and as elevated roads, they can be built in the same way – they will only be a bit more expensive and will be located underground. The positive side of all underground roads, including tunnels, is that they do not take up space in any zone; more precisely, underground roads open more space for construction on the surface.
When building underground roads, certain parameters must be considered; for example, there is a maximum depth to which the tunnel can go. Also, underground roads tend to collide with underground train tracks and metro tunnels. You can view it only by bringing up the transportation panel or by clicking down the key to go below ground level once the underground road construction begins.
As you can see, underground roads are a bit trickier to build compared to ordinary roads, and you will need to set aside a little more money than usual in order to have an underground road.
So, if you want to make a tunnel, you have to start building like building an ordinary elevated road but starting down.
First, go to the Roads menu, then choose a road type and a tool (you have a few options, freeform, straight road, or curved road). If you want to build a road that does not start from another road already built, click on the PageDown key just once to lower the road below ground. With PageUp and PageDown keys, you can move the road up and down; however you want.
If you are starting construction from an above-ground road, start building the way you usually build roads, and when you have made the desired shape, just press the Down key before confirming the start of road construction.
If this option doesn't work, check the keybindings in game settings. Sometimes keybindings are set up differently, so you may not find it helpful until you set them up.
If you want to remove the tunnel road, you have to choose a bulldozer and click on the entry and exit level. If you want to improve your road tunnel, choose it and click on entry and exit tunnel, as well.
Also Read: How to Make Money in Cities: Skylines?
Mods for Tunnels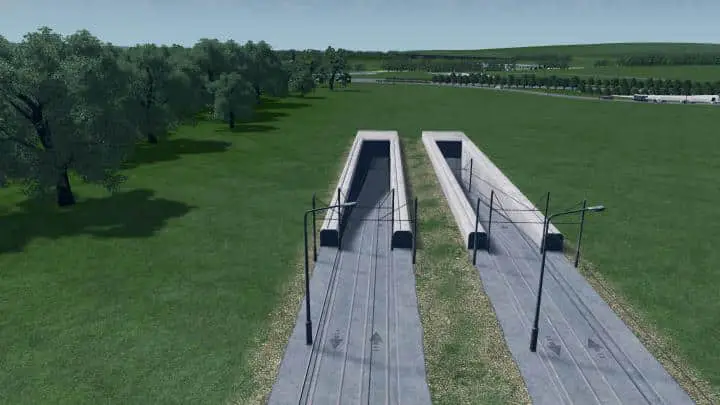 It's no secret that many talented players start creating content for games. So with Cities: Skylines, mods are a very popular addition to this game, and players are looking forward to using mods to add different content to improve the quality of their cities and sometimes just want to add giant hamster statues to make them laugh.
Ingenious mods creators have thought to make a tunnel mod to make it easier for players to add this popular item to the game..
Map Editor Tunnels Enabler
This mods allows players to place tunnels in Map Editor. It can also fix connection of underground train stations with tunnels. With this mod players can place functioning tunnels into their cities.
Tunnel Rendered Vanilla Roads
This mod includes two networks: Tunnel Rendered Two Lane Road and Tunnel Rendered Six Lane Road. Another great mod that can improve your gameplay with tunnels in Cities: Skylines. However, this mod does not support bridge / elevated, it is only for tunnel rendering.
Remember, mods are not a product of the game's official site but of individual people who made and published them. If you want to put mods into your game, you have to know that you are doing it at your own risk. Mods can be found on Steam sites or through online sources. Just find instructions on how to download and insert them into the game.
Also Read: How to Increase Demand in Cities: Skylines?
Final Thoughts
And that's how tunnels are built! As you can see, building a tunnel is not as difficult as it seems at first; if you are skilled in building roads and connecting roads, then building a tunnel will not be a problem for you either. However, you may only need to review the settings of keybindings first in case the PageUp and PageDown keys are messed up. These two keys are crucial for tunnel construction, we can say.
Check these keys and make sure you follow the steps outlined in the text to make your tunnel work; in addition to building it, you have to make sure it is connected to other parts of your city; otherwise, your job will be for nothing.
If you are a fan of mods, check out the mods we mentioned because you and they will be helpful when building tunnels. If you have additional questions feel free to write to us!