There is something genuinely grand about grand strategy games! Stellaris is one of my favorite games, and with Stellaris, you are literally limited only by your imagination.
Here are some cool Stellar fun gameplay ideas for you to unleash your creativity:
1. SOULLESS RAIDERS
Ethics: Xenophobe, Imperialist, Martial
Civics: Ruthless Plunderers
Government: Bandit Gang, Barbaric Chiefdom
This is one of those Stellar empire ideas that germinate in one of your lightish dark moments. You build your pirate bay by capturing and sealing off a few planets in a small nook of the galaxy.
You get down to work and build an agile fleet of power crafts. And from here, you head out on your plundering sprees like some marauding medieval army. You launch swift surprise looting raids on your rich and weak neighbors before they even know what hit them. You are driven by a sole purpose – endless pillage!
You immediately start bulking up your pirate bay with the spoils of your conquests. Build livestock slavery, put them to endless work, and eat them up when you are hungry – after all, you are in Xenophobe territory!
Set up some thrall worlds and keep enriching them with your plunder. Grow your pirate bay into a shining example of grandeur and luxury – all built by sucking the last dregs of sustainable resources from your poor neighbors. They are weakened beyond redemption by now.
Drill the nail deeper into the coffin as you set them up as tributaries for a continuous supply of fattening spoils. With the immediate area subdued, strike out for richer, far away planets. As you tighten your noose around the galaxy, cap it up with the crowning glory of a lethal attack on fallen empire capitals – the meatiest prize out there.
Ascend into biological supremacy. Make your slave-vassal species into tasty, strong, dumb – whatever suits your fancy. Or create psychic pirates who continue plundering along with your evil ways – one of the craziest Stellar race ideas by our reckoning!
Also read: How To Merge Fleets In Stellaris – Conquer The Cosmos
2. APOCALYPSE EVADERS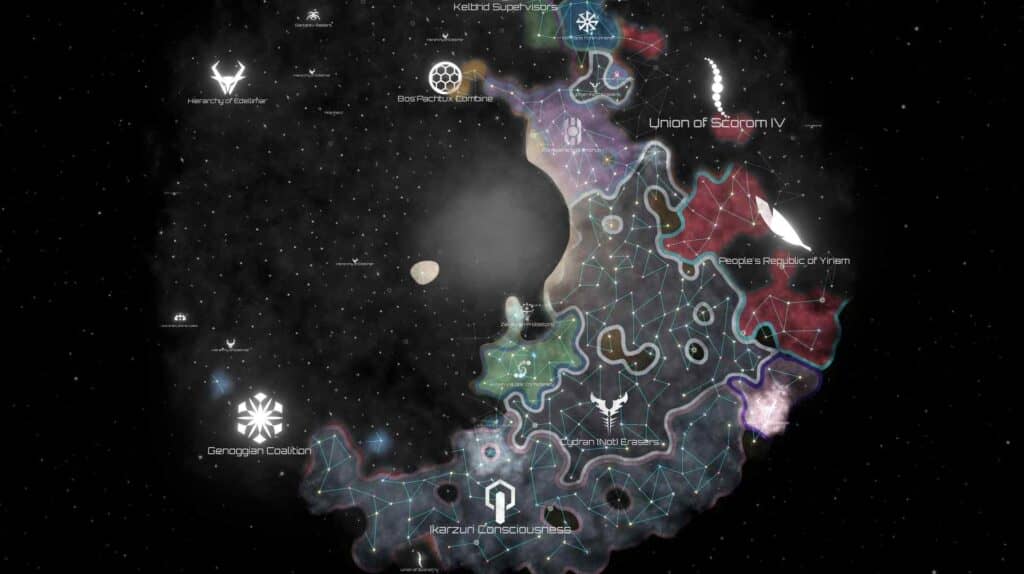 Ethics: Unsatiable Materialist, Xenophile
Civics: Technocracy, Translife
Government: Ideological Autocracy
This empire is driven by a single ideology – to preserve as much of galactic life as it can against any apocalyptic threat. Technology is its means to get there, and it is ready to sacrifice anything and everything on its technocratic altar.
Start off with a relentless commitment to research. Gain a crucial technological head start and set up cutting-edge tech-worlds.
Mid-game is the time to ramp up the military-industrial complex. Beef up your fleet to keep out any radical purists or exterminating scourges that find the obstinacy in them to attack your technocratic paradise.
Beautify your little heaven with resort worlds. Populate them with imported pops who are in a perennial physical-chemical trance.
By the late game, the mightiest empires will be no match for your technological might. You are the guardian of the galaxy, and it is up to you to fight off the last looming threat to the galaxy.
Also read: How To Expand Borders In Stellaris For Your Empire?
3. Corporate Big Brother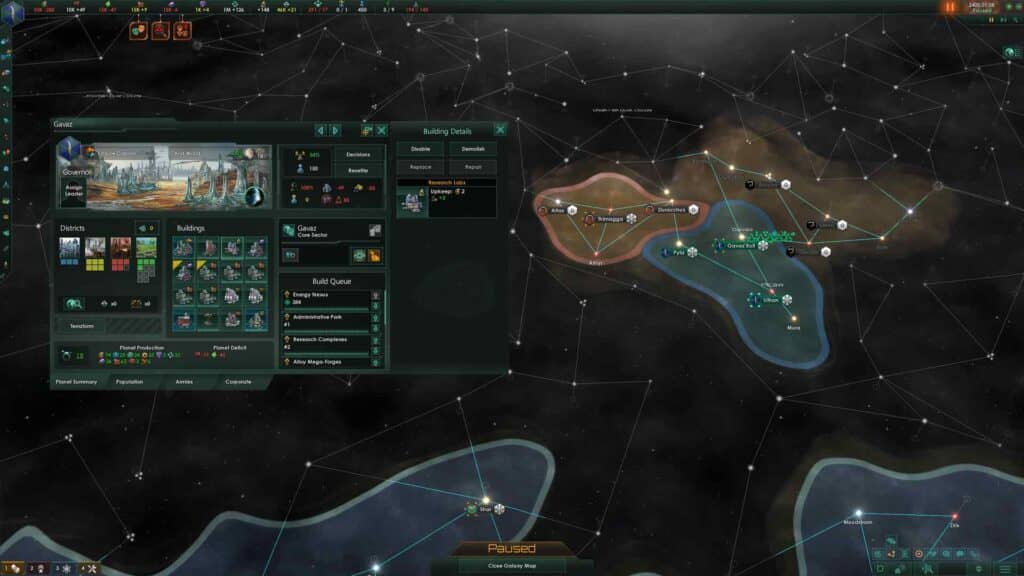 Ethics: Materialist, Authoritarian
Civics: Oppressive
Government: Corporate Mega-empire
This is one of the most sinister Stellar species ideas. A ruthless corporate profit-mill run by the evilest of nihilistic overlords – a species who know fully well the implications of their actions, yet continue to parasitically build their mega empire on the blood of poor worker minions.
Go on a money printing spree with a ruthless drive. Build a fleet, set up sweatshops, take biological control of your slaves, and bring your worst Mammon-worship sentiments into play.
Thankfully, none of the ideas above are real in any form or manner. In the realm of Stellaris sci-fi, they can provide some light-hearted creative fun out of routine boredom!
Maria Beklavac is a passionate Gamer, Marketer & Journalist with over seven years of experience in the Gaming and Technology Industry. Maria has a lot of hobbies, but gaming has always been her favorite one, and that's why she's decided to create GameTaco. On GameTaco, you'll find tons of problem-solving tips from many different video games!