Elden Ring is a fantastic game for a multitude of reasons, no doubt. However, what really sold the game to us was the diversity in combat and builds that the game presented players with. With a plethora of weapons and armor and much more at the player's disposal, Elden Ring has a little something for everyone.
Magic is one of the most exciting parts of Elden Ring's superb combat system. It is at its most enjoyable when compared to previous FromSoftware games. There are various Sorceries and Incantations players can cast.
Therefore, your frustration is justified when you are unable to use a certain spell. Today we will be answering your oft-repeated question: Why can't use Vyke's Dragonbolt in Elden Ring?
To put it simply, your inability to use Vyke's Dragonbolt in Elden Ring is, fortunately, not a bug. Instead, the problem arises when one of the following reasons applies to you:
Your weapon already has an innate Affinity
You do not meet the Faith requirements to cast the Incantation
You do not have the appropriate catalyst equipped to cast Vyke's Dragojnbolt
You do not have enough FP to cast the Incantation
Curious to know more? We suggest you keep reading to identify exactly which issue is hindering your ability to use Vyke's Dragonbolt in Elden Ring. We will be covering each of the aforementioned issues individually so you can be on your way shocking enemies into oblivion as quickly as possible. Without further ado, let us answer your question: Why can't you use Vyke's Dragonbolt in Elden Ring?
Also Read: Is The Dark Moon Greatsword Good?
Vyke's Dragonbolt: Why Can't You Use It?
Why can't you use Vyke's Dragonbolt in Elden Ring? Well, the issue can have a couple of reasons which could be preventing you from using Vyke's Dragonbolt. While it can be frustrating when you simply wish to unwind and be entertained after a long day. Despair not, for this is a common issue many players have come across and we have gone ahead and compiled the reasons below!
Vyke's Dragonboilt
Spell Type: Dragon Cult Incantations
Required: 23 FAI
FP Cost: 35
Effect: Enchants right-hand armament with lightning damage
Description Incantation of Vyke, knight of the Roundtable Hold.
Summons red lightning to bolster both the caster's body and their armament held in the right hand. Enchants armaments with lightning-affinity attacks and increases maximum equipment load. However, lightning damage negation will be reduced.
Of all the knights, Vyke the Dragonspear was the one Lansseax loved the most.
Vyke's Dragonbolt is a Dragon Cult Incantation in Elden Ring which can be received after defeating Roundtable Knight Vyke at Lord Contender's Evergaol. This Incantations buffs the player's right-hand weapon with Lightning damage to give your foes a shocking surprise.
Vyke's Dragonbolt is a handy Incantation to have and the Lightning damage sales with Faith. The effort to attain it is certainly worth it. There might be a few reasons you are unable to use Vyke's Dragonbolt. They are discussed below:
Weapon Affinity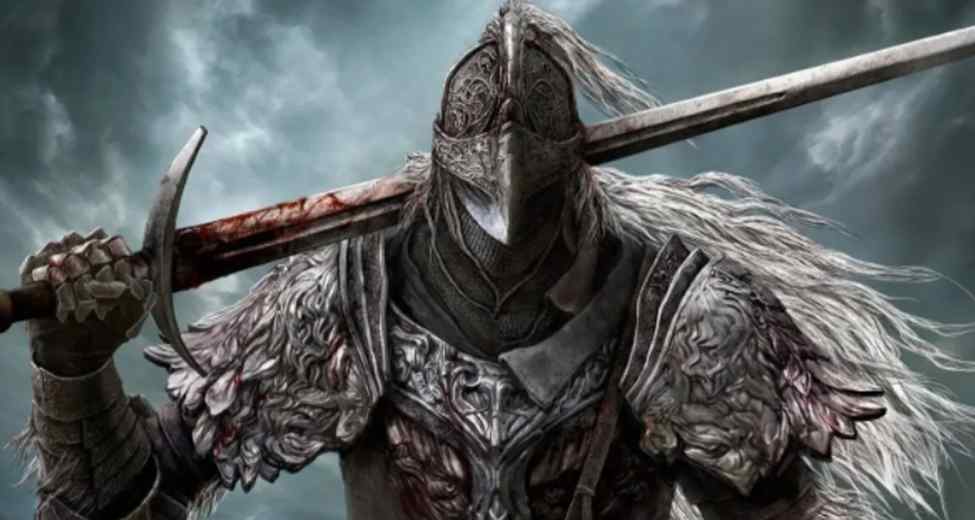 It should be kept in mind that you cannot use Vyke's Dragonbolt on a weapon that already has an Affinity. This can either be the result of past infusion or maybe the weapon came with an innate Affinity that might be stopping you from using Vyke's Dragonbolt on it.
For example, the Uchigatana and Moonveil are both Katana-type weapons. However, the Moonveil possesses a Magic Affinity while the Uchigatana does not. Consequently, one would be able to use Vyke's Dragonbolt on the Uchigatana and not on the Moonveil.
This is the first place you should look if you are unable to use Vyke's Dragonbolt in Elden Ring.
Faith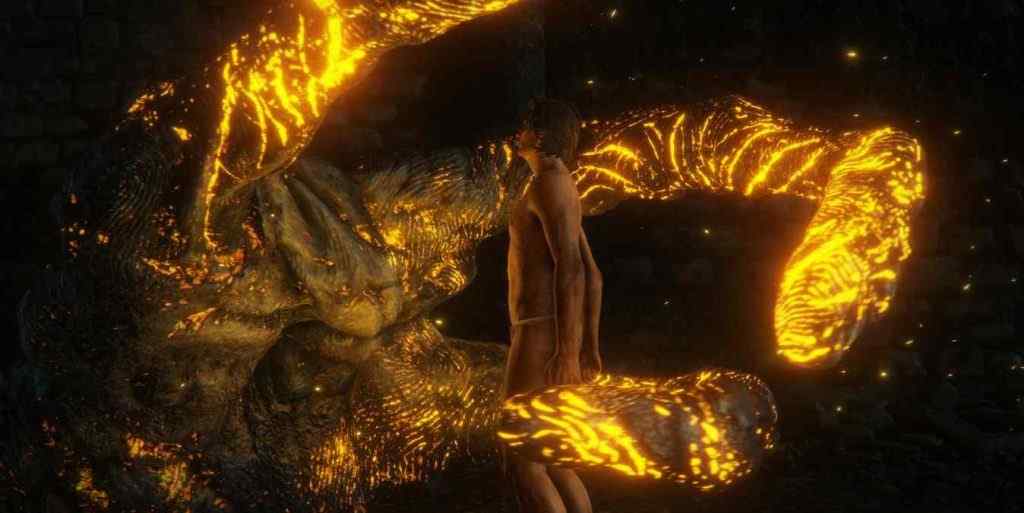 Faith is one of your character's Base Attributes in Elden Ring. Incantations require Faith to cast in Elden Ring. Faith, like other Base Attributes, can be leveled up by investing Runes into it. Having ample Faith determines whether weapons and Incantations are usable or not.
If you are a frustrated player who is unable to cast Vyke's Dragonbolt in Elden Ring, head over to your character's profile and check if you have sufficient Faith to effectively cast Vyke's Dragonbolt. The Incantation requires 23 Faith to cast, and each additional level increases the Lightning damage of the Incantation. 
Also Read: How To Use Vyke's Dragonbolt?
Catalyst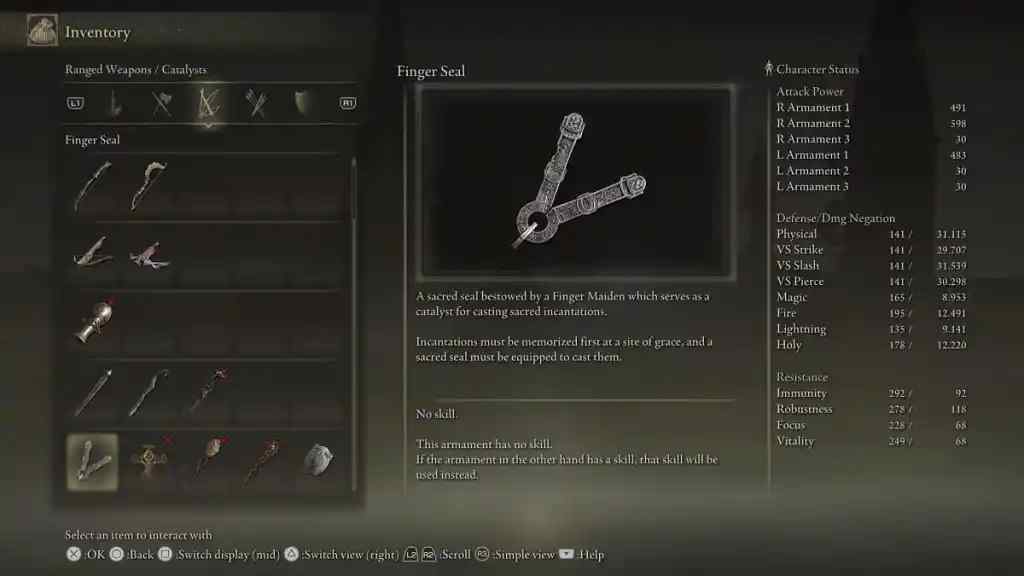 To err is human, and perhaps the reason you cannot use Vyke's Dragonbolt in Elden Ring is a mere oversight. Magic in Elden Ring and its ancestral Dark Souls series requires a catalyst to be cast. Sorceries and Incantations have different catalysts.
Faith spells or Incantations require a Sacred Seal as a catalyst to be cast. Make sure you are in possession of a Sacred Seal and it is equipped in your off-hand Else, you will not be able to use Vyke's Dragonbolt.
The easiest Sacred Seal to obtain is the Finger Seal which can be purchased from the Twin Maiden Husks at the Table of Lost Grace.
FP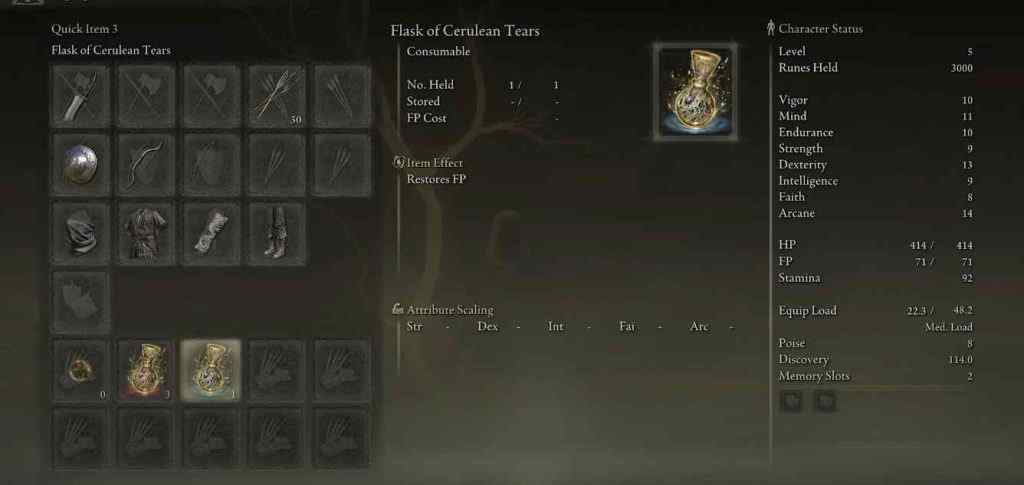 This would not be a classic Elden Ring guide if we failed to include at least one facepalm-worthy fix. This is the most basic fix on our list. FP stands for Focus Points which are required to cast Magic or even perform special skills in Elden Ring. If you were previously able to cast Vyke's Dragonbolt, this could be the reason.
Check to see if you have enough FP to cast Vyke's Dragonbolt. If that is not the case, try taking a swig of your Flask of Cerulean Tears. We recommend investing in Runes for increasing your max FP. The Vyke's Dragonbolt Incantation costs 35 FP to use.
Also Read: Malenia Weaknesses
Conclusion
That brings our guide to an end. Today, we answered your hot question: Why can't you use Vyke's Dragonbolt in Elden Ring? The issue may seem very frustrating and for good reason, but the fix is most likely very straightforward. Check out the aforementioned steps and you will be well on your spellcasting journey.
Leave a comment below and let us know if our guide helped you with your issue. We hope you have a great time playing around with Vyke's Dragonbolt. Good luck, Tarnished!
Maria Beklavac is a passionate Gamer, Marketer & Journalist with over seven years of experience in the Gaming and Technology Industry. Maria has a lot of hobbies, but gaming has always been her favorite one, and that's why she's decided to create GameTaco. On GameTaco, you'll find tons of problem-solving tips from many different video games!