Parrying is a tried-and-true tactic in many of From Software's recent games, from the original Demon's Souls all the way to the swordplay-heavy Sekiro: Shadows Die Twice which leaned more into parrying than any of their games before.
Something you might have wondered as a player, especially if you're coming hot off the heels of Sekiro: Shadows Die Twice is if you can parry the bosses in Elden Ring like you could as the one-armed Wolf.
The answer is a resounding yes. While Malenia is an agonizing fight that will probably leave you stuck for a good few hours, it IS possible to have a much easier time against her if you just parry her attacks instead of dodging her insanely long strings of attacks that seldom give you time to get a hit in return.
After you've tried everything and still haven't managed to beat her, you might be considering giving up, but wait, there's one thing you haven't tried. Parrying, but is it even possible against an overpowered boss like Malenia who can outright break the game's own rules? Well, continue reading to find out.
Also Check Out: How To Use A Bow In Elden Ring?
Is It Possible to Parry Melania in Elden Ring?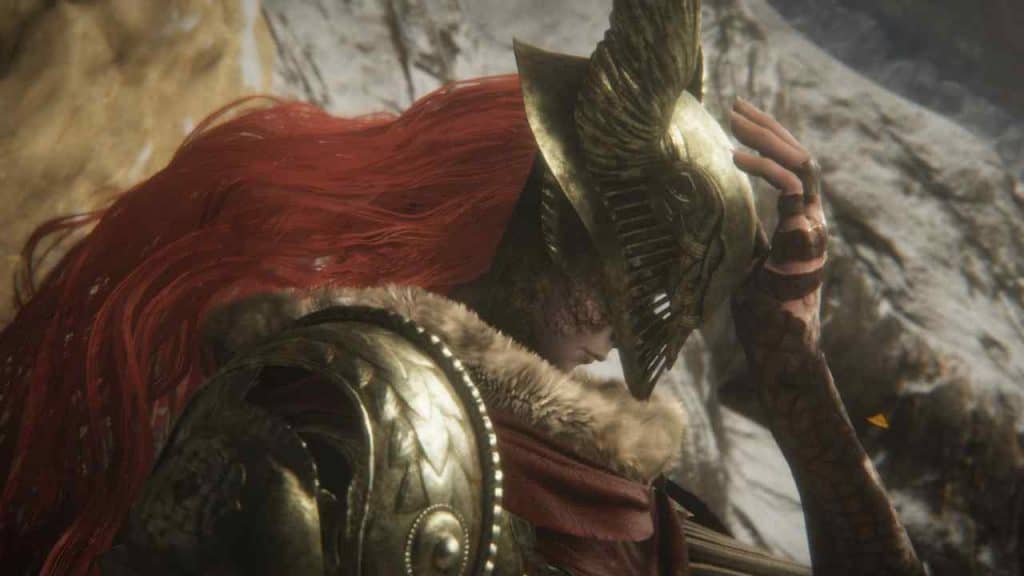 The long and short of it is: Yes, you can, most of them at least. Although considering the fact that you're reading an article about Malenia, an end-game boss, you very likely already knew that.
Malenia who is The Blade of Miquella in case you forgot, is an utterly hellish boss fight that will test you in every possible way. She is by far the most challenging boss From Software has ever designed, trumping the likes of iconic From Software bosses like Sword Saint Isshin, Sister Friede, and Darkeater Midir.
How to Parry Melania in Elden Ring?
Parrying Malenia in Elden Ring works like any other enemy in Elden Ring, all you need to parry her is any shield or weapon that has a parrying skill/Ash of War.
For a boss like Malenia where you'll need to be highly consistent and patient with your parries, we highly recommend using small shields like the Buckler which have the fastest parrying animations in the game.
Also Check Out: Best Curved Swords In Elden Ring
Beating Melania
Malenia's move set involves a lot of lengthy combos combining both slow and extremely quick slashes that are meant to throw you off, on top of that each hit does a tremendous amount of damage to your health and also heals Malenia as well.
This means that even though you can parry most of Malenia's attacks, you'll have to be careful and resort to dodging frequently and bait out safe, easy-to-parry swings. Keep in mind that you'll have to parry Malenia twice for her to actually get stunned and be open for a Riposte.
As for attacks that you cannot parry, Malenia's infamous move, the "Waterfowl Dance" is a unparryable move so you'll have to avoid it like you normally do. If you don't know how to avoid the Waterfowl dance, worry not, we'll tell you.
Also Check Out: Why Does Blaidd Attack You In Elden Ring?
How to Avoid Melania's Waterfowl Dance: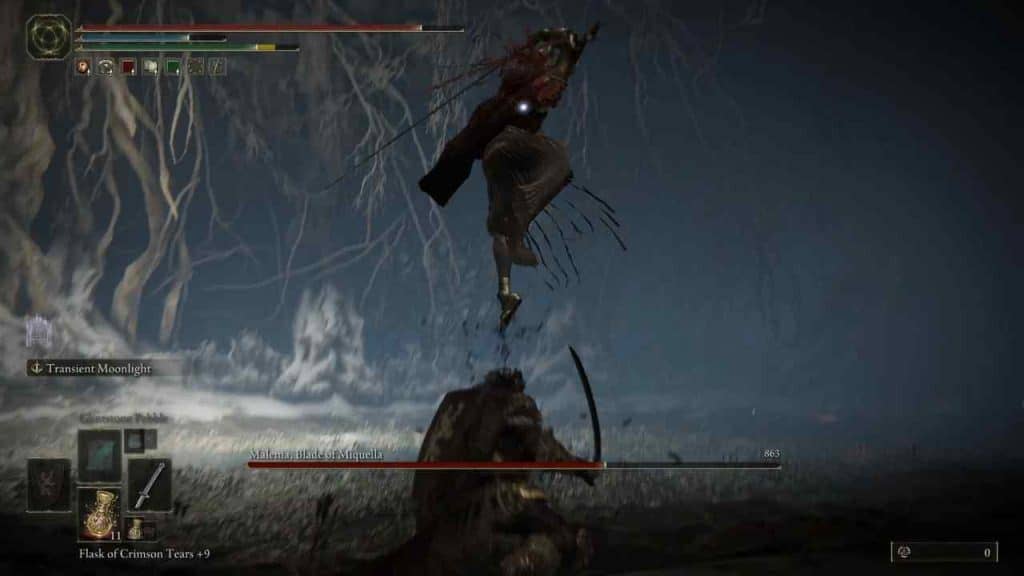 Make sure you're a good distance away from her when you see her bracing for the attack and start running away from her first flurry, roll INTO her second flurry and simply stay still or walk towards her before she starts her third flurry.
This tactic requires you to have high stamina but if you play carefully it can be used to avoid damage fairly consistently, especially if Malenia starts that attack when you're close to her. Grab a shield and make sure it has 100% Physical Damage resistance, block the first flurry, and then do the same as above for the next two. Keep in mind, that even if you block this attack she can still somehow heal from the first flurry.
For this, you need to make sure you have the Bloodhound Step Ash of War. Equip that on any of your weapons and it lets you dodge the full attack fairly easily.
If you're using a bleed weapon and feeling lucky, you can hope for the best and attack her as she's leaping into the air. If the bleed procs, it will cancel her attack and also leave her open to a few more hits as a bonus.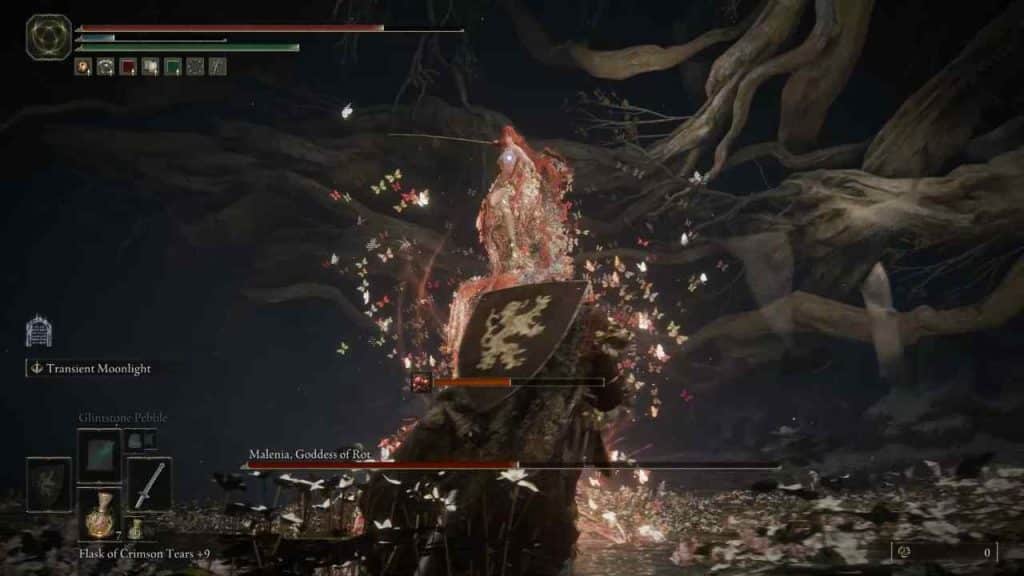 The other attack that you have to be careful of is in Malenia's second phase, Malenia will leap into the air and start attacking using her clones.
This attack also cannot be parried and is also one of her most dangerous attacks, while the key to avoiding this attack is to simply time your dodges right, what worked for me during my winning run against Malenia was to time the first dodge almost perfectly and then immediately start spamming the dodge button which works well enough where you can avoid all of the attacks.
Conclusion
This has been our guide on whether Malenia can be parried in Elden Ring or not. One of the most punishing and exhilarating boss fights in the game and it does not disappoint. Time your parries right and be patient and cautious, and you'll eventually be able to best the Goddess of Rot. Good Luck, Tarnished!