Dragon Age Inquisition is definitely not an easy game. Many players spend hundreds of hours on Dragon Age and the Dragon Slayer DLC but still aren't able to start a game. The magic might be of some help, but having a good weapon is also essential.
With the Dragon Age Inquisition best staff, you can ease your Dragon Age Inquisition walkthrough, making it much easier for you to progress in the game. Whether you are battling Corypheus or demons of the Veil, here are our top five picks for the best Dragon Age Inquisition staff:
Also read: The Best Classes in Dragon Age Inquisition
Encore Schematic Staff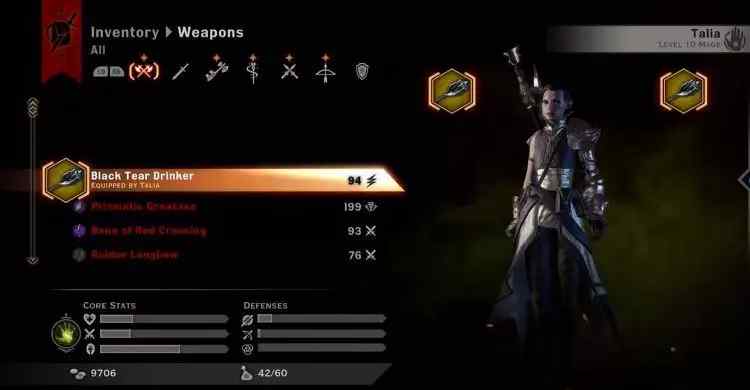 The Encore Schematic Staff is considered as the overall inquisition best staff of the game. However, the downside is that you will have to buy and install the storyline's epilogue Trespasser DLC in order to acquire this staff.
With the help of the Golden Nug located in the workshop, you will be able to use this staff in a different mage or another playthrough.
Using this staff, your game will be running at an incredible 94-125 DPS. Not only that, but you also get numerous upgrade slots and a chance to cast a unique buff among three to your whole party: Mark of the Riff (gives an additional elemental damage of 42), Sing-Along (regenerates health by 2%), or Battle of the Bands (gives an attack bonus of 20%).
This staff can only be found in the Trespasser DLC, where you must navigate the treasure maps to various locations in the Winter Palace.
If you get this blueprint and are able to craft the staff, you may only be able to do it for a few hours of gaming. However, you can circumvent this with the Golden Nug, which encourages you to keep the staff for the next game or gameplay.
Unfortunately, since this staff must be crafted, it is unavailable on the multiplayer server. Nonetheless, this staff will simplify your PvE campaign and make it a breeze for you.
It is highly advisable that you pass this to a new character and compare the DPS and play types.
Staffs are excellent provocation offensive arms, but you must still be able to defend yourself. We've compiled a list of the best Dragon Era Inquisition armor.
Pyre of the Forgotten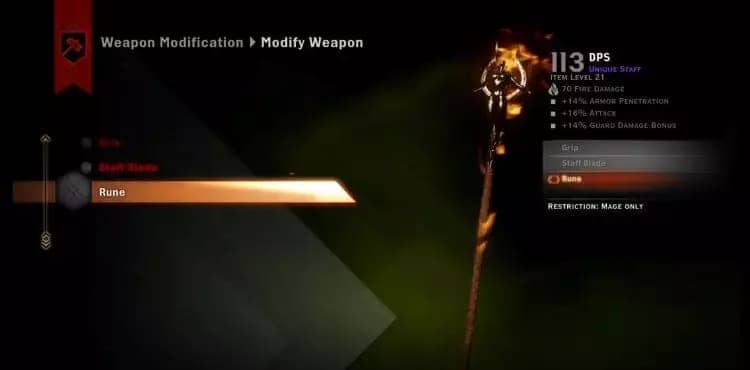 "Pyre of the Forgotten" is a one-of-a-kind best staff in Dragon Age inquisition that digs deep into Dragon Age mythology. Pyre is modelled for the gods of Forgotten Elven, who are sometimes known as the gods of Old Elven.
The Dread Wolf and Mythal are some of the gods that are revered in Dragon Age Inquisition. One of Daern'thal's priests is claimed to have wielded this staff.
This staff is a must-have when it comes to DPS! For the main game, this staff has a strong DPS (110-113). When you factor in the three upgrade slots, every player should be enticed. You will do a lot of harm with this staff because it has a +14 percent guard damage bonus as well as a +16 percent attack bonus. It's ideal for dungeons.
Ironically, it still has +14 percent armor penetration; but, since physical assaults are not relevant, the buff is absolutely worthless for players.
However, due to their excellent defense, you can combine this with the templar to escape big hit points and swap weapons when required.
Many people are afraid that since this is one of the inquisition best staffs, it would only be used as single-player DLC. However, the good thing is that this isn't the case.
Pyre of the Forgotten can also be bought in the Western Approach if you own The Short List Inquisition perk.
Even if you're just purchasing this item, it's well worth the effort to overtake Griffon Wing Keep.
You're in luck if you're a multiplayer fan. This item is also accessible in multiplayer mode…with the same stats. This staff can be unlocked to do fire harm to all enemies you encounter.
Also read: The Best Veronica Build & Equipment in Dragon Quest 11
Staff of Corruption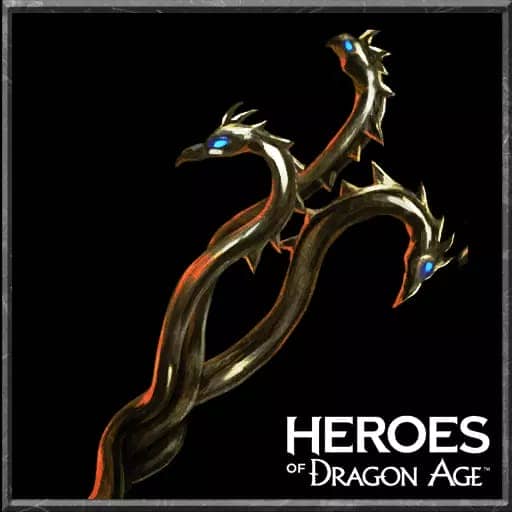 Staff of Corruption is an amazingly helpful Dragon Age Inquisition staff, which is a tier 4 schematic.
This staff is for you if you enjoy getting up close and personal in games, particularly if your character is going to be a Rift mage.
Corruption's fighting mechanism has a strong DPS of 94-125, based on the materials used to construct it.
Not only that, but elemental harm can also be done from three separate elements courtesy to the cool three-headed snake! This ensures that only a few opponents would be able to overcome your magical abilities.
This schematic can be purchased from our shady merchant pal in the Black Emporium. All you need to do is purchase the Schematics of Legend from the Emporium for a whopping 17k gold.
The bad news is that this staff is a crafted staff, so you won't be allowed to carry it into an online game with you and wreak havoc, similar to the Encore Staff.
Wrath of Lovias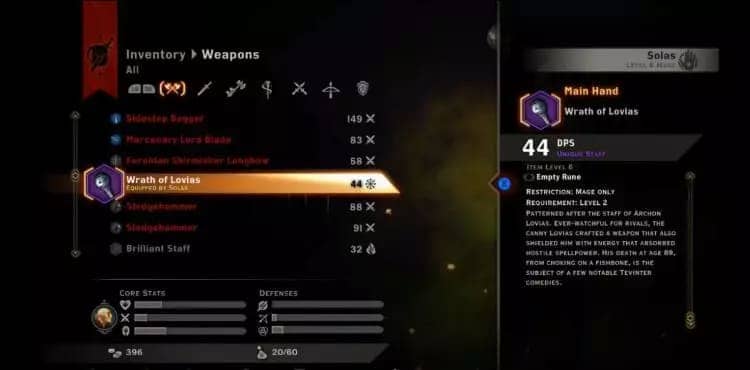 Next up in our list, we have the Wrath of Lovias staff. This staff is distinct from other staff in the game in the sense that players can use it in two ways. The first is a fantastic beginner's staff that can annihilate your opponents.
Whereas the second one is a tier 4 schematic, it's ideal for Mage (also known as Wizards or W.e.) and Templars.
This staff is a great crafting option due to two reasons: firstly, it has a good DPS value. Secondly, it does a great amount of elemental harm.
It's designed to complement a Knight Enchanter's high DPS and is a fantastic way to boost your magic strength.
The additional three upgrade slots even make it simple to adapt the workforce to various builds.
The base staff can assist you in boosting your stats at the start of the game. That also means you won't have to replace staff every few stages because the team would already be excellent.
You can buy the schematic 4 tier staff from the Black Emporium. If you haven't already installed this DLC, you have to do so in order to have the strongest arm stats available.
During the Apostates in Witchwood hunt, our base staff can be quickly looted from the elite Rebel Mage.
It's time for the good/bad news. The designed tier 4 monster would not follow you through multiplayer adventures. Your base staff, on the other hand, should!
Also read: The Best Dragon Age Inquisition Perks
Deathward Staff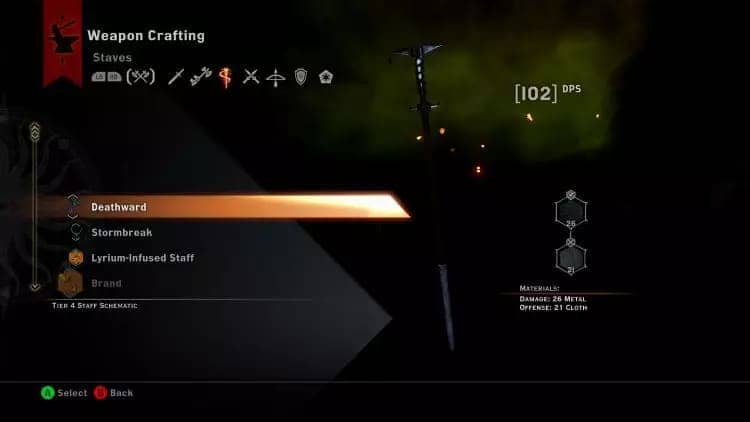 Deathward has a fantastic pre-game questline as well as the best stats for your Necromancer creation. The origin of this staff is Navarra's Mortalitasisect, which is known as the initial guild of Necromancing.
This staff is the best for your Necromancer because, first of all, you get three upgrade slots in which to experiment. You can improve these by using the right staff blades and grips to do undead harm and boost your immunity. The DPS is adequate, but it's the stats that always shine!
Your Necromancer will receive +9 Willpower, 1% of full health, and +10 Constitution with this staff. This ensures that even though they have to get up close to opponents, the Necromancer mage will take a pounding.
In the Emerald Graves, you will have to get Deathward by playing the questline, which is a pleasant grind. When you interact with any of the Astrariums, you will get the Astrariums in the Graves hunt.
Since there are only three of them, you will complete them quickly, even when you are working on another task.
If you've triggered all three Astrariums, you'll be able to explore a cave. For your fighter classes, the main chest of the cave contains a maul and a free Deathward.
Conclusion
If you're fighting villains in multiplayer or Corypheus forces in story mode, your game needs the best staff available.
To find the right staff for your playing style, concentrate on building your strategy. And potentially, you'll be able to achieve your goals!