Imperial crafting is among the game elements that distinguish Black Desert Online from other massively multiplayer online role-playing games. In simple words, imperial crafting is a one-of-a-kind in-game activity that enables you to make large sums of silver by combining the arts of life capabilities with trade. It comprises two main skills: imperial alchemy and imperial cooking, which are both learned via experience.
Imperial alchemy and imperial cooking are two different subgroups of trade that need alchemy or cooking to carry out their respective functions. The use of imperial crafting allows you to create trading boxes, which you can then sell to NPCs for an amazing profit.
Imperial Cooking
Imperial cooking provides a wider variety of cooking recipes that players can use to make a large amount of silver. To vend to the "Imperial Crafting Delivery Trader" NPCs in return for silver, you may craft and package various items.
When you deal with any of these NPCs, you will see an options bar, along with a list of resources that you may use to craft items. The boxes with the names Apprentice Cooking Box (ACB) -> Guru's Cooking Box (GCB) are the ones you want to pay attention to the most (determined by your cooking level). If you hover your mouse cursor over the box, you can see which items may be used to make the imperial box, as well as the amount of food required to make each box.
Yet, certain things do not fall into any of these categories. These objects are old boxes or boxes that are related to certain events.
The "Daily Delivery Quantity" is the maximum number of boxes you may sell to the imperial crafting delivery manager in a single day. It is calculated by taking 50% of your contribution points into account.
To make a box of imperial cooking, navigate to the operating menu(p), choose the Imperial Cuisine section, press the right-click on item from which you wish to produce boxes, and then hit start on your keyboard.
As you can see, I've accumulated a collection of boxes that I may sell to the imperial crafts delivery manager for profit. Make sure you complete all of your turn-ins on a daily basis for the greatest results!
There are six different tiers of boxes that you may create:
Apprentice Tier
Skilled Tier
Professional Tier
Artisan Tier
Master Tier
Guru Tier
Now, let's go over the details of each of these box tiers and the recipes to utilize to create them!
Apprentice Tier To Master Tier Boxes For Imperial Cooking
If you ever come across an item or a recipe you'd like to create but aren't sure what materials or resources are required, you can simply look them up. Simply press the F2 key, and a display bar will appear, allowing you to enter in the item craft or recipe that you'd like to make, and it will list the items you'll need to complete it.
Please keep in mind that certain ingredients, such as mineral water, cooking wine, and other ingredients such as sugar and salt, can be purchased from cooking supply stores. These merchants may be found in every large city, such as Velia or Heidel, and smaller towns. Let's have a look at the different recipes for each tier.
Also Read: The Best Ways to Enhance Energy In Black Desert Online
Imperial Cooking Boxes — Apprentice
Thick Five-Grand Chicken Porridge
2x Ground Bird Meat (go to the processing menu and grind chicken)
2x Mineral Water (go to the cooking vendor and purchase)
3x Wheat (obtain from the nodes in the game)
In this recipe, the primary ingredient will be ground bird flesh, which is obtained only by grinding chicken in the processing menu. Wheat and mineral water are the only additional items that are required. The wheat ingredient, on the other hand, is not intended to be taken literally. Product made from starch or flour is what it is translated to mean. Also available are maize kernels from the Loggia Farm and other options such as wheat, potatoes, and barley. At the end of the procedure, these ingredients are blended into the flour. Given that potatoes and wheat are required components, you shouldn't have any problems putting them together.
This recipe is very simple to prepare since all the ingredients are readily accessible from the farms, and you just need to process them to produce the recipes.
Grain Soup
6x Wheat (can be obtained from nodes)
1x Salt (can be obtained after cooking NPC)
3x Cooking Wine (can be obtained after cooking NPC)
1x Mineral Water (can be obtained after cooking NPC)
If you have a large supply of corn or potatoes, you may alternatively prepare grain soup. The other goods are available for purchase from the vendor as well. Due to the fact that you must utilize six wheat-based items to prepare only one meal, you must be cautious not to squander your resources.
The Apprentice level is often regarded as a lesson for learning the basics of imperial cooking and the fact that you must have employees at the nodes to gather cookable resources.
Imperial Cooking Boxes — Skilled
The recipes for the Skilled class are much more difficult to prepare due to the large number of ingredients required. Based on personal experience, it is suggested that you continue to make apprentice tier recipes instead of skilled class recipes in the future. The omelet recipe or the grilled pork recipe is the most basic of all the recipes offered.
Additionally, the preparation and packing of other recipes necessitate a significant investment of time and resources. For instance, the imperial box requires 90 grilled bird meat, whereas an omelet requires just 18 grilled bird meat.
Grilled Bird Meat
Chicken meat 2x
Cooking wine 2x
Deep-frying oil 6x
Salt 1x
This recipe calls for deep-frying oil, salt, cooking oil, and chicken meat, which you can get from your local vendor. Since the chicken meat is acquired directly via the chicken node, it is unnecessary to process it further before eating it.
Omelet
Eggs 5x
Wheat 5x
Olive Oil 2x
Salt 2x
You will need the following ingredients for this recipe: salt, olive oil, eggs, and wheat. The quantity of eggs required for this recipe is the most challenging aspect of the recipe, as you will need five of them. Although it appears to be a simple task, collecting five eggs may be time-consuming since they are only obtained by luck.
Honey Wine
Cooking Honey 3x
Essence of Liquor 2x
Sugar 2x
Mineral Water 6x
Sugar, liquor essence, cooking honey, and mineral water are the materials needed to prepare this dish. If you put employees at Alejandro's Farm's honey node, you should end up with a surplus of honey. It is also necessary to create the elixir of liquor, which requires one flour, one leavening agent, and one fruit.
Wheat flour can be derived from just about any starch-based source. However, the apple is an exception to this rule. You may either utilize the grapes node found in Olvia Farm or purchase fruits from some fruit merchant in Calpheon. You may use any fruit-based item, such as strawberries or grapes, in the same way, that you would wheat. On the other hand, the strawberries are sold for 650 silver apiece by a seller in Calpheon. To avoid wasting silver, you should avoid purchasing from the merchant. It is preferable to additionally put employees at Olvia Farm to increase your surplus gradually. This is also a fantastic recipe for increasing the strength of your culinary skills.
Also Read: Black Desert Online Transport System
Imperial Cooking Boxes — Professional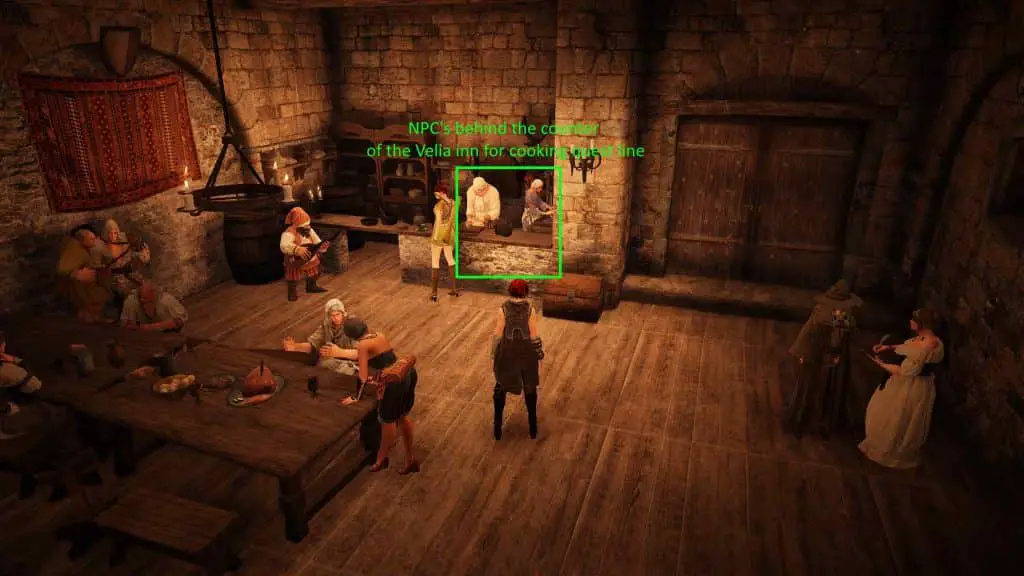 When you achieve the professional level of cooking, life gets more exciting. The pickled vegetables and meat pie are the two finest dishes at this level. As you may remember, certain resources are classified as fruits, whereas others are classified as vegetables. This mechanism is in place since this is the sole recipe in which vegetables are included. Vegetables are not used in the recipes obtained at the Master and Artisan levels.
Pickled Vegetables
Cabbage 8x
Vinegar 4x
Leaving Agent 2x
Sugar 2x
Sugar, leavening agent, vinegar, and cabbage are required for this recipe. You may add cabbage, paprika, pumpkin, or olives in place of cabbage. This component will be easy to get due to a large number of nodes accessible in Farms. Vinegar is a cooking component that is required for this recipe. It is produced by cooking 1x sugar, 1x fruit, 1x leavening agent, and 1x wheat.
Pickled veggies are only available at the Professional level. As a result, you should make this recipe in bulk to exchange them and get a large amount of silver from a single batch. According to some players, cooking pickled veggies will become your main source of silver once you achieve the Guru tier.
Meat Pie
Pork 4x
Wheat Dough 6x
Olive Oil 2x
Sugar 2x
Raw sugar, wheat dough, olive oil, and pork are used in this meat pie recipe. As previously stated, players may produce wheat dough from any wheat-based ingredient, such as maize or potatoes. You'll need 4x pork, although any kind of meat would suffice. You may acquire meat in a variety of ways.
To get wolf meat, first travel to the Forest of Seclusion and hunt gray wolves in the vicinity. Second, you may go to a particular location northwest of Calpheon's Farm and be the killer of goat mountain. You may slaughter and gather lamb and sheep meat in this region. If you're mainly interested in cooking, you should concentrate your efforts on meat gathering.
In these two regions, it is suggested that you have a minimum of three characters devoted to collecting sheep and wolf meat. Furthermore, many of the meals at the Professional and above tiers include meat in the recipes. For the time being, we suggest the alternative recipe if you'd like to take a gentle approach.
Imperial Cooking Boxes — Artisan
You'll start cooking more complex dishes like meat soup, steaks, and grilled sausage after you've reached the Artisan Tier. To put it another way, the meat will be used in all of your recipes. However, how you utilize your Farms will determine the meat you use. In Heidel, you must pay a "contribution" to the vendor of the material goods.
You can get a sturdy fence from him for five contributions, and it will remain put. You'll be able to put it down after that. You will be able to cultivate resources such as pepper and garlic as a result of this.
Steaks
Steak is among the best recipes in the Artisan tier, which only requires 2x salt, 2x garlic, 2x red sauce, and 8x pork.
Imperial Cooking Boxes — Master
For the master tier, the available recipes include chewy cheese gratin, meat croquettes, cookies, honeycomb, and milk tea.
Milk Tea
Strong Scent Tea (1x) / Fine Scent Tea (2x)
Milk 3x
Cooking Honey 3x
Wheat Flour 3x
Wheat flour, milk, cooking honey, and "strong-scented tea" are required to make this dish. You can acquire milk by playing a minigame of cows in Olvia, and honey can be obtained by visiting the nodes. Since you may only gather a specific quantity of milk each day, milk is the most major drawback on the master tier. You'll also have to make the "tea with fine scent," which is an ingredient you'll need to make this meal. Witch's Delicacy, a culinary by-product, also contains milk.
Also Read: Power Leveling in Black Desert Online
Imperial Cooking Nodes
You must first get the necessary ingredients prior to beginning the cooking process. Your worker empire is a fantastic method to accomplish this passively. Here are the cooking nodes we suggest:
Olives, regarded as vegetables, and grapes, which are regarded fruits, may be found at Costa Farm nodes, the Wale Farm, and Olvia.
The Bartali Farm, located near the city of Velia, is where you may pick chicken and potato nodes. If you want to have a regular supply of dough and flour, you may also get them from the Finto Farm.
Workers are required at both the Finto and Bartali Farms. In these areas, egg products can be acquired via chicken meat production, which is also a significant culinary resource.
The Alejandro Farm, which is linked to Heidel, is another important node. These farms are where you may get honey and pumpkin. As honey is a common component in many recipes while pumpkin is considered a vegetable, you must have a steady stream of employees harvesting these crops. Furthermore, since the Alejandro Farm seems to be the only place in BDO where you can get honey, having a sufficient supply is essential.
To the south of Heidel, you'll discover the Costa Farm, which sells pumpkin and wheat.
The Northern Wheat Plantation is another key node where you may harvest paprika, which is a vegetable.
The above things are the key components that you should have on hand to make the majority of the recipes. There are a few more ingredients you'll need to get, but they're all surplus. You'll need them in a few recipes, but only in small amounts.