In the Stardew Valley game, you can build your own fish pond to easily catch fish. You can put different fishes in the pond and wait for them to multiply.
There are certain fishes which can help you make good money. So, if you want to know what type of fish are the best for the pond, continue reading this article.
Also Read: What's the Best Random Seed in Stardew Valley?
What is Fish Pond in Stardew Valley?
A fish pond is a large body of water that can hold 10 fish at a time. It is a type of farm building. You can purchase it from Robin's Carpenter's Shop. It will take 2 days for fish pond construction. This building occupies a 5×5 tile space on your farm. A fish pond typically costs 5000g. You need materials like 200 stones, five seaweeds, and 5 green algae to build a fish pond.
The initial capacity of a fish pond is three, although you can get a different number depending on the level of the corresponding fish. Some rare fish have an initial capacity of ten, such as Tiger Trout. However, if you'd like to raise the capacity of your pond, you'll need to complete quests in order to obtain different kinds of fish.
The fish pond is important for collecting different types of fish and raising them for products. While you can pet fish for loot in Stardew Valley, most players will focus on utility over profit. The Lionfish, for example, produces a Tiger Slime Egg each day, which is worth 8,000g each. If you can farm this fish in abundance, you can become extremely wealthy in a season.
What Type Of Fish Are The Best For The Pond?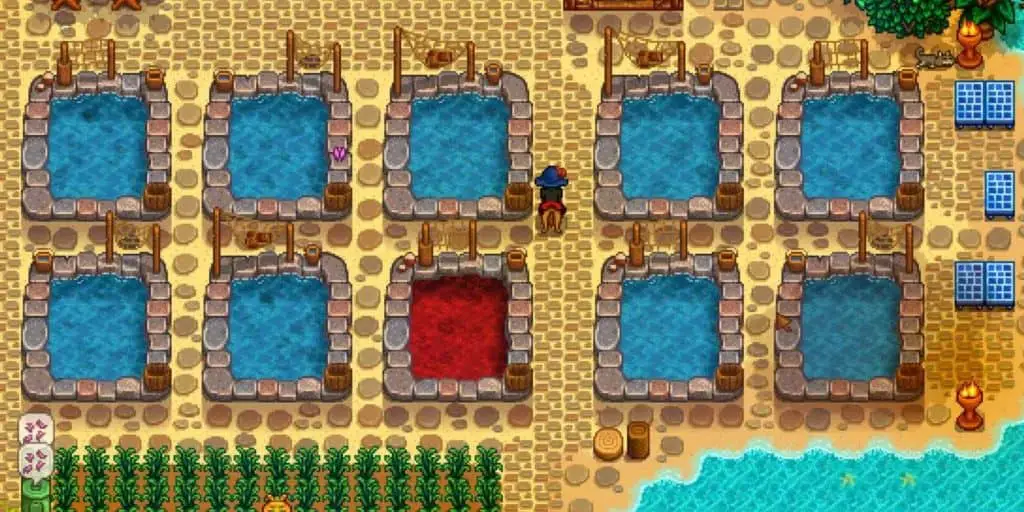 When building a pond in Stardew Valley, you should make sure to choose the right type of fish. These are important early game-building tools that will help you produce items and additional fish. Listed below are some of the best fish to choose from. 
Also Read: Best Crops For The Greenhouse in Stardew Valley
Blobfish
Blobfish is the best choice of fish to put in a fish pond. While they aren't the most beautiful fish, they are incredibly useful for several purposes. For one, they produce a lot of roe, which is sold for 500g.
Other uses for blobfish include dyeing and pearl-spawning. Though they are not particularly pretty, they can generate a lot of gold for you. And because blobfish can yield so much gold, they're a great choice for beginners, too.
Lava Eel
There are a number of different fish in Stardew Valley, but the Lava Eel is the most difficult to catch. While you can catch this type of fish using a simple fishing rod with bait, it is much harder to keep it alive. The Lava Eel is the best fish to have in your pond. It is the second hardest fish to catch and is found on the 100th floor of The Mines.
You can start your business by catching one and breeding it so that it populates the rest of the ponds in your area. The Lava Eel is one of the hardest fish to catch in the game, but if you get lucky, you can sell it for a huge amount of gold.
Sturgeon
Sturgeon are the best fish to fish in the pond of Stardew Valley, but they only appear during certain seasons. If you're able to successfully catch them, you'll be rewarded with a hefty amount of gold. Sturgeon are great to have in your pond, as they have several useful uses.
They are useful in dyeing, serving as a blue dye for the pots at Haley's house and Emily's house. The Sturgeon will reproduce every four days and can increase your pond's capacity by up to ten fish. They can also be used in tailoring. However, they're not the only fish that you can use to fill your pond.
Super Cucumber
In the game Stardew Valley, players have the ability to catch many different kinds of fish. Once you've learned how to fish in Stardew Valley, you can start finding the Super Cucumber. When you place these fish in your pond, they will begin producing several profitable items.
At a population of 1, they start producing roe. They will start producing iridium ore and amethyst once they reach population nine. This makes them an excellent investment for your pond. However, you should avoid breeding them with a high-level fish to gain a large profit.
Also Read: What's the Best Tackle in Stardew Valley?
Octopus
While a skimmer's job is not to make things easier, the Octopus is an exception. It's not only useful for making a Sewing Machine spool, but it also gives a great buff to your fishing ability when consumed.
The Octopus can also be placed in a Fish Pond. Its population limit is three but can be increased to ten with the right fish, and the primary output is orange Octopus Roe. At population nine, Octopus is also possible to produce Omni geodes.
Conclusion
If you are looking for the best type of fish to put in a fish pond, you can go with Octopus, Sea Cucumber, Sturgeon, Lava Eel, and Blobfish. These are some of the best fishes that you can easily multiply in the pond to move ahead in the game.