Both Stellaris & Sins of a Solar Empire are set in space, but their techniques are considerably different. As is always the case, your personal preferences will indicate which game you prefer, particularly when it comes down to two titles as fantastic as these. This guide compares the two, pointing out both their similarities and variations while attempting to avoid taking sides because I enjoy both games, but I must say that Stellaris has always been my "go-to" game.
Stellaris is a strategy game, but Sins drags you right into the action. Stellaris is a strategy game that focuses on empire building, such as planetary construction and exploration. Sins jump right into the action, with pirates and local militias fighting you every step of the way.
Despite their very different methods, the games share many similarities. Exploration, diplomacy, combat, technology research, alliances, pirates, and pacts are all present in both Stellaris & Sins of a Solar Empire. Sins is a far more combat-oriented game than Stellaris.
There are a lot of similarities and differences between the two games. Now let's get you to some specifics of the games and tell you which one does better.
Also read: What does Association Status Mean in Stellaris?
General Comparison Between the Two
Except for battle, Sins offers a lot less micromanagement, unlike Stellaris. You can command each ship in Sins if you really want to. In Stellaris, all you have to do is get your ship to the site of combat, and the AI will take care of the rest.
Sins is a significantly faster action game than Stellaris because the action begins much earlier. As soon as you get to the nearest system, you'll be attacked by pirates or local militia, but it takes a long time to run into somebody in Stellaris. Stellaris is basically a slower-paced game that places a greater emphasis on empire building. With Stellaris versus Sins of a Solar Empire, you also conduct more resource management and exploration at the beginning. Both games have limited resources at the start.
Sins is a smaller-scaled action game with pre-determined victory conditions that must be completed in order to end the game. Although Stellaris has victory requirements, you can continue to play for as long as you like, even after these requirements are met. Stellaris has a larger scale and a stronger focus on your finances.
The Stellaris games usually last 2-3 times longer than the action game, Sins of the Solar Empire. Stellaris features a lot of exciting events and side tales that Sins don't have. Exploration in Stellaris is better since there's much more to explore, and the exploration itself is considerably more detailed, such as locating archaeological sites or research anomalies. In Stellaris, empire management is also significantly more complicated.
Both games feature hyper-lanes, which means your ships must follow specific paths to planets and can't just go wherever they want. You can have an excellent defensive strategy because you can construct strongholds to establish choke points to stop opponent advances in both games.
Planetary Management in Both Games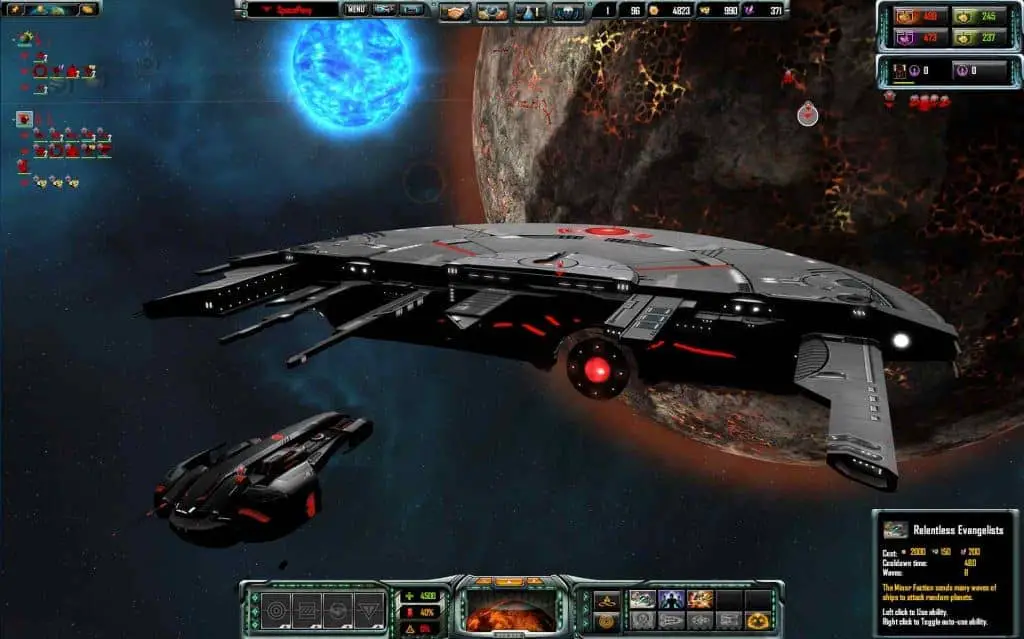 There isn't a lot of planetary management in Sins. You expand the infrastructure, allowing more people to reside on the planets, resulting in increased taxation for your empire, as well as some planetary exploration.
The planetary management in Stellaris is far more comprehensive than in Sins. You can construct specific buildings, districts specializing in indefinite forms of manufacturing and make decisions on a planet-by-planet level, such as enforcing population limits or implementing Martial Law in Stellaris.
Also read: What Happens When Stellaris Alien Box Gets Opened?
Empires
While Sins has only three empires that cannot be modified (six for Rebellion), Stellaris has nearly twenty. Stellaris allows for extensive customization, ranging from creating your custom civilization to altering your ships, leader attributes, species, and almost anything else. Any custom empires you build and save will also be accessible.
Diplomacy
Diplomacy is good in both games. However, with the addition of the Stellaris Nemesis DLC, Stellaris has significantly improved its diplomacy. There are fewer diplomatic options in Sins of a Solar Empire, and many of them are tough to attain. One of the benefits of Sins is that you can accept tasks for another empire and gain points if you do them successfully.
Also read: Is Stellaris Still Worth Playing
Closing Thoughts
As Sins is a combat-oriented game, its action is better, and it is somehow simpler than Stellaris. Also, Stellaris is basically a strategy game, so the player enjoys the exploration and customization in it more.
To put it in a nutshell, I would say that Stellaris is better than Sins as it offers more customization. You can upgrade your empire, species, ships, and many more. In Sins, the action is good while other things are usually simple and not engaging enough. However, in the end, it only depends on the player which game he enjoys more while playing. Still, if you think other than that, then feel free to leave a comment below and let us know which one suits you well.