A popular Special Theme Dungeon in MapleStory is Gold Beach, where characters who have reached levels 30-59 can level up faster than they normally would and earn powerful items. It is also useful as a training spot for qualifying characters.
Gold Beach is located on a place called Victoria Island. It can be accessed either by talking to Captain Irvin or by making use of the Maple Guide Teleporter. You can also use the Hyper Teleport Rock.
In previous times, the maps in Gold Beach used to scale to the levels of different characters at specific levels. Now, the maps at the Gold Beach can scale from levels 30-59.
Special Theme Dungeons
Gold Beach is one of four Special Theme Dungeons available to players once they reach level 30. Players can move to the special dungeons through quests or the Maple Guide.
Some special features of the Special Theme Dungeons are:
Solo-Only
Special Theme Dungeons are solo-only. It is not possible to have party members in the special dungeons. This is because monsters are summoned specially for each player. Due to this feature, quests are completed faster than similar quests done outside the dungeons in Maple World.
Monsters Are At The Same Level as Players
Most monsters in Special Theme Dungeons are at level 30 when they first appear, but this changes if the character is higher than level 30. If the character is higher than level 30, the summoned monster will be at the same level as the player. However, monster levels don't go higher than level 59 for players that are level 60 and above.
EXP Increases with Character Levels
In Special Theme Dungeons, quest completion EXP increases with the character levels. Even when different players complete the same quests, the amount of EXP the players receive will differ based on their levels. This is done to aid level-ups.
Ways to Get to Gold Beach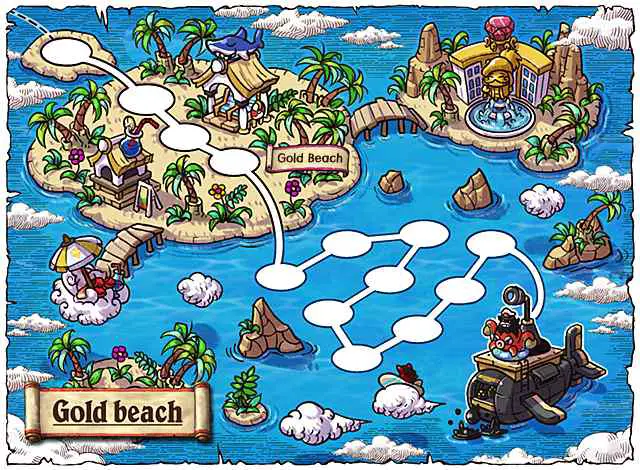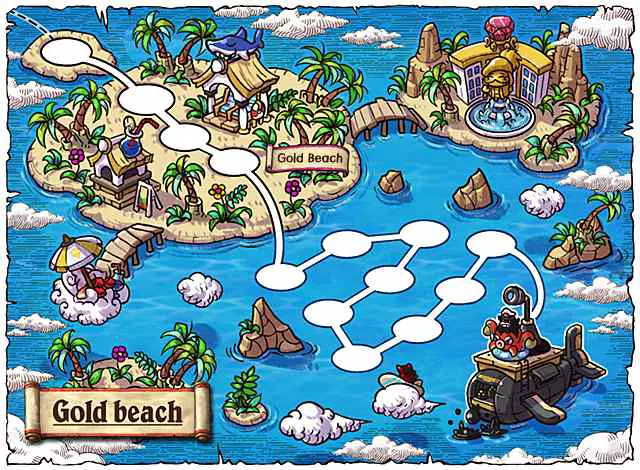 There are three known ways to get to Gold Beach.
Talking to Pilot Irvin
Players can get to Gold Beach by talking to Pilot Irwin. The NPC Pilot Irwin is situated on Victoria Island at the Six Path Crossway.
You can easily reach the Six Path Crossway by using a normal taxi in any city to Sleepywood. After that, they should go through a portal situated on the far left.
Once at the Six Path Crossway, you should jump up the long rope in the middle and climb it. When you're about halfway up the map, you'll see Pilot Irwin on the right side.
Once you speak to him, press 'Yes' and he will take you to Gold Beach for free instantaneously.
Through the Maple Guide Menu
First, open the character tab in the bottom menu and select Maple Guide.
Next, push the plus button located at the top right corner of the Maple Guide Window.
Under the Level Content tab, look for and push the circle with 30 or 40 under it and select Gold Beach on the right side. You won't be able to get there until you've reached Level 30.
Finally, on the Gold Beach pop-up menu, look for and press 'Move' at the bottom. You'll instantly be transported to Gold Beach.
The Hyper Teleport Rock
The final known way to get to Gold Beach is through the Hyper Teleport Rock. This method is recommended for players on the Reboot server.
The Hyper Teleport Rock is an item that allows the user to instantly teleport to any map by simply double-clicking it on the world map.
Players on the Reboot server can purchase this item in the cash shop using mesos. It is therefore recommended that you get it if you're on the Reboot server instead of traveling around Maple World.
Hello everyone! My name is Kyle, and I've been a passionate gamer for 15 years. I enjoy playing video games such as League of Legends, Stellaris, and Cities: Skylines in my free time. I created this blog with one purpose, and that purpose is: to help you out. Whether you're stuck on a quest in Black Desert Online or you simply don't know what to build on Lucian in League of Legends, don't worry because I've got you covered.