The Seed Maker is a handy piece of Refining Equipment in Stardew Valley which allows players to get seeds from harvested or foraged items.
While it is an excellent tool, the in-game details on its use are vague, which is why players are often left wondering about the best use of the piece of equipment. In this article, we will be discussing the best use of the Seed Maker in Stardew Valley!
Stardew Valley was released back in 2016 and charmed the world with its simplistic aesthetic. This simulation RPG about running a dilapidated farm was developed by ConcernedApe and went on to win the hearts of millions of players globally. Below are some of the best uses of the Seed Maker. 
Also Read: How to Regain Energy in Stardew Valley?
What Is the Best Use of The Seed Maker?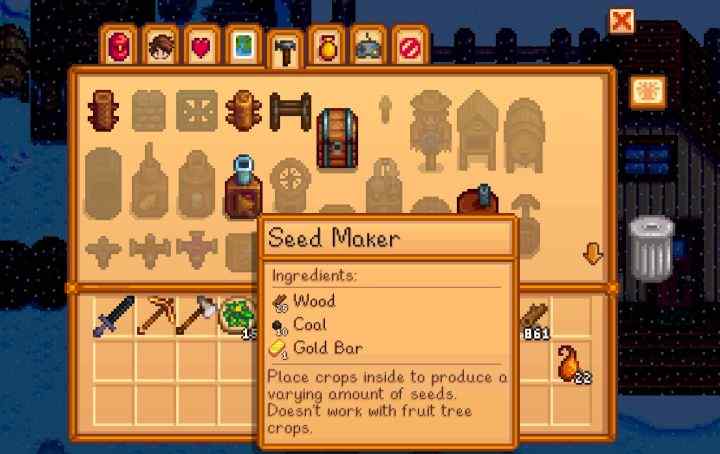 As we previously mentioned, the Seed Maker is a great tool for increased production of seeds that you have already harvested. In addition to this, the Seed Maker can also be used to produce seeds of the four foraged items found in-game.
These are Wild Horseradish, Spice Berry, Common Mushroom, and Winter Root. The seeds take a time of 20 minutes to process.
Here are the best ways you can utilize the Seed Maker in Stardew Valley:
1. Ancient Fruit Harvest
The Ancient Seeds yield the Ancient Fruit after a long wait of 28 days, and then the mature plant yields one fruit every 7 days. By making use of the Seed Maker, players can get more Ancient Fruit seeds and fill their greenhouses with them.
Even doing 96 seeds – using 4 iridium sprinklers – players can get a whopping profit of $52,000 upon selling the fruit every 7 days. Meanwhile, the greenhouse still has an extra 20 spaces that can be utilized elsewhere.
2. Growing Out of Season Crops
The seasons in Stardew Valley change periodically in-game. Typically, one would only be able to grow the crops that are in season for example strawberries and cranberries can only be grown in their respective seasons.
However, using the Seed Maker allows one to produce seeds of crops even out of season. This is especially useful when Stardew players do not have other means of getting their hands on a certain plant/crop for a long time.
3. Getting Seeds That Are Hard to Come By
For the mid to late-game players, they must keep their outside crops stocked accordingly in preparation for the coming season. Some seeds are hard to obtain, either due to their rare nature or simply a concern of the sheer volume required.
A great example is the Sweet Gem Berry. Sweet Gem Berry is not readily available to the player, especially to one seeking to buy a large amount in preparation for the fall season. The vendor with the adorable pink pig does not offer enough. That is when the Seed Maker proves to be a lifesaver!
More and more seeds of these rare crops can be produced and planted. A large number of people agree that the Seed Maker is the ideal solution to intimidating challenges like these. Similarly, players can even grow a large number of other rare plants like starfruit and strawberries.
4. Multiple Harvests in The Greenhouse
This is for those players looking to farm in Stardew Valley (pun intended). Players require access to the greenhouse for this. The Seed Maker is your best friend if you want to get your hands on the big bucks in Stardew Valley.
Not only can you get access to rare and expensive seeds, but you can also cultivate a large number of various crops in cycles for profit! Players can grow 24-patches of all of the seasonal berries, Ancient Fruits, Winter Root, etc.
Not only are these options quick in reciprocating the player for their investment, but these cycles can be repeated over and over again, leading to an ideally smooth stream of profit to the player's name. 
Also Read: How to Break Up With Someone in Stardew Valley?
Limitations to The Seed Maker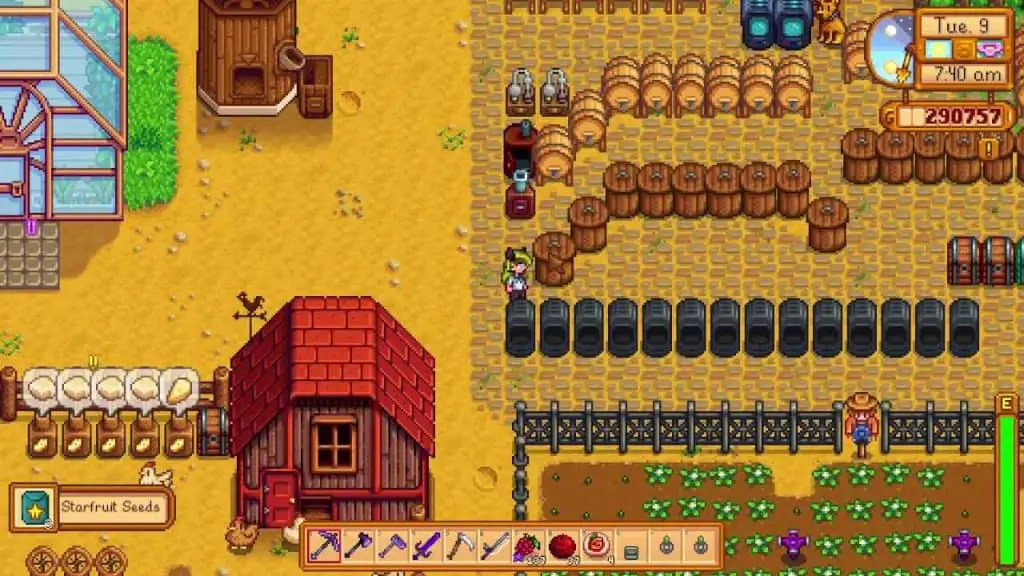 Forage
If something seems too good to be true, it probably is. The adage stays true when talking about how the Seed Maker is not perfect. Whilst extremely beneficial, especially to mid-game players, the Seed Maker does have some limitations as to what it can do.
The Seed Maker is unable to produce the seeds of any crop labeled as 'Forage' beside the few aforementioned (Wild Horseradish, Spice Berry, Common Mushroom, and Winter Root)
Here is a list of the seeds that the Seed Maker cannot produce:
Blackberry
Coconut
Coffee Bean
Crocus
Crystal Fruit
Fiddlehead Fern
Fruit Tree Fruit
Salmonberry
Sweet Pea
Tea Leaves
Wild Plum
Randomness Factor
One thing to keep in mind when using the Seed Maker is the randomness element in the production of seeds. There is a chance that the seed will either come out as Mixed or Ancient Fruit Seed.
This randomness does not mitigate the player luck stat and cannot be cheated by save scumming either. Players must keep this in mind when using the Seed Maker.
Probability of Mixed: 2%
Probability of Ancient Fruit Seed: 0.5%
Also Read: How to Un-Till Land in Stardew Valley?
Conclusion
In this article, we discussed the best uses of the Seed Maker in Stardew Valley. While the best use is subjective in accordance with the player's playstyle and level, the aforementioned are the best ways to get the most value out of the Seed Maker.
Be sure to leave a comment below and let us know if this guide helped you in your Stardew Valley adventures. Good luck!