When you play Stardew Valley, you have to build a fence around the farm to protect your crops and prevent your farm animals from wandering off. Building a fence is an important part of the game.
However, the thing about the fence is that it needs to be repaired from time to time. As time goes by, fences start decaying in the game. So to make sure they don't disappear, you need to repair the fences. In this guide, we will show you how to repair fences in Stardew Valley. 
Also Read: How Long Can Crops Go Without Water in Stardew Valley?
Concept of Fence in Stardew Valley
When playing the game, you may wonder what the fence is in Stardew Valley. A fence is a boundary between two areas in the game. It can be moved, but it does not rotate. A fence always aligns with the other fences in the area. Players cannot stand on open gates. However, they can walk on an open fence. A wooden fence requires two pieces of wood for each post.
A wood fence can last for approximately fifty-four to sixty-eight days. Iron fences are a bit longer, lasting 248 to 252 days. A stone fence, on the other hand, is more permanent, lasting for about 118 to 122 days. The best type of fence is the hardwood fence. It will last for 558 to 562 days. If you find yourself frustrated with your fence, you should consider upgrading it to another type.
How to Repair Fences in Stardew Valley?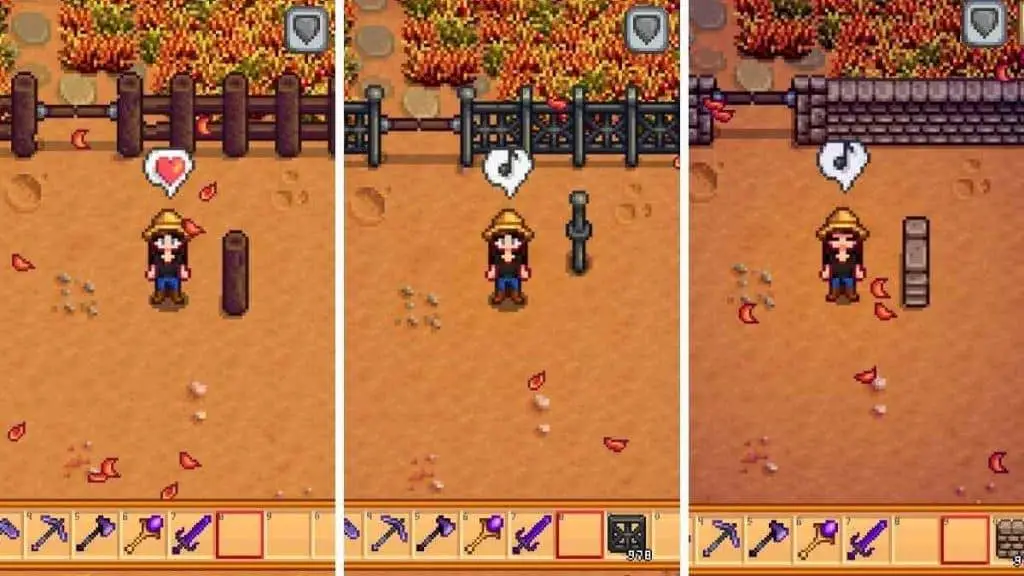 If you're new to the game, you might be wondering how to repair fences in Stardew Valley. Fences are craftable items that you can build for your farm in order to corral animals, organize your area, and keep out monsters.
You can learn how to build a fence by leveling up your Farming skill. As you level up, you'll also unlock better recipes for fence building. Unfortunately, if a fence is too worn down to be repaired, it will disappear.
While repairing a fence may be the most time-consuming part of the game, it is well worth the effort. In order to repair the fence, you need to check the type of fence and make sure you have the necessary materials for crafting it. For example, if your fences are made of wood, you need two pieces of wood to craft a single fence. Once you have all the necessary items, here are the steps you need to follow to repair the fence.
Also Read: How to Remove Bushes in Stardew Valley?
Step 1: Hit Broken Fence
The first thing you need to do is use a pickaxe and hit the broken piece of fence. This way, you will be able to completely break the fence.
Step 2: Place New Fence
After breaking the old fence, you need to place the new fence piece in the place. You can craft a new piece of fence and place it in the empty spot of your old fence.
Step 3: Done
That's it! Your fence is repaired. All you need to do is follow these two simple steps to repair the fence in the game. Follow the same process with each piece of fence that is starting to rot. Yes, it is frustrating and time-consuming, but it is totally worth it. 
Also Read: How to Attach Hooks and Tackle in Stardew Valley?
How to Avoid Regularly Repairing Fences?
You've probably wondered how to avoid repairing fences in Stardew Valley. While fences are a necessary part of the game, they are also tedious and require a certain amount of resources. In addition to being an aesthetically pleasing addition to the game, fences also contain crops and animals. But as we've seen, they break down over time. A regular wooden fence can last only 54 to 58 days before it starts to rot.
If you are tired of repairing fences, there are two things you can do. This way, you don't have to worry about ever repairing them again.
The Gold Clock: It is one of the costliest buildings in the game. However, there are many benefits. Once you have the Gold Clock, it will prevent your fences from decaying again. This way, you will have a permanent fence.
Marriage: Another thing you can do is get married. Once you are married, the fence repair work will be done by your partner. You don't have to do it on your own.
Conclusion
So if you want to repair fences in Stardew Valley, all you need to do is break the rotten piece of fence with your pickaxe and place a new piece of fence in that place. You have to follow the same steps with all the fence pieces.