Stardew Valley game is not just about farming, mining, and fishing. It is a lot more than that and includes animal husbandry as well. Yes, you can keep different types of animals in this game, from dogs, chickens, cows, and goats to ostrich.
However, you need to build a proper shelter for these animals. Apart from that, you need to let them go out in the garden as well. However, most people find it difficult to get them back inside the barn or coop. If you are facing the same problem, follow this guide. In this article, we will show you how to get animals back in Stardew Valley. 
Also Read: Why Do Chickens Look Sad in Stardew Valley?
Concept of Animals in Stardew Valley
If you're new to the world of virtual farm animals, Stardew Valley will introduce you to the unique concept of raising farm-based creatures. As you play, you'll raise a cat, dog, horse, chickens, pigs, and more, and their specific needs will require you to provide them with housing, feeding, and petting.
Although you don't breed them like real-life animals, they do reproduce. They produce milk regularly and give you plenty of cash – and a few days later, you can sell their wool. Other farm animals, like sheep and chickens, are more useful than you might think. In addition to being a good source of entertainment, they can be used for making money as well.
It is necessary to feed your farm animals on a daily basis. You need to maintain their shelter as well as give them food on a regular basis. This way, the animals will stay happy and give better produce.
How to Get Animals Back Inside in Stardew Valley?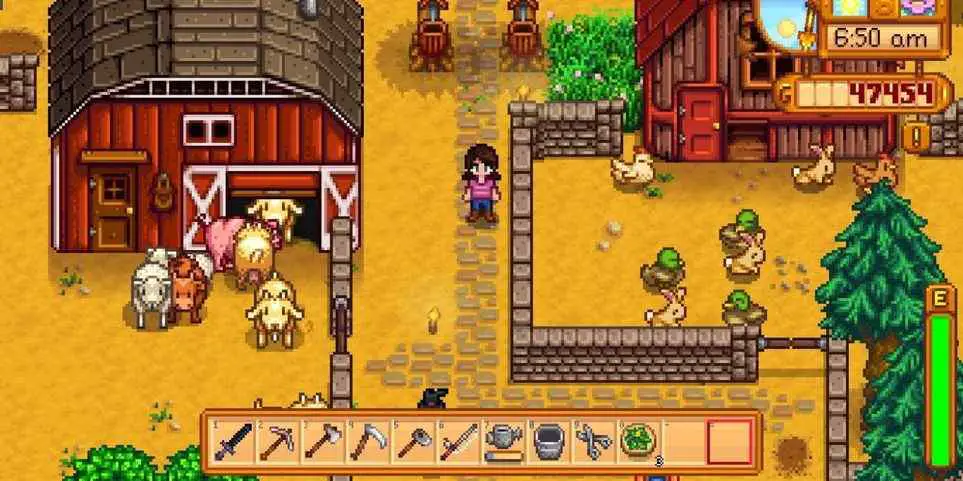 During day time, you need to allow the farm animals to go outside. It helps to improve their mood as well as keep them happy. Animals like sunlight as well as grass, so it is essential to let them go out of the barn or coop.
When they are outside, barn animals like to eat grass as they need daily portions. In order to let the animals out, you need to keep the door open. This way, they can automatically come outside during the morning.
However, during the nighttime, you need to keep the animals inside. The best thing about the Stardew Valley game is that the animals will automatically go inside their assigned buildings around 6 pm. They move inside and go to sleep. Animals also stay inside during winter or when there is rain or storm.
If you want to put them inside before their designated time, you need to move them slowly. Aim for their head and walk them in the direction of the barn. Slowly move them towards the door. This way, you can easily get them inside. Once they are inside, you need to close the door, or else they will come out again.
Basically, your farm animals will go naturally inside during the nighttime, provided you keep the barn door open. Once the clock hits 6 pm, the animals will go inside and will go to sleep around 7 to 8 pm. So you don't really need to do anything as the animals will go inside on their own. However, make sure you keep the door open when they move it and close it once they are inside. 
Also Read: How to Recover a Lost Sword in Stardew Valley?
Can Animals Escape Your Farm In Stardew Valley?
While you can lock your animals inside buildings, they can also escape. You can put gates between fences and doors to prevent them from escaping. However, you must keep in mind that they will be stuck outside for the night if they escape.
If you let the animals out and there is no fence on your farm, they can easily escape. So you need to put a fence around the farm and keep the gate close to keep the animals inside the boundary. This way, the animals will not stray away.
If your animals escape, they will automatically reach the barn when nighttime approaches. In order to make sure they come back, you need to keep the barn door open. If the animal is outside and you close the door, they will be stuck outside and will become angry and grumpy.
Conclusion
So if you want to get animals back inside in Stardew Valley, you just need to wait for the evening to approach. These animals automatically move inside their respective shelter around 6 pm. All the animals will go inside the shelter between 7 to 8 pm to sleep. You need to keep the door open for them to go inside. Once they are in, you can close the door.