Heavy traffic jams are always a common sight in large cities.
This is because the more developed a city, the higher occasion for movement and transportation in the city.
And your city may begin to experience more traffic jams than usual if the correct measures are not put in place. This situation can slow down industrial activities and limit the city's productivity.
In this article, we will show you how to fix the various traffic issues in Cities: Skylines as well as how to unravel the root cause of the traffic.
How to detect the root cause of traffic in Cities: Skylines
To diagnose the cause of traffic in Cities: Skylines, two UI modes come in handy – the Traffic Overlay and the Routes Overlay.
Using the Traffic Overlay tab, the red areas will indicate locations with the heaviest traffic. Though the root cause of the traffic may not be lurking in these areas, it may just indicate where you need to do more work, perhaps, improve the road system.
The Routes Overlay, on the other hand, will help you find out what vehicles are currently using your heavily overloaded roads and intersection. For instance, the traffic could be generated by Cities: Skylines vehicles that are continuously transporting goods from industrial areas to high-end factories in the city.  This could suggest to you that you need to create another route for them.
Also Read: How to Build Overpass in Cities: Skylines?
Types of Cities: Skylines Traffic Problems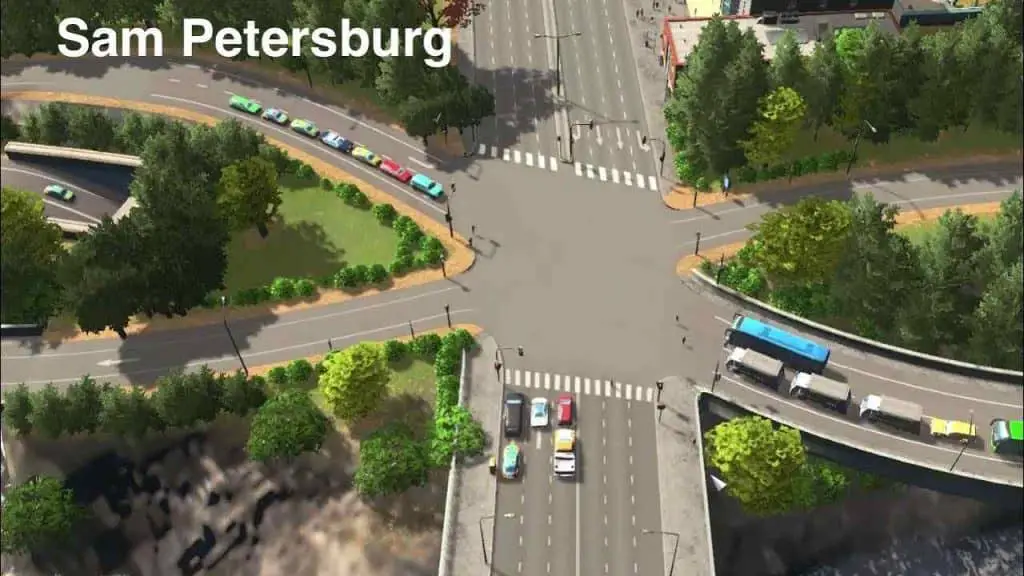 Below are some major traffic issues in Cities: Skylines.
Cities Skylines Trucks transport products between industrial sites via residential communities
Very often, too many trunks are generated by industries – the reason why you provide industrial area with wide roads as well as cargo railway stations and ports.
Build highway roads for truck vehicles – it'll be better and faster for them.
Use the no trucks policy in your residential areas.
This way, heavy vehicles will be forced to look for alternative routes.
However, you need to do this cautiously as it may disrupt supplies for commercial areas which need a connection to trucks.
The last option is to expand the roads used by trucks.
Though this is not very convenient, you can utilize this fix if the previous two didn't help the truck traffic.
Heavy trucks transporting goods through residential areas
If your industries do not produce enough goods for the citizens, then it may become necessary to import these products from other cities.
Also, if your city produces too much of certain goods, these products get exported.
In either situation, trucks will utilize the highways outside of the map to import/export products to/from buildings in your city, and they'll surely be looking for the fastest route.
How to fix:
First off, select the Imports and Exports option to find the traffic. You will see the vehicles and buildings which are involved in these processes.
Next, since trunks aren't the only ways of import and export goods, you can use the no trucks policy so goods can be transported via other means like cargo trains, ships, and cargo planes.
Create an alternative road network or move buildings involved in import/export to another location.
Too many cars moving between residential and commercial zones
In Cities: Skylines, much traffic can be generated when every citizen is going to work by car.
To solve this traffic problem;
Firstly, develop your public transport system.
Choose low-density zones for some areas of the city (In Cities: Skylines, high-density zones always produce more traffic).
Build infrastructures for bikes and crosswalks and encourage the citizens to use them.
Cities: Skylines too many bus issue
It is not always best to have too many buses in your city.
To fix this problem;
Decrease the number of vehicles if there are many empty ones.
Try not to place your bus lines on the same street.
Where possible, replace bus lines with metro and trams.
Too many service vehicles passing through your streets
Service buildings produce a lot of traffic.
How to solve:
Relocate the service buildings.
Find a better place for them in your city.
Review the necessity of having so many service buildings.
Sometimes you can just remove one.
Use helicopter options for some of the services, such as hospitals. 
Also Read: How to Get Coal in Cities: Skylines?
Conclusion
To fix traffic issues in Cities: Skylines; expand the roads, add highways, and reduce the number of buses when necessary. Don't be afraid of reworking at any time.