Civil engineers, how are your virtual careers progressing? Have you already become the most beloved mayor of your city or are you still struggling to gain the trust of always demanding citizens? Don't worry, people are easy to satisfy, just fulfill their demands and watch their happiness and satisfaction grow at lightning speed.
Welcome to another how-to guide in which we will talk about a very addictive game that you have surely heard of. Yes, we are talking about Cities: Skylines, a very popular city-building game in which you build a city and manage its resources at the same time, all for the benefit of satisfied citizens and tourists who come to visit your city (and hope to spend as much money).
In today's guide, we'll talk about policies in the Cities: Skylines game, but first a brief introduction. The Cities: Skylines is a game released in 2015, published by Paradox Interactive. Since its release, it has become indispensable in the gaming community where players gather day by day and compete over who will have a more prosperous city.
In this single-player simulation game, players have to build a city from the ground up, starting from choosing the map on which they will build the city and then building industrial, commercial and residential zones.
Players can choose whether to play with an unlimited budget or to start with limited financial resources and gradually improve their city. By building roads, they connect city parts, by giving city transport they give a real experience to the city, they build parks that reduce environmental pollution and they have to make sure that their zones provide enough jobs for citizens.
Furthermore, as the city progresses and you as its mayor conquer achievements, you get the opportunity to build schools and colleges and add unique buildings that raise the quality of the city.
As you can see, this game offers you countless opportunities to improve the city and the lives of its citizens. You have to take care of their health, to preserve the environment, to educate the citizens, to dispose of waste and much more that makes this city real. Of course, there is a crime rate that you have to pay attention to by setting up police stations, then health centers and hospitals and fire brigades that will be ready to save the city from fire at any moment.
Not to explain further, download and install this game and see for yourself how addictive it is. You can download it from the Steam official site, in addition to the classic PC version, versions for PS4, Xbox One and Nintendo Switch are available.
Also Read: How to Use Buses in Cities: Skylines?
Policies in Cities: Skylines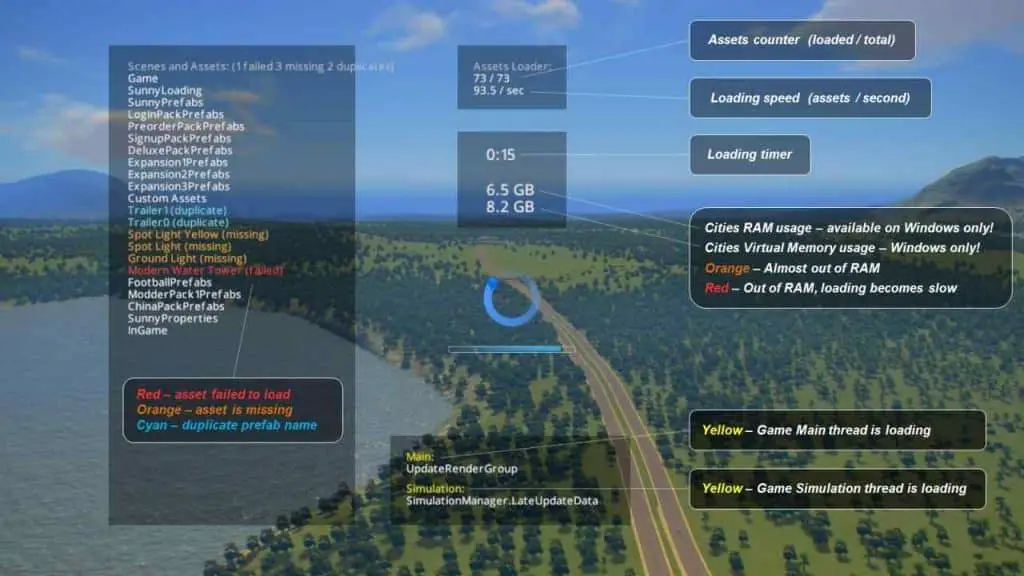 As in real life, policies are there to maintain balance in a particular community, in this case the city. Policies can improve the quality of life, but at the same time they can cause dissatisfaction among citizens, so you have to carefully decide which policies are valuable to your city and which are not. Policies can be placed only in certain parts of the city or you can apply them to the whole city, your choice.
Policies serve to improve life in your city, for example, if citizens want better fire protection and you don't have enough money to build a new fire department, you can include a Smoke Detector Distribution policy designed to significantly reduce the risk of fire in your district. This is a cheaper option than building a new fire department, but you have to keep in mind that this policy requires weekly cash maintenance, in this case it is ₡ 5 / week per building.
There are many types of policies, in addition to certain DLC you will get new policies, so always check what your options are and decide whether a policy will contribute to the quality of your city.
Also, another quality policy is the Recycling policy. With this policy, citizens will produce a lot less garbage which means less work for your garbage trucks and less hassle around landfills in your city. This policy will reduce your tax income but it's a really good policy so it's worth the risk.
If you're struggling with traffic jams in your city and don't know how to reduce car traffic across your roads, check out the Old Town policy. This policy is only available if you have After Dark DLC and prevents cars from passing through certain city districts unless they live there or have a job there. In this way, you will instantly reduce city congestion and prevent cars from passing to places intended for pedestrians, for example, this is ideal for tourist areas of the city because it will reduce city congestion due to many tourists.
Another policy that comes with DLC, this time with Green Cities DLC is the Filter Industrial Waste policy. This policy will reduce the amount of pollution that is a product of your industrial zones in the city. The pollution in these areas appears as brown or gray fog, which represents the pollution of the area. This will cost ₡ 2 / zoned industrial building per week but hey, you will get rid of pollution.
And the last policy recommendation is the Industrial Space Planning policy which is related to increasing your industrial production. With this policy, the industrial zones in your city will produce double the amount of goods, with a small tax in return. This policy is ideal if you are struggling with exports and imports in your city.
Now, what bothers a lot of players and what occurs to them during their gameplay is that the policies taskbar does not appear at all, and everything players try simply fails to solve this very important problem. We will now give you instructions on how to restore the policies taskbar and successfully find a way out of this annoying situation.
Also Read: How to Make Cities: Skylines Look Better?
How To Fix Policies Panel Not Showing In Cities: Skylines
Do you ever find yourself in your Cities: Skylines virtual city trying to pick new policies, but no matter how persistently you click on the policy icon, the policies taskbar just doesn't want to show up? This can be really annoying, especially if you try a few solutions that you may have read on online forums, but none manage to solve your problem. Let's go solve this problem step by step, read the instructions carefully so you can apply them in your game.
Inside the game, click on the gear icon located at the top right of your screen. The Pause Menu will open, and when it opens, select the Save Game option. You have to save your game at a different name than usual. For example, name your file 'policiesfix' and click the Save button.
After that, click on the gear icon at the top right again to open the Pause Menu. Select the Load Game option and from the offered files select the file that was just saved, which is last modified. After that, the loading screen will open and when the map of your city opens, click on the Policies icon again. Your Policies taskbar should open successfully on the right side of your screen. That's it, you solved the problem!
Also Read: How to Turn On Infinite Money in Cities: Skylines?
Final Thoughts
Policies in Cities: Skylines are a great thing, only if you know how to choose them well and apply them to your city. With policies, you can greatly improve the quality of life of your citizens in every field. From the cleanliness of the city, new jobs, better health of citizens to reducing city congestion.
In this article, we have given you a solution to a common problem that occurs during gameplay, and that is when the policies taskbar simply refuses to appear on the screen no matter how many times you try to squeeze the Policies icon.
We hope that this solution will be successful for everyone, and if you have comments related to policies in Cities: Skylines or maybe you know some other way to solve this problem, comment below and help other players. 🙂