After hours of testing and browsing for different games, I came upon this phone app called Egg, Inc. My first impression was "who would play such a game?" What an odd name for a phone game…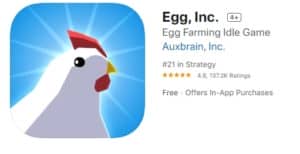 After reading the reviews and seeing the ratings, I decided to give this game a try. At first, I didn't think that I was going to like it.  Three hours later, I'm still on the game and now I understand why the reviews are talking about the inevitable addiction.
Introduction: Egg, Inc.
Egg, Inc. is available for both Android and iPhone. In this article, I will be providing you with a guide on how everything works in this game. It's a pretty fast pace and easy-to-learn. For those who are unaware of what this game is about, it's a strategy game where you have to unlock different types of chicken eggs. During this gold rush, you have to exchange as many eggs as you possibly can for currency.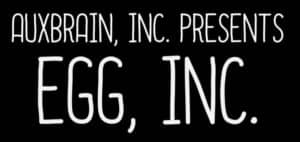 During the game, you're going to be hatching chickens, build houses for hen, hire delivery drivers, and pay for research to create the most superior egg farm in the egg business. With many elements from simulation games, playing Egg, Inc. will provide the gamer with a unique playstyle and touch.
Starting with a tiny farm, you are given crispy and vivid 3D graphics with a swarm of simulated chickens. You will also have to choose how you spend your money strategically budget for your research. To achieve an enormous egg farm with an astronomical value,  you'll need to balance your strategies and make the best use of your time.
Understanding The Basics of Egg, Inc.
When you're starting on your farm, you're most likely going to be clicking on the red button endlessly. You should:
Learn how to manage your resources properly.
Expand more room for your hen housing. There's no need to max out the upgrades on the first few egg farms. Having a few small hen house should do the trick.
Spend your golden eggs wisely.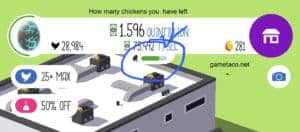 Things You Should Know:
Golden Eggs – These eggs are obtainable through missions, taking down drones, package deliveries, and purchasing with real money. They can be used for the boost shop or epic research center.
Soul Eggs – Soul eggs are obtainable by completing missions. These eggs are used to prestige.
Managing Your Resources Properly – To manage your resources properly, you'll have to see which item outweighs the other when it comes to spending your earnings. The objective of this game is to create an advance egg farm. To do this, you will need to earn a lot of money to upgrade. And you make the best use of your money, you will have to spend it wisely.
When you're tapping or holding down the red chicken button, there's a bar on top that shows you how many chickens you have left. Once it's empty, you'll have to give it time to recover.  To speed up having more chickens in the hatchery, you can head to the research button above the red chicken button, which I'll explain in a bit.
Above the circle in the image on top is the amount of money you have and how much you're currently earning per second.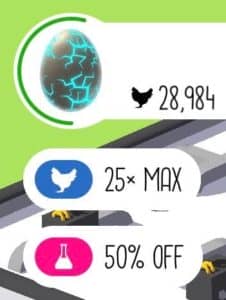 To the left shows how many chickens you have in the hen housing and to the left of that is what type of egg you're farming. Underneath the egg and number of chickens in your house shows your current boost, discounts, etc for the game. Now let's navigate to the right.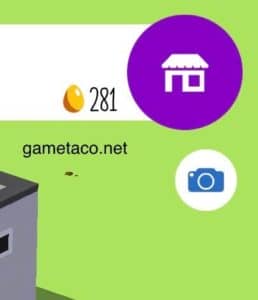 To the right of your current earnings displays the number of golden eggs that you have. The shop in the purple circle (I had to ask my sister what color this circle is due to color blindness, lol) gives you the option to purchase currency with real money which is not worth it if you're starting. As you level up in the game, it becomes more helpful to speed things up.
Under the purple circle are your notifications such as receiving mail, current events in the game, and accomplishments.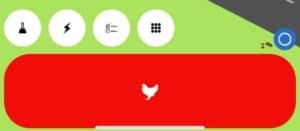 Now that you have a better understanding of what the top icons and buttons do, let's show you the bottom of the screen. As you already know, the giant red button moves the chickens from the hatchery to the hen house. You can either hold it or tap it with two fingers to speed things up. There are bonus multipliers so the more, the merrier. What I did during the game was I used one finger to hold on to the red button and had another finger on my other hand to upgrade my research as well as collecting gifts.
The minicircle doesn't do much to the game but minimizes or maximizes the red chicken button.
The items above the red chicken button from left to right are:
Research (laboratory glassware icon) – Spend your money on research to speed up earnings, increase egg-laying rate, increase egg value, and more.
Boosts (lightning bolt icon) – Will help enhance your gameplay. Usually, boosts are rewards and purchasable with golden eggs.
Current Mission (checklist icon) – Earn rewards from completing missions assigned to your account.
Main Menu (little circle dots icon) – With the main menu, you have the option to prestige, sign in, get help, settings, check your stats, and many more.
Egg, Inc.: Research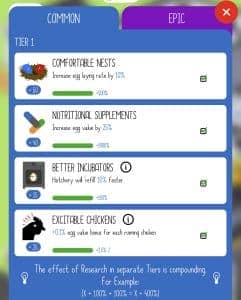 When you're in the research section in the common tab, you have many options with different tiers. There are 13 tiers in total. To unlock each tier, you'll have to pay for research. Every higher tier has a higher requirement.
On the next tab, you have the epic section. To purchase epic researches, you'll have to pay with golden eggs that are obtainable by smacking drones down or completing missions. The epic research section is epic for a reason. Golden eggs are harder to obtain and it doesn't reset when you start a new farm or prestige.
Egg, Inc.: Boosts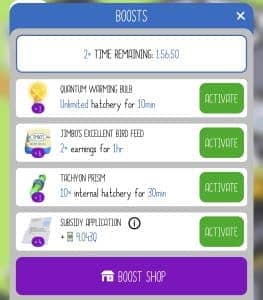 To the right of research, you have something that's called boosts. You can get boosts from completing missions, getting it as a daily gift, or purchase with golden eggs. When you're using boosts, it'll help speed up the game for you. I wouldn't recommend using any boosts when you're starting.
Egg, Inc.: Mission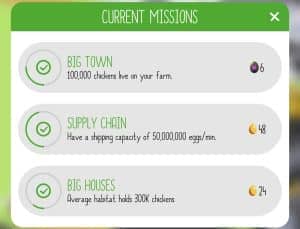 On the third button to the right, you have missions. By completing missions, you can unlock soul and golden eggs.
Egg, Inc.: Main Menu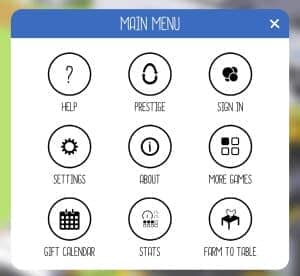 When you're at the main menu, you will see 9 different options. I will explain to you what every one of them does.
Help – By tapping on the Help button, you can send in a ticket about a bug or any issues you're dealing with on the game. There are 3 options available on help which are purchase issue, bug report, and general support.
Prestige – With Prestige, you can reset to back to the first egg. I would do this when it gets slower in-game. By collecting soul eggs, you can prestige your farm and earn an extra 10% for every soul egg when starting back on the first egg farm. If you have 20 soul eggs, then you will start with 200% earnings.
Sign In – You can sign in with your Game Center account to check leaderboards, etc.
Settings – There aren't much in the settings option. You can turn on/off SFX, music, low performance, etc.
About – Shows the creators of the game.
More Games – Shows games created by Auxbrain.
Gift Calendar – One of my favorites! It shows what gifts you'll be receiving on which day for logging in. You can set a reminder that will notify your phone.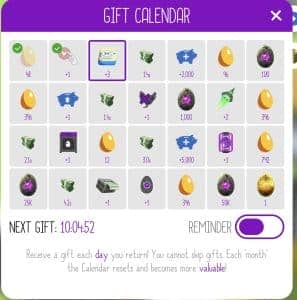 Stats – With stats, you can check your farm population, drone takedowns, lifetime earnings, etc.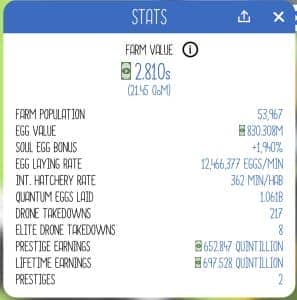 Farm To Table – This one is pretty cool. With farm to table, you can play Egg, Inc. with your camera on. Your background will change to the background your camera is pointing at.
Overall, the navigation menu is pretty straight forward. It may seem intimidating at first with all the menus but it's really simple and easy to understand.
Egg, Inc. Pros Vs Cons
The goal of this game is to get the most advanced egg you possibly can. I will warn you again: It's going to be addicting once you figure out the game. Play at your own risk (lol). While it is addicting and fun, there are pros and cons that I have found in this game. This is my personal opinion so take this article with a grain of salt.
Pros
When you're starting Egg, Inc., they give you a tutorial that's pretty easy to understand. The best part is there aren't many ads. Nowadays, almost every app game that you play overflows you with advertisements. It's becoming more annoying and makes you want to play app games less. Nothing beats watching your farm grow from a tiny hen house to a giant building housing millions of hens! The game becomes more exciting as you unlock new epic researches and unlock newer tiers.
Cons
As you make it farther into the game, everything becomes repetitive and it takes longer to level up. While I love that there aren't any pop-up advertisements, you will most likely have to watch videos at this point to earn extra money at this point. The game seems more like pay to win as you're reaching a higher egg level.
Reviews From Real People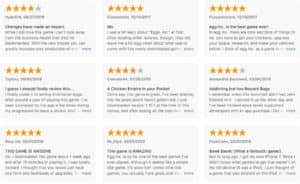 Here is a screenshot of some of the reviews from the Apple app store.
Egg, Inc. Reddit Community
If you're planning on starting this addicting game, there's a helpful community dedicated to this game. You can ask questions and learn from the experts on that subreddit.
This community currently has 36,100+ members which I think is pretty huge for an app game.
GameTaco's Thoughts
Overall, if I were to rate this game, I would give it a 4/5 simply because you're almost forced to watch advertisements once you achieve a higher egg level. I was playing this game with a few other people and we made it far in. We were at the Quantum egg level and the entire time, we were trying to earn money from watching advertisements over and over. While I do understand that advertisements help support the creators, it wasn't a 5/5 experience when I made it to that point in the game.
In the end, I would recommend this game to people. It's a pretty fun game and time killer, especially during this pandemic. It's a great bonding experience when you're playing with a friend.
Download for Android: Here
Download for iPhone: Here
Hello everyone! My name is Kyle, and I've been a passionate gamer for 15 years. I enjoy playing video games such as League of Legends, Stellaris, and Cities: Skylines in my free time. I created this blog with one purpose, and that purpose is: to help you out. Whether you're stuck on a quest in Black Desert Online or you simply don't know what to build on Lucian in League of Legends, don't worry because I've got you covered.