Your friend/family member's (and they're a huge fan of the PS4) birthday is coming and you're asking yourself, "can you gift games on PS4?" You're wondering to yourself doing research from one blog post to the next to realize that PlayStation 4 doesn't have that option. It might seem frustrating but there's another alternative which we will show you.
On April 1st, 2019, Sony stopped allowing retailers to have digital game download codes for sale. Before that date, companies like Amazon, GameStop, and Amazon were selling game download codes. What can you do? In this article, we'll show you the best way you can gift PlayStation 4 games.
Can You Gift Games On PS4?
To give you the answer, you can't directly gift games to your friends through digital downloads. While it's clear to Sony that they're not allowing digital game download codes at retailers, there is another alternative that you might like.
Alternative #1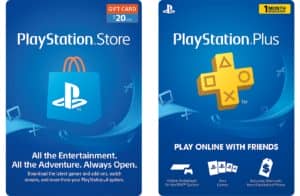 One way to gift a friend/family is to work around the policy by buying a gift card for the PlayStation Store. This will allow the person you gifted to be able to purchase whatever game online they want for themselves. They can redeem the code from the gift card and get credits for their PlayStation account.
Where Do You Buy PlayStation Gift Cards?
You can buy PlayStation gift cards almost anywhere. Here are some options:
Your Local Stores – In the US, you can find 7-11 almost anywhere. They are nationwide. This would be more convenient for you if you want to gift them a card. And if you want, there's also Walmart, BestBuy, and many other locations that will sell gift cards.
Online – You can buy codes online but you won't get the same reaction from your friend/family in comparison to gifting them an actual product. You can also buy actual cards online but waiting would probably be more of a hassle than buying it at almost any store near you.
 Alternative #2
This is the traditional way of gifting games. You can head over to GameStop or any retailers that sell games and you can purchase the actual disk. Sure, it'll be more of a surprise, and your friend/family who's getting the gift will appreciate you.
What Are Some Retailers That'll Sell PS4 Disk Copy Games?
There are many locations where you can buy games for your friends or family member. You can head to:

Walmart – Walmart has a variety of games to choose from. While it's not the best because their games are limited, my suggestion is to go to #2 if you think that you're going to have trouble choosing games. This location is great when you have nowhere else to go.
GameStop – While there aren't many GameStop compare to Walmart, this place is another location you can go to if you're willing to make the extra drive. If you're lucky and live near a GameStop, then that's even better! They have many games and even used games where you'll find nowhere else.
Online – You can shop for games online! They have EVERYTHING. The only problem is the delivery time. I would recommend Amazon Prime if you need to get this gift as soon as possible. Their shipping time usually takes a few days. While this is the best choice to find the most specific games, visiting a game shop wouldn't be too bad if you're getting it last minute.
Tip: When you're buying an actual copy game, our recommendations to you is that you should ALWAYS give your friend the receipt. You'll never know if something is wrong with the game. There are many incidents of this happening because not everything is perfect.
What Are Some Ways To Surprise The Person You're Gifting To?
#1 You finally got a copy of your friend's favorite game. Now, what do you do? Our recommendation to you is to wrap up the case and let them open it up. Film their priceless reaction. Now that's something to cherish
#2 You can troll your friend by putting the disk inside another fake game case. In this video, you will see a prankster changing the images and titles of the game. The funny reaction you see from the employees is hilarious.
#3 Ever seen those troll videos of a box inside a box? This will be one of the best troll moments that'll be talked about for many years to end. This video tutorial will show you how you can make one of these boxes or you can purchase your own pre-made boxes online.
So can you gift games on PS4?
Yes and no. Overall, whatever gift you get for your loved ones, we're positive that they'll appreciate and cherish for the rest of their lives. One day, your friend/family might be reading this article too to find out how they can get you your PS4 games. 🙂 – GameTaco