Since late March, Nvidia's 3090 Ti has got everyone rolling on their scroll wheel with its jampacked premium stats. But while the GPU market is on a hot stove, motherboard bottlenecks are the last thing you need to worry about when deciding to upgrade your build.
Whether you're planning to render 3D models or play the Final Fantasy 7 Remake, an overclock-supported motherboard is the best way to go. Not only will it cater to your needs but also add cushion to the costs by potentially future-proofing your build.
So, the question stands. Which motherboard to get? With 2023 almost over, we've compiled a list of the best motherboards out there for overclocking. In this guide, we will be going over all the details, including form factors, the number of PCI Express slots, and of course, their overclocking abilities. So without further ado, let's get down to business. 
What Is Overclocking?
In its essence, overclocking increases the clock rate of your processor or GPU to get better performance. In the case of motherboards, this can simply be done by heading over to BIOS settings and increasing the base clock speed along with the core voltage. If done correctly, it can add around 300-500 extra Hz to your build. A good rule of thumb is to increment the multiplier in BIOS by 1x to avoid VRM overheating.
However, this isn't all fun and games. Overclocking also voids your warranty in the case of damage, which is likely if you've not messed with these settings before. Similarly, overheating of your CPU can happen often and if not careful, you could be sitting with a blue screen and a damaged CPU.
If we talk specifically about motherboards, then the ones with 8-pin (4+4 pin) power plugs are best suited for overclocking. This is primarily because the 8-pin power plug offers a higher voltage supply.
Is Overclocking Worth It?
Yes, overclocking is worth it. Whether you have a slow CPU or a higher-end one, getting that extra squinge of performance out of your system provides you with better performance at the cost of higher temperatures. But, if you have good airflow around your rig and a stable overclock, there is no disadvantage to overclocking whatsoever.
So, if you have a CPU that supports an overclock alongside a motehrboard that's able to drive up the voltage, then, overclocking your CPU, or GPU for that matter, is a no brainer.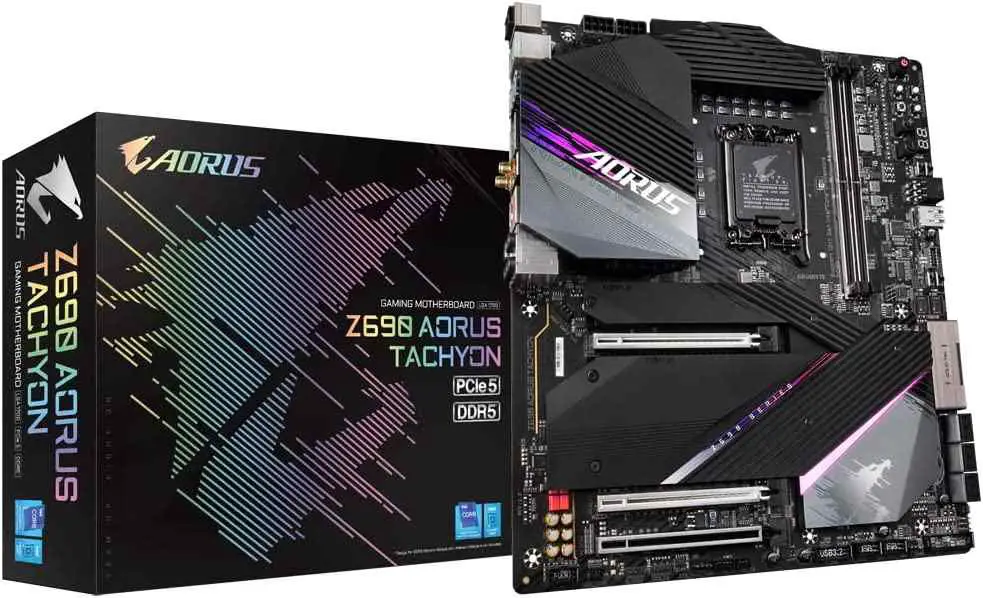 All hail the overclocking king. The Aorus Tachyon is an absolute beauty in terms of features, and aesthetics. If you aren't worried about blowing a hole in your pocket, then Aorus Tachyon is a juggernaut for a motherboard.
The Aorus Tachyon is an E-ATX board with a behemoth VRM, dual memory slots, and tons of buttons, making it a dream for those planning to overclock the hell out of their GPU. Due to the dual CPU power connectors, it falls under the handful of boards that can make LN2 a cooling limitation itself.
In terms of aesthetics, the board follows a black theme with a slight orange accent. It also comes with a ton of buttons, made for several uses including LN2 modes, profile switching, etc. It also has a lot of gimmicks in terms of RGB, making it the best of both worlds.
Another key thing to notice is the CPU mount which is pure from traditional capacitors, making it extremely insulation-friendly.
If we look at the BIOS interface, then that is another monster, offering a plethora of options for tweaking. Additionally, it comes with 4 DDR5 slots, 4 M.2 slots, and a 105A VRM ready for overclocking from the getgo.
All in all, the Aorus Tachyon is one of the most premium motherboards out there with insane features. The only downside is the price.
Features
Chipset: Intel Z690 Express Chipset
15-phase 105A VRMs
Form factor: E-ATX
Socket: LGA 1200
8 SATA 3.0 HDD slots
4 DDR5 slots
2 PCIe 4.0 X16 slots
4 PCIe 4.0 M.2 slots
8 USB 3.2 slots
6 USB 2.0 slots
Maximum Memory: 64 GB
8+8 pin for CPU
Why Is This The Best Motherboard for Overclocking?
Assuming that we don't have restrictions from a price point perspective, the Aorus Tachyon crushes the competition in terms of overclocking. This is primarily due to the dual CPU power connectors and the insanely strong 15-phase 105A VRMs.
This makes it possible to be overclocked to the point that even LN2 would become a hindrance before this board runs out of juice.
It is also insulation friendly, which adds up as another facet to why it is better than other motherboards.
Although the Aorus Tachyon comes with an absurd price tag, in terms of features and overclocking ability alone, it has no rivals.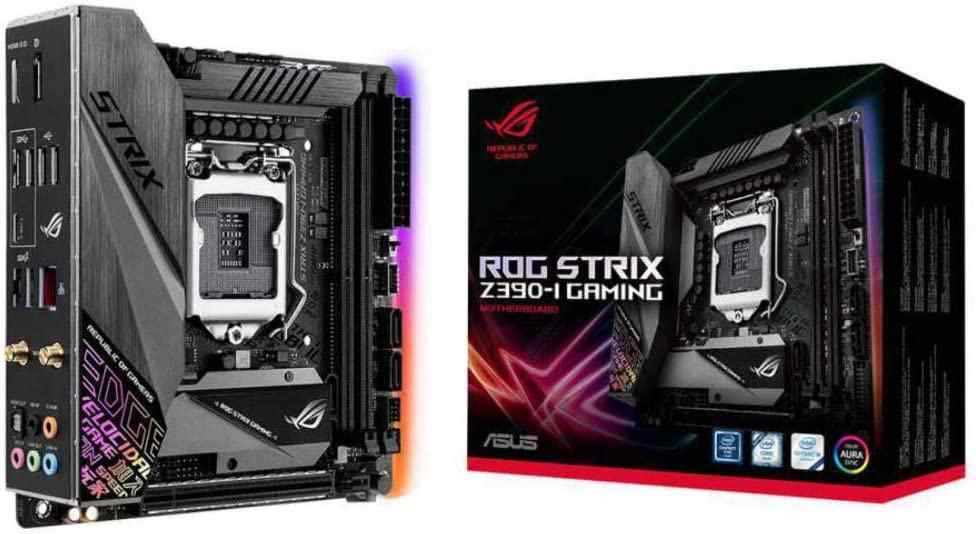 Yet another behemoth from ASUS on our list. This motherboard has an iconic look with a large heatsink, and breathtaking RGB but all in a mini ITX form factor.
Perhaps the best feature of this board is that it has 2 NVME M.2 slots and a built-in BIOS wizard. This can turn the M.2 SSD into a RAID 0 boot device, effectively, almost doubling the data transfer rate of the main Windows drive.
It also comes with an easy-to-use BIOS interface that supports tweaking. If we look at it from a bottlenecking perspective, then the large heatsink can provide effective cooling. However, this also means that your options are very limited for CPU coolers as they will not fit likely.
Apart from that, it packs all the essentials while closing in around the $400 mark. To make the best build using the ASUS 90MB0YB0-M0EAY0 ROG Strix, go with the Core i7-9700K and RTX 2070.
Features
Chipset: Intel Z390
Form factor: mini ITX
6 SATA 3.0 HDD slots
4 DDR4 slots
1 PCIe 3.0 x16 slots
2 PCIe 4.0 M.2 slots
8 USB 3.1 Gen 2 ports
5 USB 3.1 Gen 1 ports
4 USB 2.0 slots
Maximum Memory: 64 GB
8-pin for CPU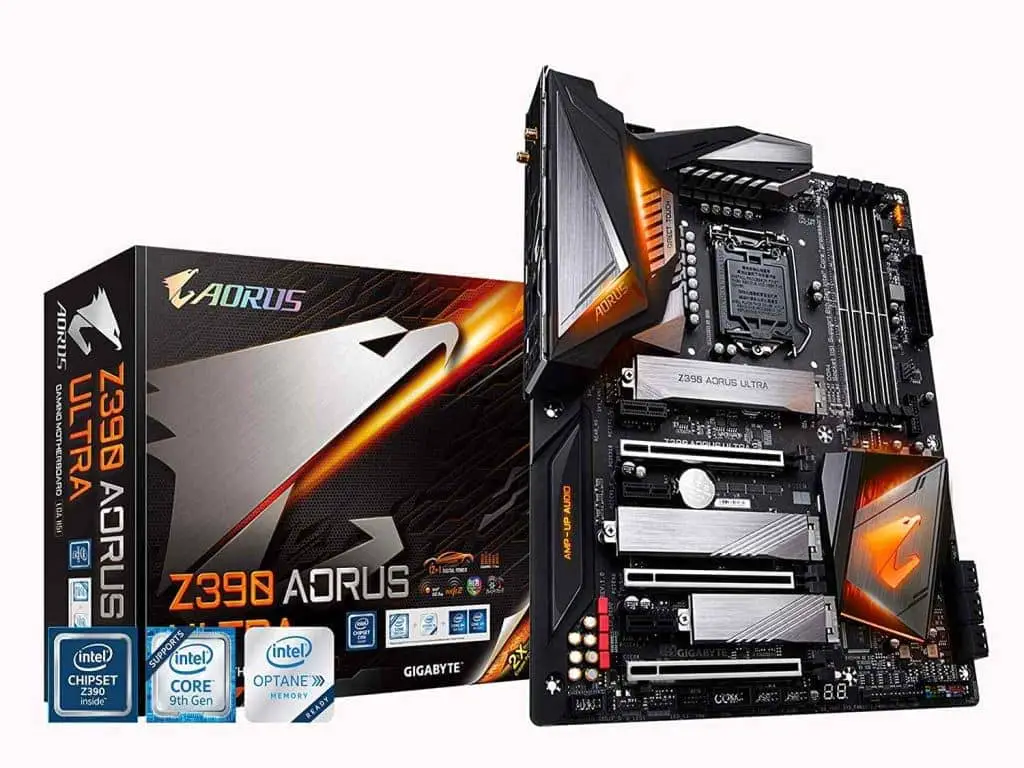 With a black tone, orange accent, and steel gray heatsinks, the Aorus Ultra has it all to make it stand out in a beauty contest. This look only gets more profound once you fire up the integrated RGBs and the best part is that it comes well under the price bracket of $300.
Additionally, the board features an advanced thermal design with RGB Fusion 2.0 support. This lets you customize your build with RGB as per your liking.
It also comes with 12+1 Phases Digital VRM, Direct Touch Heatpipe, and several temperature sensors. This makes it an ideal board for overclocking in the medium range. In addition to that, the BIOS allows in-depth tweaking while still retaining a user-friendly interface.
The Z390 Aorus Ultra works best when paired up with an i9-9900K and RTX 2080 Ti. If we were to compare the Z390 Aorus Ultra with the X570 Gaming Plus, then we'd suggest you go with the latter option. This is primarily because the X570 packs more features while being almost the same in price.
Features
Chipset: AMD Z390
Form factor: ATX
6 SATA 3.0 HDD slots
Dual Channel DDR4 slots
1 PCIe 3.0 x16 slots
1 PCIe x1 slots
3 USB 3.1 Gen 2 ports
4 USB 2.0 ports
Maximum Memory: 128 GB
8-pin power connector for CPU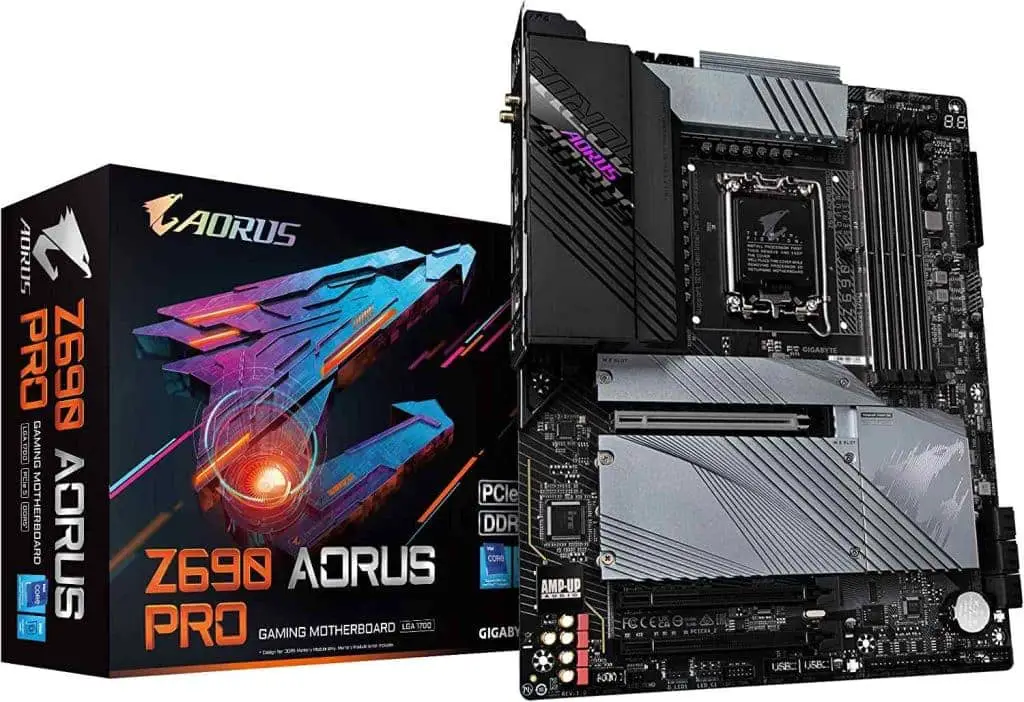 The Z690 Aorus Pro makes use of the Intel Z690 chipset with a similar design to Vision G. Coming at mid-range, it covers all the essentials you need to have a good gaming experience.
The Auros Pro follows a black theme with gray heatsinks, providing a unique contrast in the overall appearance. It also comes with an LED screen to help diagnose your system. Apart from the Aorus logo, the motherboard does not have much to offer in terms of RGB. However, it does support RGB Fusion 2.0 for synchronization. Additionally, it has four RGB headers of which two can be used for adding external lights.
Aorus Pro's chipset-to-CPU DMI link uses PCIe 4.0 x8. This gives it almost twice as much bandwidth compared to the previous generation's chipset. Thus allowing you to use more devices. The main highlight of the motherboard is perhaps the VRM which allows it to be quite efficient for overclocking.
Additionally, The UEFI BIOS features a new EASY MODE that includes a load line curve graph, making the interface much more user-friendly.
It also comes with several features including Thunderbolt 4, DDR5 memory, XMP 3.0 capability, 5 M.2 slots, and 13 USB ports, all under the price bracket of $350. This has made the Aorus Pro a distinctive fan favorite from the Alder Lake series, especially in terms of money-to-value ratio.
If you are looking for a 12th-generation Intel build, then the Aorus Pro will be one of the best choices to consider. Building it with Core i9-12900K and RTX 3080 Ti can give you the best performance without any bottlenecks.
Features
Chipset: Intel Z690
Mid-range price
Form factor: ATX
6 SATA 3.0 HDD slots
4 DDR5 slots
2 PCIe 5.0 X16 slots
2 PCIe 3.0 X1 slots
3 PCIe 4.0 M.2 slots
1 USB 3.2 Gen 2×2 Type-C
4 USB 3.2 Gen 2 slots
4 USB 3.2 Gen 1 slots
4 USB 2.0 slots
Maximum Memory: 128 GB
8+4 pin CPU Power Connector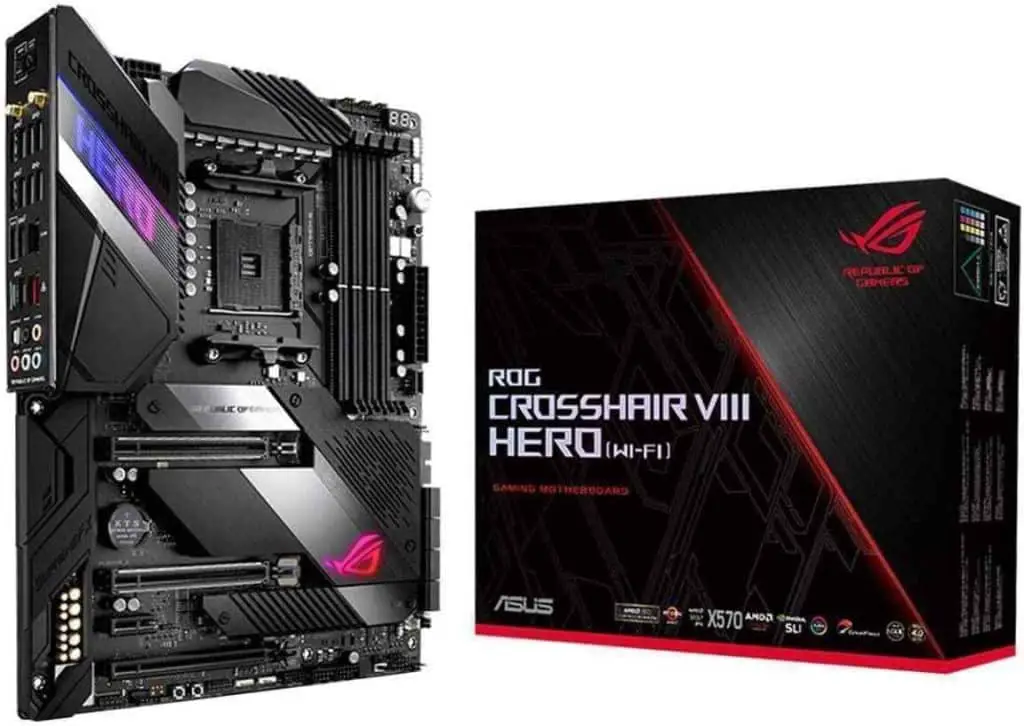 At just about $380, the Crosshair VIII Hero does a fantastic job at keeping low temperatures, while providing an excellent array of features any PC builder would want. These include future-proof PCI-E 4.0, two NVMe capable M.2 SSD ports, AX Wi-Fi, 8 SATA ports, 2.5Gbps LAN, and much more.
In terms of aesthetics, this motherboard follows a black theme with an electric blue RGB touch to sizzle things up.
If you are looking to overclock your CPU, then the Crosshair VIII Hero would grind its way until you need LN2. The board comes with powerful VRMs and equally efficient heat sinks, however, water cooling is a popular choice to go for when overclocking VIII Hero.
Overall, the motherboard has more ports than you will need with each M.2 slot including a heatsink for optimal performance. It also has an LED display that will display a Q-code (ASUS' name for motherboard debug codes). This adds a premium look to the whole rig.
It comes with a user-friendly BIOS interface, with a lot of tweaking options. With the price tag in mind, this motherboard is one of the best builds out there. However, it does not have integrated graphics.
To avoid bottlenecking, we suggest you pair the Crosshair VIII Hero with Ryzen 9 3900X and RTX 2080 Ti. To top it all off, the board also comes with a 3 years warranty.
Features
Chipset: X570
ATX form factor
8 SATA 3.0 HDD slots
4 DDR4 slots
3 PCIe x16 slots
Ryzen Backwards Compatible
1 v3.2 Gen2 slot
1 v3.0 slot
2 USB 2.0 slots
Supports 128 GB memory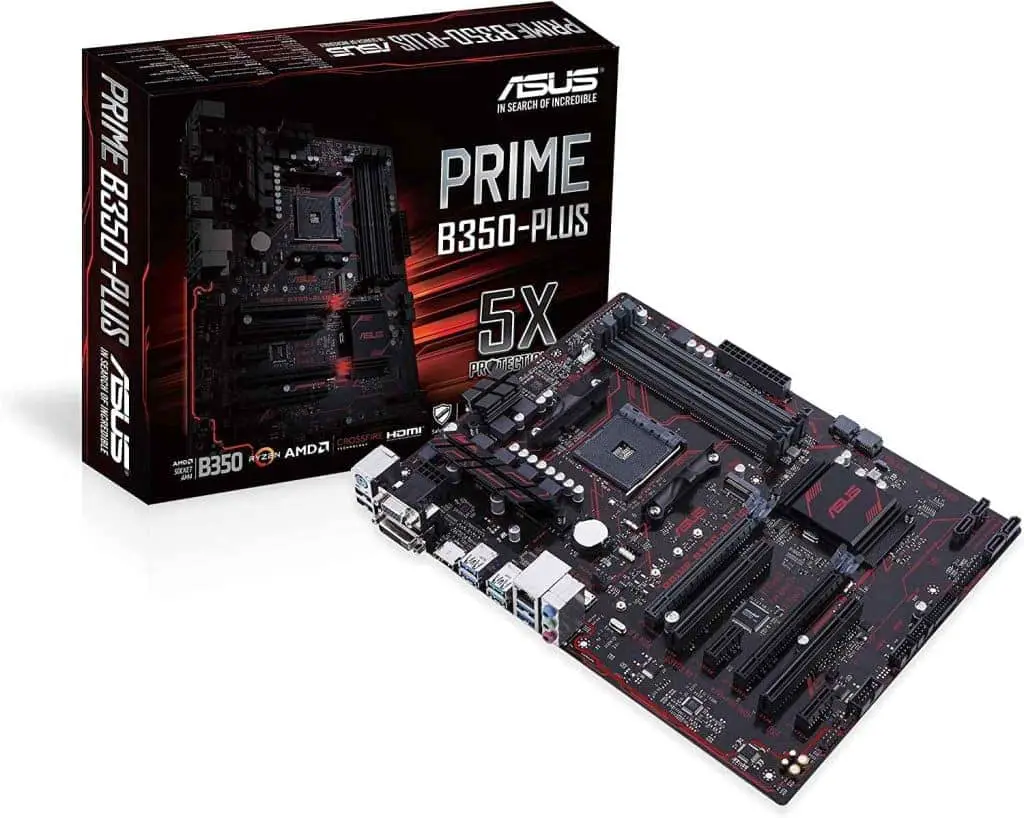 The Asus Prime B550-Plus is an entry-level motherboard, that peaks in affordability on this list. If you are not looking for bleeding-edge customizations and flashy RGBs, then this could be your best bet to go with.
It follows a standard ATX form factor while keeping things simple. While it does feature RGB they are used in a modest manner compared to other entries in this list. Overall, it has a robust design with a promising take on durability.
In terms of interface, it uses Armoury Crate which has been reported to have several issues such as failure to recognize the keyboard, and GPU not being detected. The Prime Plus also comes with a strong VRM and two beefy heatsinks made to withstand overclocking temperatures.
To make the best build with this motherboard, use the Ryzen 5 3600 with an RTX 3070. All in all, if you're looking for a budget build that ticks all the bare essentials, then the Asus Prime B550-Plus has got your back.
Features
Chipset: AMD B550 chipset
Form factor: ATX
6 SATA 3.0 HDD slots
DDR4 slots
PCIe 4.0 X16 slots
PCIe 3.0 X16 slots
2 PCIe 4.0 M.2 slots
4 USB 3.2 Type A slots
4 USB 2.0 slots
2 USB 3.2 Gen 1 slots
Maximum Memory: 128 GB
8 pin for CPU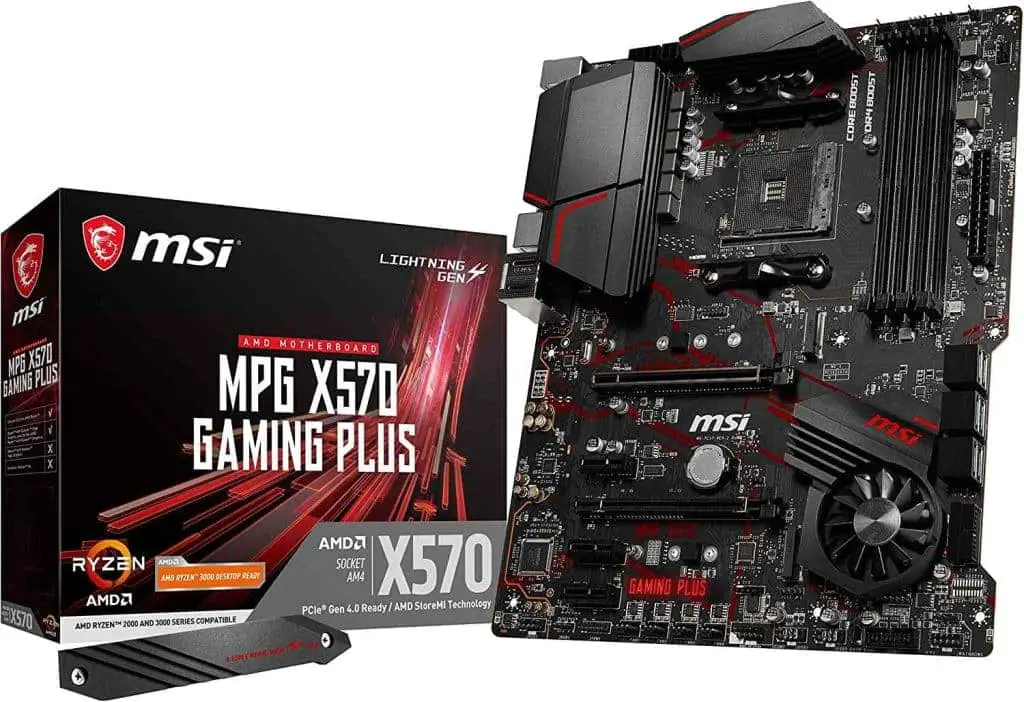 The X570 Gaming Plus is an entry-level motherboard., It was released by MSI in the launch of the X570 chipset with six other models. It easily dominates the competition under the $200 mark, making it one of the most affordable motherboards around in 2023. 
It follows a red & black theme with a slick design due to which MSI has dubbed it "Red Gaming DNA". Similar to its predecessor, X470 Gaming Plus, the X570 does not come with RGB lightning. Nevertheless, it is Mystic Light Sync compatible, thus allowing you to fully customize your overall RGB theme for other components.
In terms of compatibility, the Gaming Plus motherboard supports Ryzen 5000 series with backward compatibility, while also featuring PCIe 4.0 slot which will let you use practically any GPU out there.
It also includes a cooling fan. One thing to notice about this model is the power delivery heatsinks which have been separated from each other so that the VCore and SoC components can be cooled efficiently.
Similar to other motherboards on the X570 series, Gaming Plus makes use of a new BIOS interface, termed "Dragon Center". Essentially, it integrates all MSI tools in a much more user-friendly interface compared to the 470 series.
Additionally, the motherboard has a Frozr Heatsink Design, with an 8+4 pin CPU power connector. It also comes with 4 DDR4 slots that can support up to 4400 MHz.
To prevent bottlenecks, the best build would include a Ryzen 3700X with an RX 5700 XT GPU. To really push the limits to the brim, you could opt for Samsung's 970 Evo plus NVMe M2 and 2x8GB 3200 Mhz DDR 4 RAM by Vengeance.
Features
Chipset: AMD X570
Form factor: ATX
6 SATA 3.0 HDD slots
4 DDR4 slots
2 PCIe 4.0 X16 slots
3 PCIe 4.0 X1 slots
2 PCIe 4.0 M.2 slots
8 USB 3.2 slots
6 USB 2.0 slots
Maximum Memory: 128 GB
8+4 pin for CPU
How to Choose the Best Motherboard for Overclocking in 2023?
So we've mentioned one of the best motherboards out there for overclocking. But we're sure you still have questions. Simply opting for the most expensive product wouldn't be a smart move, and neither would buying the cheapest do you any favors if it bottlenecks.
So what factors should you consider when buying a motherboard with the purpose to overclock?
Form Factor
Form factor determines your motherboard's size. If you have a casing that does not support the motherboard form factor, then all the effort to search and buy the board would have been in vain.
The three most popular form factors for motherboards are ATX, mATX, and mITX. These vary in size with the ATX being the largest and mITX being its polar opposite. The ATX motherboard is the most conventional of the trio.
CPU Socket
Gaming CPU Sockets are built to be reliable and give better speeds. You can also find a few motherboards like the Z690 which do not make use of traditional transistors, thus making them insulation friendly.
RAM or DIMM
Consider the size of the RAM or DIMM slot when buying the motherboard as well. Your best bet is to go with conventional models which are widely available and cheaper in the market.
Additionally, the motherboards featuring extra slots are much better since they'll allow you to add more ram to your rig.
SATA M.2 Ports
Storage is crucial for gaming. If your HDD or SSD starts causing latency issues or slow loading times, it may need to be upgraded. A good motherboard in 2023 would most likely support M.2 SSD. These can provide optimal speeds for a better experience.
Interface
If you plan on overclocking your motherboard, then the interface needs to be user-friendly. Otherwise, you would soon find yourself in cobwebs, not knowing how to navigate your way through the mess.
Likewise, if you want to tweak, then a simpler interface becomes a necessity.
Processor
Ah, the debate of the decades. AMD or Intel? Regardless of which CPU you choose, it should be made sure that the processor is compatible with your motherboard.
Since the dimensions of AMD and Intel processors are different, motherboards that support one of them will not support the other option.
PCI Express Slots
To have the best experience in terms of graphics, and to ensure that your board is compatible with most GPUs out there, you need to be extremely cautious of the PCIe slots. In terms of optimal performence, at least 1 PCIe x16 would be needed to use a GPU.
If your motherboard comes with more than one PCIe slot, then it could be connected with several GPUs. Thus, it could potentially be used as a server.
USB Ports
The more the merrier. That's the rule of the thumb. To make you always have enough ports for peripherals and to get a faster data transfer with external HDDs, make sure your motherboard has 3.2 USB ports.
Overclocking
A good motherboard can be overclocked easily. This can be done by tweaking settings in the BIOS menu. However, not all motherboards support that.
Therefore, when buying a motherboard, make sure it has strong VRMs so that it can be used at 10x multipliers and beyond.
Cost
Last but not least is the cost. If you are opting for a motherboard for overclocking, then make sure it does not bottleneck with other components. You may end up buying an expensive board but find out later that you did not need it.
Therefore, calculate your budget first. If you intend on upgrading your hardware later on, then go for a better option, but if that is not the case, then don't waste money in efforts to future-proofing your rig.
This is because it will eventually become outdated and it would simply be better to get a new rig altogether later.
Final Thoughts
Buying a motherboard is no small feat. It takes extensive research and can be quite tiresome, to say the least.
All in all, in this guide, we talked about some of the best motherboards out there for overclocking. If you aim to go for a budget-friendly board that provides relatively good overclocking compared to its rivals, then we would suggest you go for the X570 Gaming Plus. It may not have the fanciest looks, but it can get the job done.
Similarly, if you're an RGB enthusiast, then the best option would be the Z690. However, this would only be true for budget-friendly options.
If the price tag is not of concern, then without a thought, get the Aurous Tachyon instead. This is an absolute juggernaut in the name of motherboards, with an outstanding look, and tons of features made for overclocking.
That brings us to the end of this guide. Thank you for reading.