Fishing is one of the most difficult tasks in Stardew Valley, and for all the right reasons. Unlike other games, you need a lot of practice to easily catch fish in Stardew Valley.
The majority of the new players find fishing difficult and are unable to complete the levels. If you want to know why fishing is so hard in Stardew Valley, continue reading this article. 
Also Read: Excavator vs Gemologist in Stardew Valley
The Concept of Fishing in Stardew Valley
In order to successfully catch fish in Stardew Valley, you need to learn the concepts of fishing in the game. To fish effectively, you should know how to use a fishing rod and the technique used to catch it. Fishing is one of the core activities in the game. In order to move ahead in the game, you need to catch different types of fish and complete fish bundles.
In order to catch a fish, you'll need a fishing pole and a body of water. You'll need to learn which fish move faster than others to ensure a perfect catch. Once you know which fish are most active, you can learn their movement patterns and use these to your advantage.
This will help you get more fish and increase your overall experience level. Once you've mastered the fundamentals, you can work your way up to catch more valuable fish.
The concept of fishing in Stardew Valley is simple and straightforward: you'll cast your fishing rod and wait for it to hit a fish. You can see a progress bar that moves from red to green, indicating the distance of the bobber from you, but you'll want to be patient and wait until the green bar next to it appears. If you catch a fish, the fish bitten bobble will wiggle above your head, and you'll get a hit.
Also Read: How to Use Copper Pan in Stardew Valley?
Why is Fishing So Hard in Stardew Valley?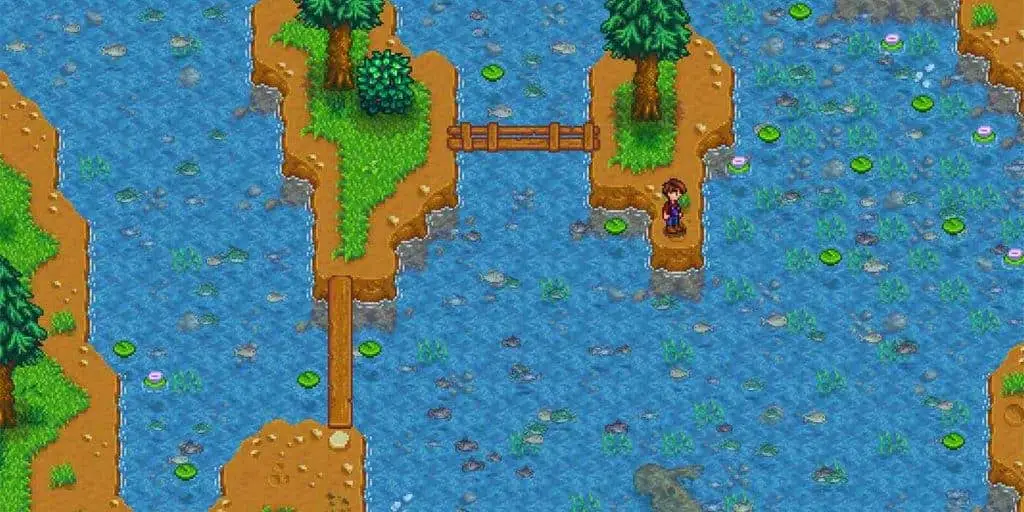 If you've been wondering why fishing in Stardew Valley is so difficult, you're not alone. Almost everyone has had trouble getting the best fish. This is because fishing in the game is really difficult to master. But don't despair! There are some simple tricks you can use to improve your fishing experience. Here are some reasons why fishing is so hard in Stardew Valley.
The Interface
The interface isn't as intuitive as the other skills. Moreover, the in-game tutorial isn't detailed enough. Despite its complexity, the fishing minigame is still incredibly fun, and if you want to be successful, you've got to learn how to use it.
The Game's Difficulty Curve
Fishing in Stardew Valley starts off as near impossible. It becomes significantly easier as you progress through the levels. Fishing can be the only way to get a villager's gift. To improve your fishing, remember to tap gently. Continuing to press it will send the green bar flying.
Legendary Fish are Hard to Catch in Stardew Valley
The legendary fish are rare and prohibitively hard to catch. You'll find that they'll test your skills and push your fishing experience to the limit.
Bamboo Fishing Pole
When you first start fishing in Stardew Valley, you will only get a bamboo pole. As it is an ordinary tool, you will need a lot of practice to catch fish. Getting a better fishing rod is a good way to improve your chances of catching the rarest fish.
No Bait or Tackle
Another reason why fishing is hard in Stardew Valley is that most people don't use bait or tackle to lure the fish.
Quick Movements
When you try the catch a fish, they move too quickly. On the contrary, the bar takes a lot of time to speed up and slow down, which makes it impossible to catch a fish.
Specific Locations and Time
Fishes are also difficult to catch because they appear only at specific locations and at a specific time. The weather, time, and the season also affect fishing in the game. 
Also Read: How to Get a Brown Egg in Stardew Valley?
Tips to Improve Your Fishing Skills in Stardew Valley
Most players feel that fishing is quite difficult in Stardew Valley. However, there are some tips you can follow to make it easier for you. Fish in the game behave differently from one another.
Players can make educated guesses by observing how fish swim in different locations. Some fish maintain a constant position while others fluctuate upward and downward. You need to select the fish which is easier to catch.
Secondly, you need to equip a fishing rod. This is located on the right side of the screen. When you equip the rod, you'll see a gauge in the lower-right corner of the screen. You want to keep as many fish as possible in that gauge. If they spawn outside of the gauge, the progress bar will be smaller.
Once you have a fishing rod, you can start fishing. However, it's worth noting that you don't get one in the beginning. You will have to wait until the second day before you can use it.
Once you've gotten your first fishing rod, you can purchase a better one, as long as you don't mind the difficulty. In addition, you can equip a fish trap in the water at any time to increase the chances of catching a fish.
Apart from that, you also need to use the right bait or tackle to catch fish. If you purchase an advanced iridium fishing rod and use bait or tackle, you can easily catch a fish. You will also need a lot of practice to gauge the movement of the fish and know when to strike. Once you master this skill, you will be able to catch fish in the game easily. 
Also Read: How to Regain Energy in Stardew Valley?
Conclusion
The main reason why fishing is so hard in Stardew Valley is that you get an ordinary bamboo pole in the beginning to catch fish. Secondly, you don't have any bait or tackle to lure the fish, and thirdly, the fishes keep moving very fast, so you need to be patient and check their movement to catch them.