Many new players might think that Stardew Valley may be a peaceful game without any mobs, but that's not true. Squid Kids are one of the few mobsters that you will come across in Stardew Valley.
You need to find and defeat them to get various drops in the game. So, in this article, we will show you where to find Squid Kid in Stardew Valley. 
Also Read: How to Make Oil in Stardew Valley?
Who Are Squid Kid in Stardew Valley?
In Stardew Valley, Squid Kids are hostile enemies. They are incredibly timid, but they can be dangerous if you get within their fireball range. However, you can dodge their attacks if you move quickly. They have a one-hundred-hp health pool. Therefore, squid kids are not an overwhelming threat.
In the game, Squid Kids are pink balls with fire-shooting faces. They are difficult to fight, but they can be killed fairly easily. To get them, you need to reach level 80. When you kill them, you will get different types of drops like a bomb, gold bar, mega bomb, squid ink, solar essence, etc.
Squid Kid ink is an important item in the game. The game uses squid ink for various things, like dye and tailoring. The Squid Kid will drop Squid Ink when it perishes, so you should try to get it from them once you've killed them. It isn't a necessary item for normal bundles, but it's useful for two recipes.
Where to Find Squid Kid in Stardew Valley?
Squid Kid can be mostly found in the mines. Unlike other villagers, they don't wander around in different places. They occupy the innermost levels of the mines.
Although the traditional Squid Kid is incredibly weak, with the health of just one, the dangerous Squid Kid can cause some serious damage. The key to surviving this nippy enemy is to move as quickly as possible and stay out of their range.
In order to find The Squid Kid, you need to reach mine level 80. They are mostly found between 81 to 119 mine levels. They only spawn in the mines, so you need to complete the levels and reach 81 floors. 
Also Read: How to Marry Another Player in Stardew Valley?
How to Kill the Squid Kid in Stardew Valley?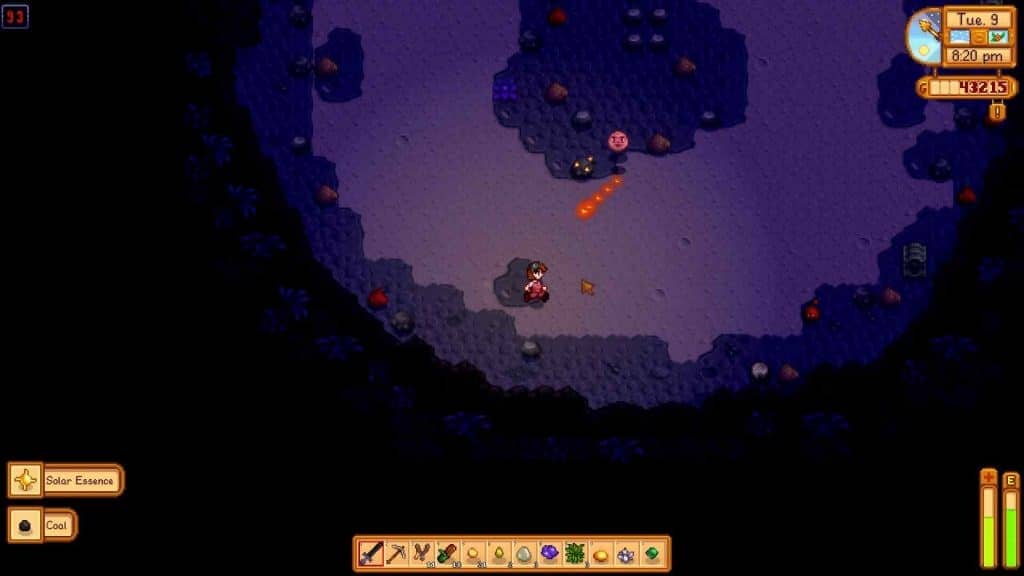 In the popular video game Stardew Valley, you will encounter the Squid Kid, an ominous enemy. These pink balls with faces have a huge fireball attack that bounces off of walls and deals massive damage.
The Squid Kid is extremely nimble and can be easily dodged, although their HP is a laughable one. Here are a few ways to kill the ominous enemies in Stardew Valley.
First off, don't confuse Squid Kids with Splatoon characters. They are very rare but are worth hunting for, as they give 15 XP upon defeating. They can also drop various items such as Solar Essence, squid ink, gold bars, and bombs. You can also find Squid Kids in the deeper mines of Stardew Valley.
The Squid Kid drops a variety of useful items, including dwarven scrolls, solar essence, squid inks, and dwarven scrolls. Squid kids are the easiest enemies to kill in the mines as they move around and spit fireballs. They also do not spawn in large numbers and stop attacking when they are out of range.
The Squid Kid also drops Squid Ink, an item you can use to dye items and make clothes. However, you can't sell this item to the Adventurers Guild, and you have to ship it to complete the Shipping Collection.
Despite its scarcity, Squid Kid is useful in the crafting industry and can make your items more valuable. The Squid Kid is an essential resource for your character, as it can make your life easier in many ways.
You can kill him with any weapon, including a sword or a slingshot. But be sure to swing your weapon at the right time. The sword's secondary attack cannot block a fireball, so you should use a slingshot.
You can simply use a slingshot and equip it with any type of ammo to hit them and kill them from a distance. You need to move quickly to avoid their fireball. You just need to hit them once with any type of weapon in order to kill them. 
Also Read: Where to Find Pam in Stardew Valley?
Conclusion
The squid kid is found in the deepest levels of the mines. You can find them in the mines between 81 to 119 floors. Because they are of the most difficult mobs, the loot they drop is also important. So, do not forget to collect those after you have successfully beaten the Squid Kids in Stardew Valley.