Disclaimer! If you have a faint heart, this isn't for you. This content may make you sweat, anxious, excited, and palpitate. You may even go to the extend of screaming and going crazy. All these symptoms may occur to you because we will unveil the ten hottest thicc anime characters. Yes, you heard it right. We have a list of busty, sexy, and curvy anime characters who have blown all the anime fans' minds with their looks and characters.
Anime fans may already have a couple of names on their mind, and we are also in no mood to play the guessing game. So catch your breath as we take you through these unique characters who made the experience of watching anime content even better.
Our Top 10 Sexy Thicc Anime Girls
1. Tsunade
This gorgeous and sensual lady from the anime series Naruto has created a bar for most female anime characters. Do not be fooled by her light-skin, dreamy brown eyes, straight blonde hair, and tall posture. Tsunade may look appealing and delicate to many, but she is indeed a badass woman. She is known for being the strongest kunoichi, a very talented shinobi who became the Fifth Hokage of Konoha. She also knows how to smash and crush her enemies and spares none who hurts the innocence.
Tsunade also received the infamous name of Slug Princess as she can summon slugs.
Tsunade, as a young girl, had a very innocent and sweet appearance. But as she grew up to be an adult, all hell broke loose. She is not only intelligent but eye candy to many. Tsunade has a fantastic body frame with well-structured thighs, a curvy-slim waist, heavy bust, making her a beautiful woman and one of the favorite thiccest anime characters.
2. Rias Gremory
This 5ft, 8 inches beauty, Rias Gremory from High School DxD, definitely is hotter than fire. Her long and bewitching crimson hair, white skin, oceanic blue eyes, and heavy bosoms certainly compliment her overall look. Rias' character is delightful and humble, despite being from a noble family. She is kind to all her loved ones and is very compassionate at the same time. Rias is mostly in her school uniform, which does an excellent job of displaying her perfect curves and shapes. She also dons lingerie whenever she is in the mood to spice things up with Issei (protagonist). She holds demonic powers, and one of her famous forms of power is the power of destruction. We don't know about her enemies, but we sure have been destructed by her beauty.
3. Raikou Fate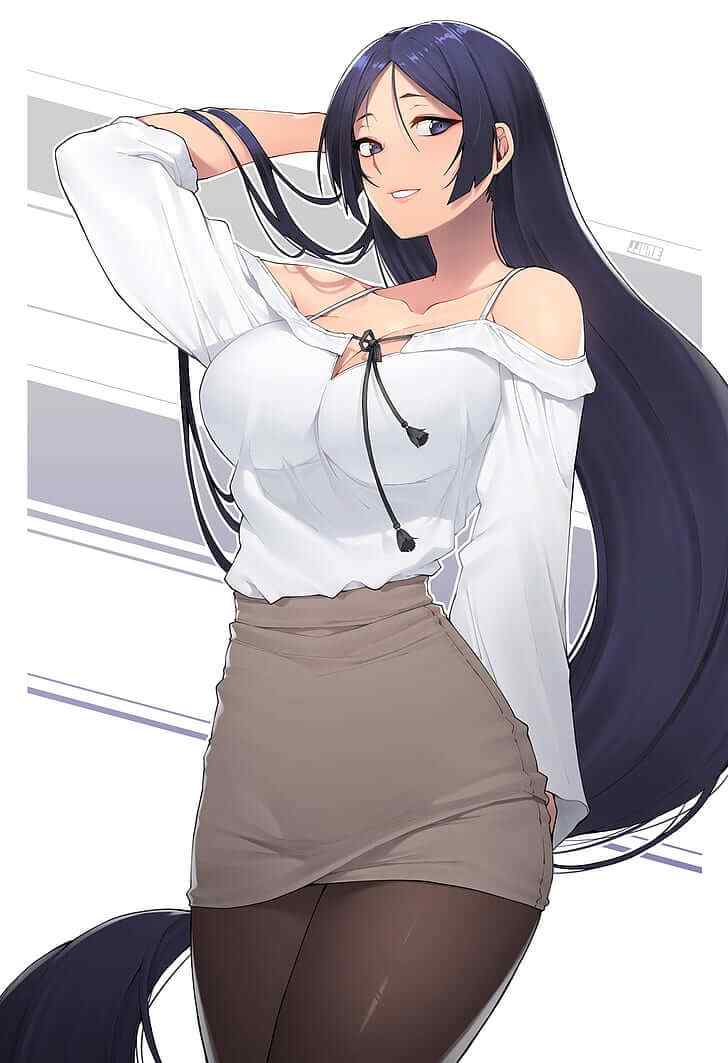 Raikou, an anime character from Fate/Grand Order, is the most elegant, righteous, and attractive woman. It is not surprising that despite being a soldier, she maintains her aura and never fails to attract anyone. Even her military outfit compliments that body of hers. Her bodysuit perfectly fits every inch of her body and enhances her busty body even more.
Raikou's demeanor is charming and affectionate, which sort of goes along with her appearance. Her ability to handle swords is commendable, and because of that, she is unstoppable when it comes to butchering the armies and enemies. Now, who won't find such a woman appealing?
4. Nozomi Kaminashi
Nozomi, the main lead in the anime series Keijo may look like a harmless soul, but she is indispensable when she is in the ring as a Keijo player. Nozomi is extraordinarily talented in gymnastics and has excellent flexibility and balance. No wonder she is a beautiful Keijo player and has a rocking body. Nozomi is known for her navy blue eyes, dark blue hair, and big bottom because she uses Vacuum Butt Cannon quite often. She also wears a white ribbon whenever she ties her hair and is also known as Ribbon Girl. This woman sure knows how to mix cute and sexy together.
5. Corrin
This next character is fascinating because it has two genders. Corrin is an anime character from Fire Emblem, and you can customize the avatar and either choose to play as a male or female. Both the characters look stunning, but how can we ignore the female avatar? The female Corrin has long blonde hair with red eyes, which makes her look even more captivating. Her voluptuous body structure, smooth-milky-looking skin, and hot thighs can only leave us with our imaginations. Corrin is also an out-going, enthusiastic, and soft-spoken person who is a lot more humble than someone belonging to a royal family. She is also very skillful with her weapon and can wire the Dragon Veins power. You definitely can't overlook this beauty.
6. L'Arachel
Another bold thicc beauty is L'Arachel, who is also from the franchise of Fire Emblem. This green hair, green eyes, and fair skin enchantress is the Princess of Rausten, who is known to be self-centered, self-obsessed, and spoiled. With a magnificent body and sophisticated features like L'Arachel, anyone can get a little arrogant and selfish.
7. Rumi Usagiyama
Our next lovely and exquisite beauty is Rumi Usagiyama, an amine character from My Hero Academia. Rumi is one of the No.5 Pro Heroes in the anime, which means she is one of the most robust characters despite being breathtakingly captivating. Rumi is popularly known as Rabbit Hero as her abilities are of a rabbit. She has remarkable hearing skills and can even track down her opponents with little noise. Rumi is also super fast and robust, can combat and take dodges which means, you should not mess with this woman.
Rumi has muscular arms, legs, and an athletic build, but that doesn't overshadow her feminine features or make her any less. Her tanned skin, luscious white hair, long eyelashes with white rabbit ears, round whitetail makes her look sexy and cute at the same time. It's rare to find a woman with a mixture of both spice and sweet.
8. Harpyia
The following beauty gracing our list is Harpyia, one of the anime characters from the Last Origin. She is a flagship fighter who destroys enemies with her weapons like machine guns and missiles. But it is hard to ignore that she is a dangerous weapon who has managed to floor us with her looks. Harpyia's lengthy black hair, sparkly green eyes, and thick thighs are indeed worth praising. She even looks stunning and gorgeous on the battlefield while dealing with her opponents. Sometimes it's hard to debate if the game is exciting or Harpyia makes the game interesting.
Regardless of her abilities, Harpyia is also very clever and can outsmart anyone in the competition. There is no doubt this lady is the right example of beauty with brains.
9. Charlotte Smoothie
Charlotte Smoothie is a majestic woman who is one of the Sweet Commanders of Big Mom Pirates in the anime series, OnePiece. This lady is 15'3, lovely tan skin, charismatic blue eyes with luscious lips, and long white hair covering her right eye, making her look mysterious and appealing. Charlotte has an excellent carefree attitude. She also has a rose tattoo on her thigh which has got us all drooling.
10. Pyra
Pyra is the main protagonist of Xenoblade Chronicles2. She is an ancient blade who grants power. This kind-hearted woman has red bob hair, red eyes, wears thigh-high boots, red shorts, a golden tiara, and a cape. Pyra wears a backless costume, which is our favorite amongst her four costumes. She has a weapon that releases flames—no wonder she's always on fire. And we can't stop picturing her in all her sexy outfits.
Conclusion
We hope you have enjoyed going through our list of thic anime characters as much as we did. It isn't surprising that these anime female characters have skills, strength, and alluring beauty. They are our favorite, and we can't keep calm.
Hello everyone! My name is Kyle and I've been a passionate gamer for the last 15 years. In my free time I enjoy playing video games such as League of Legends or Stellaris. I created this blog with one purpose, and that purpose is: to help you out. Whether you're stuck on a quest in Black Desert Online or you simply don't know what to build on Lucian in League of Legends, don't worry because I've got you covered.