Nokaxus provides a high-quality and highly comfortable gaming chair to lighten your distress in front of the PC and ensure a cozy experience. Nokaxus is one of the major suppliers of gaming chairs in the world.
The company is responsible for providing gaming chairs of various designs that boost up energy by subsiding tiredness. Nokaxus gaming chairs are highly attractive and can match just about any home design. They have amazing features at affordable costs and are highly durable.
The overall aesthetical design of this chair is somehow similar to an office chair, but the addition of the gaming-specific features and versatility of colors makes it much more than an ordinary office chair. It is designed to meet the comfort demands of gamers but can be used in offices and for other purposes as well.
Why Use A Good Gaming Chair?
Sitting in front of a PC for hours without proper care can make you sick physically and mentally annoyed. It also makes a person irritable and these effects are worse when there are no proper sitting arrangements.
There's no doubting that a person suffers more when he finds it difficult to sit properly in front of a PC, making him annoyed when he is unable to manage his computer accessories. If a person is uncomfortable in front of a PC, he can't perform his tasks as required.
Moreover, without cozy arrangements, developing back pain only becomes a matter of time. Nokaxus provides an efficient solution to these problems by providing high-quality gaming chairs of various sizes to optimize your gaming experience.
Key features
Highly durable product made up of high-quality steel.
A number of different colors.
Has a maximum weight of 350 pounds.
Modern style with fascinating aesthetic.
High-quality and durable PU leather.
Soft and large handrails with adjustable height.
Wide backrest for efficient support.
Provides 360-degree rotation around an axis.
Ergonomically designed comfortable product.
PU wheels of large size harmless to wooden floors.
Comfortable footstools that are retractable.
Adjustable head pillow.
Adjustable waist pillow having cozy massage function.
Adjustable back angles according to your desires.
One year warranty of the product.
What Makes This Chair Extraordinary?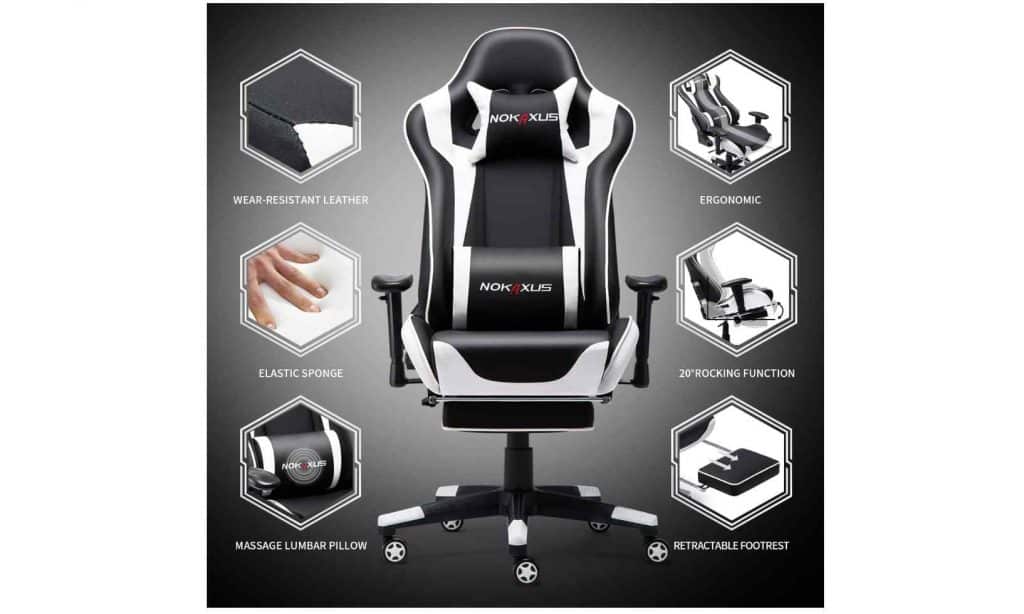 Nokaxus Gaming chair is considered extraordinary and eats most of its competition due to its set of distinctive features that make it reliable and friendly to use.
Comfortable Backrest
Nokaxus gaming chairs provide a highly comfortable backrest. The chair provides support to your lumbar vertebrae perfectly and protects you from getting back pain. While designing the backrest, the supportive needs of the body are carefully considered. Ergonomically designed, the Nokaxus Gaming chair offers you back support similar to a cushioning pillow.
Armrests
It has innovatively designed comfortable armrests. They don't allow your arms or elbows to get tired in front of your PC. Their height is also adjustable to your needs. With their cushiony nature, they add to your overall comfort.
Footrest
The footrest is retractable and meets the needs of comfort. If you want to kick back after hours of gaming, a footrest is what you're after. It can also be hidden completely when it is not required. The depth of the footrest is also manageable.
A Variety of Colors
Nokaxus gaming chairs are available in a number of different colors. You can choose the chair of your favorite color to match your space.
Adjustability
Nokaxus gaming chairs are known for their adjustable nature. In terms of adjustability, no other competitor can compete with Nokaxus gaming chairs. The chair offers you a comfortable and adjustable backrest. It can be adjusted at any angle ranging from 90 to 180 degrees making it a perfect match to your gaming, rest, or office work needs.
The height of the chair is also adjustable and various tilted positions can be locked and rocking features can be enjoyed. By reducing your tiredness, smothering your inconvenience, Nokaxus gaming chairs boost up your working efficiency and reduce irritability.
A True Amalgam of Innovation and Tradition
Nokaxus Gaming Chair represents a true amalgam of innovation and tradition. Made with high-quality corrosion-proof steel and durable leather, it provides the cushioning function you need to enjoy a gaming experience that is second to none.
Stylish Look With a Guarantee of Comfort
The Nokaxus gaming chair guarantees comfort in spite of its stylish look. It offers a modern stylish look with its beautifully arranged backrest, armrest, and footrest.
Pros
The backrest provides efficient lumber support. It serves its cushioning role without interrupting blood flow during the hours of gaming on a PC.
Adjustable footrest adds to the comfort and smothers discomfort.
An adjustable backrest that allows tilting in a wide range from 90 degrees to 180 degrees is an amazing feature that makes the chair more purposeful and suitable for various jobs in addition to gaming.
Its steel frame is highly stable.
High-quality material is corrosion-resistant and durable.
The Nokaxus Gaming Chair is available in a number of different colors. You can buy your favorite color to furnish your room.
The chairs are able to fit all family members.
The designs are modern and have a fascinating appearance.
It comes at a reasonable price.
The company offers free exchange in the case of missing parts or damage within 1 year of use. If you are not satisfied with the chair or it doesn't meet your requirements, you can return it to the company within a month.
Any damage to the gaming chair within 28 months is repaired without any cost by the company.
Cons
Armrests become loose with time.
The height of the armrests can be increased or decreased but they can't be moved in or out.
A USB connection is required for the Lumber massage, so you become restrained at a point.
Conclusion
The Nokaxus Gaming Chairs with its diversity of colors and adjustable parts is one of the best gaming chair options out there. Made with a thick steel frame with a USB lumbar massage, it offers you an awesome solution to your tiredness and back pain while using a PC either for gaming or for office work.
The chair is adjustable according to your needs. Its backrest, armrests and footrests are adjustable and provide you comfort, regardless of if you are working, playing, or meditating. The warranty policy of the company is convincing and the price of the chair is also reasonable.
However, with the passage of time, its parts may become loosened. In short, if you are a gamer and looking for a comfortable chair, the Nokaxus Gaming Chair with its remarkable features is a great option.
Frequently Asked Questions
Is Nokaxus a good gaming chair?
Yes, it is a great chair to keep you relaxed even after long hours of sitting. Whether you are a hardcore gamer or someone who has a long desk job, this chair will make your body feel at ease.
How much does a Nokaxus gaming chair cost?
The Nokaus gaming chair can be purchased on Amazon for 175 Euros.
Is Nokaxus a good brand?
Nokaxus is a highly trusted brand that makes good quality gaming chairs. They ensure that the material used on each part of their products is premium and top-grade.
Are gaming chairs bad for your back?
Gaming chairs are not bad for your back when using the right chair. Always buy chairs that have superior quality and soft foaming. Also, make sure the chair you are buying is designed to keep your back at an ideal angle, which should not be too upright nor too inclined back.