In MapleStory, Root Abyss is an area that permits you to overthrow some most difficult game bosses for getting end-game gear. Moreover, it enables you to collect CRA gears and Fafnir gears available in the in-game format.
With these pieces of equipment, your chances of defeating mini-bosses will be much higher, which is impossible in the absence of gears.
Let's know with this article how you can acquire Fafnir gears in MapleStory while solo playing.
What Prequests Are For Root Abyss?
Root Abyss prequests are very quick and easy to do. Root Abyss will get started when you hit level 125.
To commence the prequests, search for a quest named Root Abyss – An Urgent Summons. The journey will bring you to a mini-story hunt, where you can bypass the cutscenes within 5 minutes. Then you can enter Root Abyss via the Dimension Mirror.
After completing the prequests, you can unlock four different map portals. All portals lead you to several bosses. To reach the entrance, a Gnarled Wooden Key will be needed, which amounts to 100,000 Mesos.
Purchase it from an NPC on the map of Root Abyss. In addition to this, portals will offer you the choice of picking either the regular version or the Chaos version.
Also read: How To Get To Bye Bye Station In MapleStory?
Who Are Bosses Of Normal Root Abyss?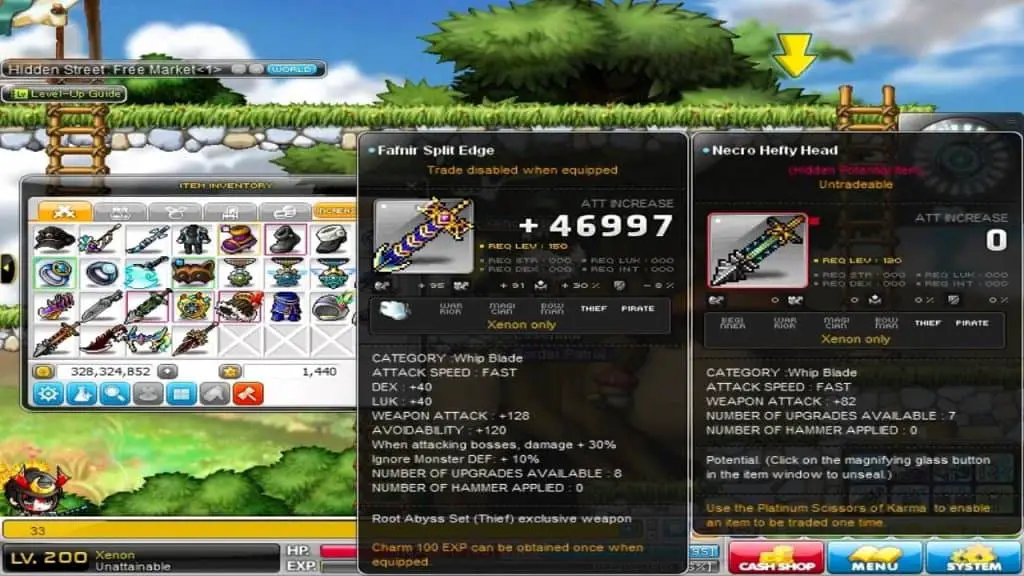 The bosses of Normal Root Abyss are easy to have a toll on. You can find them at level 200 and above. Here are all four bosses which you come across:
1. Crimson Queen
She is the most easygoing defeat in Root Abyss bosses carrying 315,000,000 health points. Her Soul Shards are worthy of collecting as she is SS tier boss.
2. Pierre
The next boss is Pierre, who has 315,000,000 health points. Save yourself from the falling hats and try to collect drops of recipes of Wealth Acquisition Potion that can be useful in Reboot Worlds.
3. Von Bon
He has 315,000,000 health points. Watch out for his long jump that can harm anyone on the ground. However, don't worry, he does not have one-hit KO shots to kill anyone. Vellum
The next boss is Vellum, who has 550,000,000 health points. Vellum possesses one-hit KO shots you require to be concerned.
What About Chaos Root Abyss Bosses?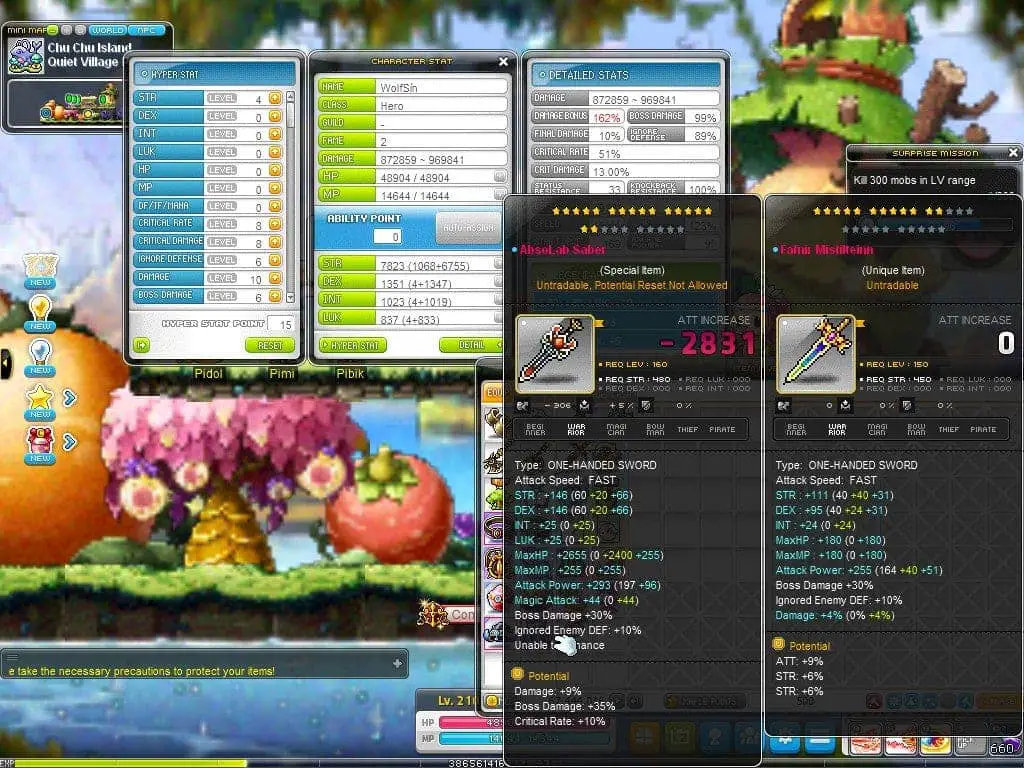 After defeating the regular version's bosses, the next step you need is to defeat the bosses of chaos root Abyss.
They are stronger because they have new mechanics, better HP, and better defense. Collect the drops of Shards from each boss to exchange them for gears.
For exchange, you require five shards for Hat, Top, and Bottom portions of equipment, and for weapons, you need 15 pieces. Try to collect as much as possible by defeating them more than once.
Also read: How To Jump Attack With NightWalker?
What Is The Effect Of Chaos Root Abyss Set?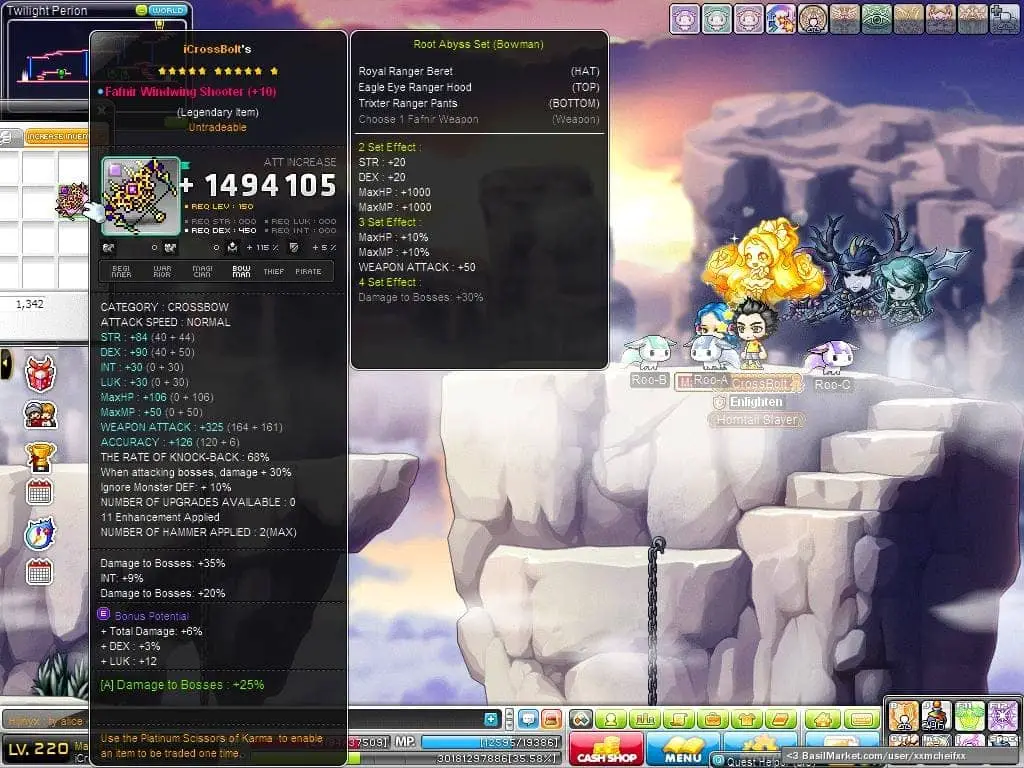 By accomplishing Chaos Root Abyss, you will get a bonus as:
For 2 Pieces, +20 of Main and Secondary Stat plus, 1,000 Max HP.
For 3 Pieces, +10% MaxHP and +50 of Attack Power
For 4 Pieces, +50% Boss Monster Destruction
Furthermore, with Warrior CRA Equipments, you will get Fafnir weapons which are as follows:
Fafnir Hero's Penitent Tears
Fafnir Twin Cleaver
Guardian Hammer
Guardian Cleaver
Moreover, the pieces of equipment also include Lightning Striker, Warrior's Mistilteinn, Hayato's Raven Ring, and a few more.
With Mage CRA equipment such as a Royal Dunwitch Hat, Trixter's Dunwitch Pants, and Dunwitch's Robe, you will get the following Fafnir Weapons:
Fafnir Mana Taker
Fafnir Mana Cradle
Fafnir Mana Crown
Fafnir Scepter
Fafnir Indigo Flash
In the case of Bowman CRA Equipment, you will get Royal Ranger Beret, Trixter's Ranger Pants, and Eagle Eye's Ranger Cowl along with Fafnir Weapons which are:
Fafnir Marksman's Windwing Shooter
Fafnir Bowmaster's Wind Chaser
Fafnir Pathfinder's Ancient Bow
In the case of Thief CRA Equipment, you will earn Royal Assassin Hood, Trixter's Assassin Pants, and Eagle Eye's Assassin Shirt. Fafnir Weapons are Night Lord's Risk Holder, Phantom's Ciel Claire, Cadena's Chain, and a few more.
Wrapping It Up
That is how you can earn Fafnir weapons or gears by clearing prequests while collecting health points. Send this article to your gaming friends who might find it worthwhile. Also, feel free to make additions to these details by writing them down in the comments section.