The sheer scope of FromSoftware's latest gem, Elden Ring, and its world is truly remarkable. It is filled with a myriad of diverse environments, from towering mountains to ancient ruins and fog-enveloped forests. This richly-detailed landscape offers endless possibilities for exploration, as players can stumble upon hidden paths, secret chambers, and enigmatic artifacts at every turn.
The thrill of uncovering new mysteries and encountering unknown dangers is an integral part of the game's allure and one that draws players ever deeper into its spellbinding realm.
Whether you're venturing into the unknown or simply marveling at the breathtaking vistas, you are bound to come across strange locations and objects, much like the Liurnia Highway North statue. If you are uncertain about what precisely it entails, then you have come to the right place. Let us delve into the subject more deeply.
While playing Elden Ring, you may have stumbled upon those hunchback statues scattered throughout the Lands Between that shoot out a beam of blue light to lead you toward a destination. There's one of those quirky statues situated on Liurnia Highway North. However, the snag is that it's pointing downwards, which can be exasperating for many players.
Don't worry, dear player, as the blue light isn't deceiving you. In reality, it's indicating the approximate direction of the Cliffbottom Catacombs. To get there, simply proceed down the same path, sticking to the right side of the map as you traverse through an arch. Before long, you'll find yourself standing in front of the entrance to the Cliffbottom Catacombs.
If you're eager to learn more, we highly recommend continuing to read on to discover everything there is to know about the enigmatic statue situated on Liurnia Highway North and how it can assist you on your quest as a Tarnished. Remember to take a breather from the primary game and indulge in the numerous side activities that Elden Ring has to offer. So, without any further delay, let's jump right into it.
Also Read: What Does Multiplayer Status on Elden Ring Map Mean?
The Liurnia Highway North Statue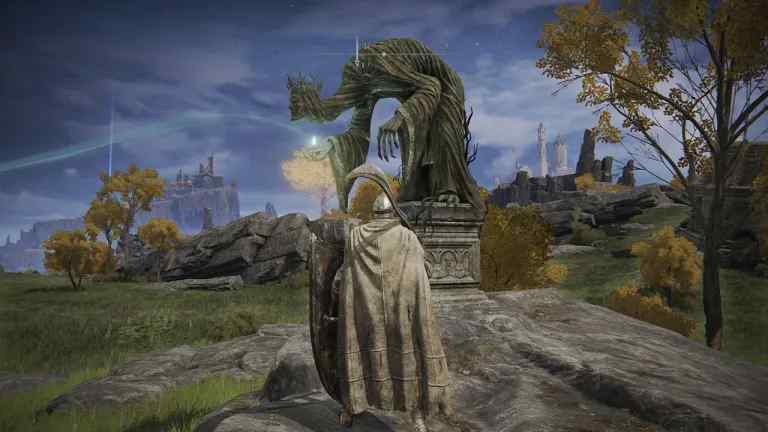 Liurnia of the Lakes is a vital locale in Elden Ring, replete with bountiful treasures waiting to be discovered by intrepid Tarnished adventurers who dare to face the game's challenges head-on. FromSoftware has indeed hit the nail on the head with its innovative open-world gameplay, and we couldn't be more thrilled about it!
While navigating the lush terrain of Liurnia, you might chance upon the peculiar statue that catches your attention and ignites your inquisitiveness. Fret not, as we're here to provide you with all the necessary information you need to satisfy your curiosity.
Hunched Statues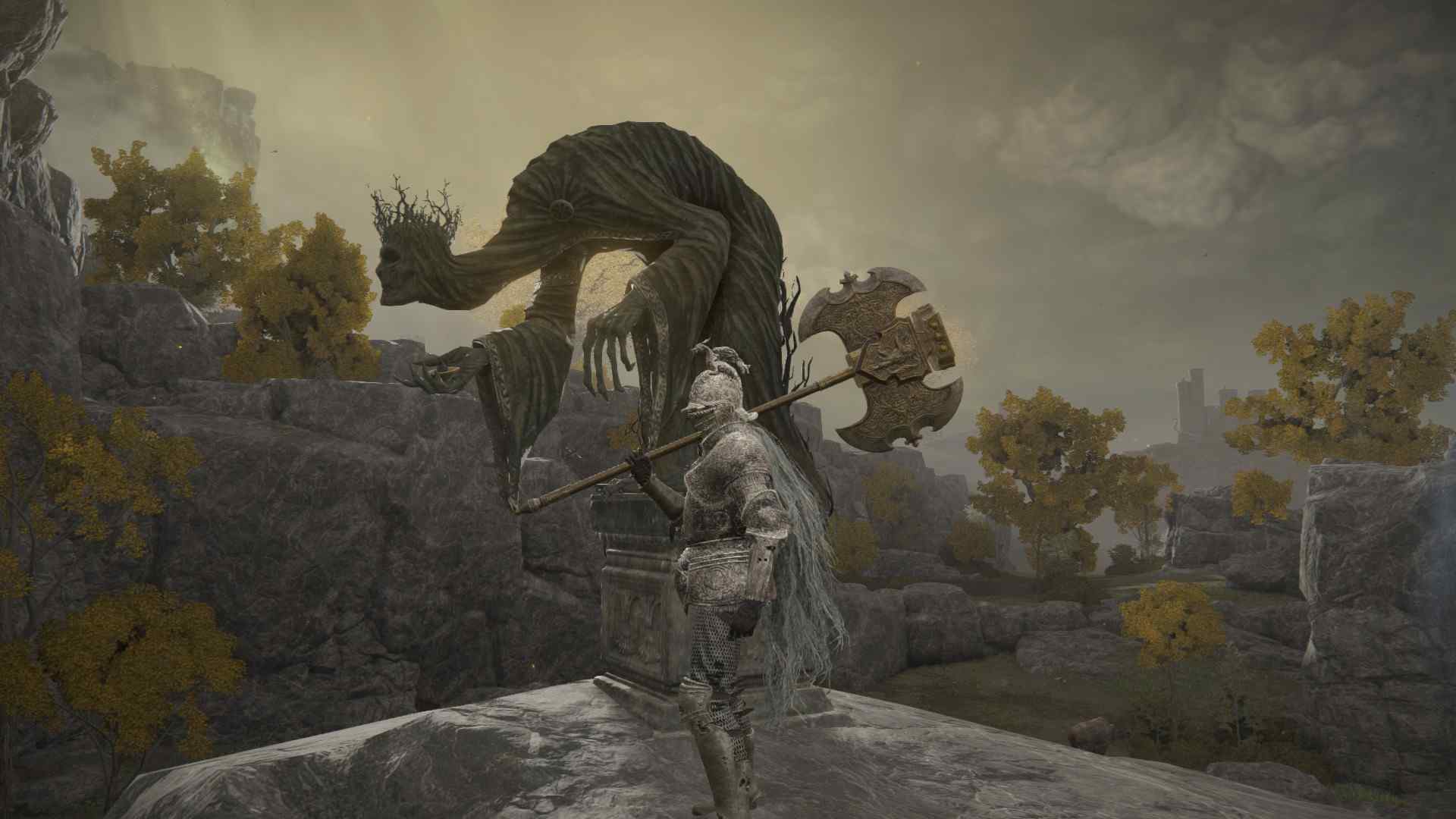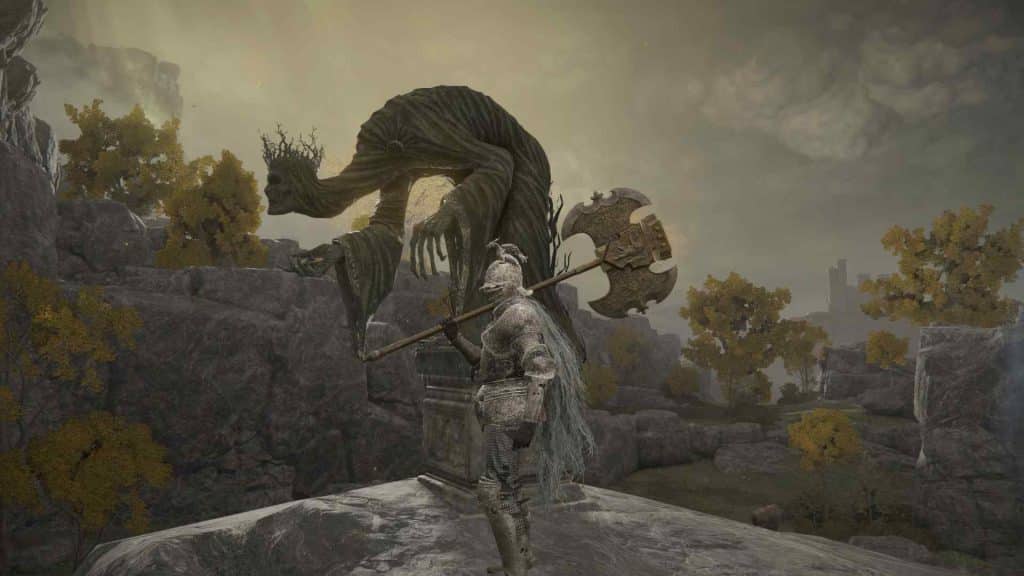 As you traverse through the expansive and diverse Lands Between, you'll encounter numerous instances of these statues. These curious sculptures are quite distinctive, featuring a hunched-back stance and unsettling attire that gives off the impression they've just emerged from Ya'hargul – an intriguing idea for a crossover event!
Most of these statues hold a glowing blue light that hovers slightly above their palms. When a player interacts with one of these statues, they reveal that their purpose is to assist those in need of guidance. The statues emit a bright blue beam of light, which serves as a beacon for Tarnished players to follow and uncover hidden locations in Elden Ring, such as the catacombs.
Catacombs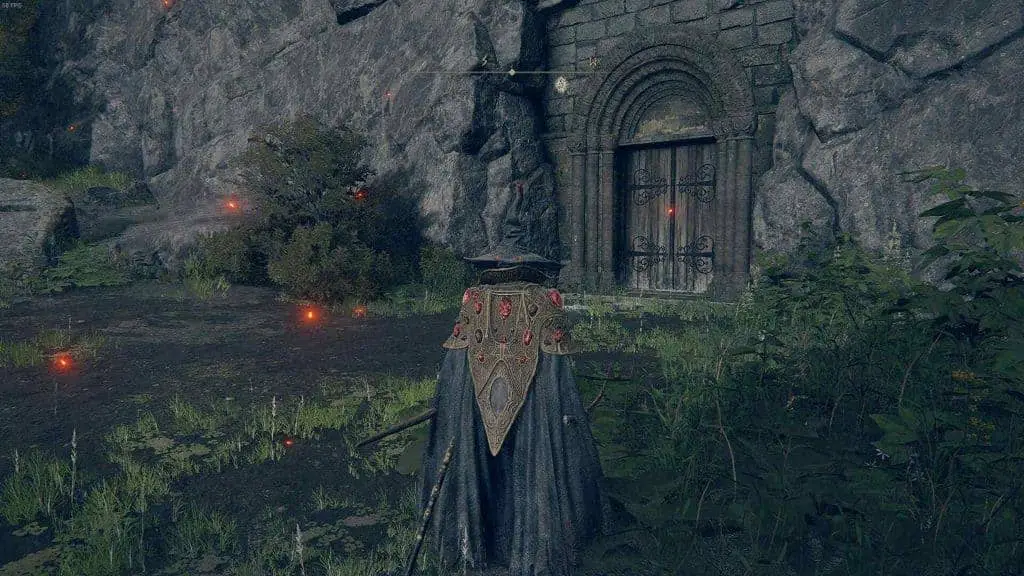 The catacombs in Elden Ring are clandestine dungeons intended to be final resting places for the deceased. However, don't expect to find any sense of serenity or repose in these dark corners, as they are rife with ruthless enemies that will stop at nothing to tear you apart. There are several catacombs scattered throughout the game, each offering plentiful rewards and ample opportunities for farming throughout your journey.
The catacombs serve as an excellent respite from the primary game, providing a welcome change of pace while still offering engaging exploration, intense combat, and challenging boss battles that make you feel like you've truly earned the rewards. If you're looking for a fun diversion and are in dire need of Runes, then the catacombs may be an ideal destination for you.
Liurnia Highway North Statue Pointing to the Ground
Amongst all the hunchback guiding statues scattered throughout Elden Ring, the one situated at the peak of Liurnia North Highway has sparked the most conversation among players online. This is largely due to the fact that the location it directs you towards is not immediately visible even after following the beam of light emanating from its source.
It's almost as if the developers intentionally injected a sense of enigma and intrigue into what would otherwise be a straightforward traversal mechanic. The beam of light may lead to an underwhelming conclusion, ending abruptly by merely pointing to the ground. However, there is no need to fret as it is not intended to throw you completely off track. Rather, the statue simply directs you toward the general vicinity of your next destination, which happens to be the Cliffbottom Catacombs.
Cliffbottom Catacombs: How to Get There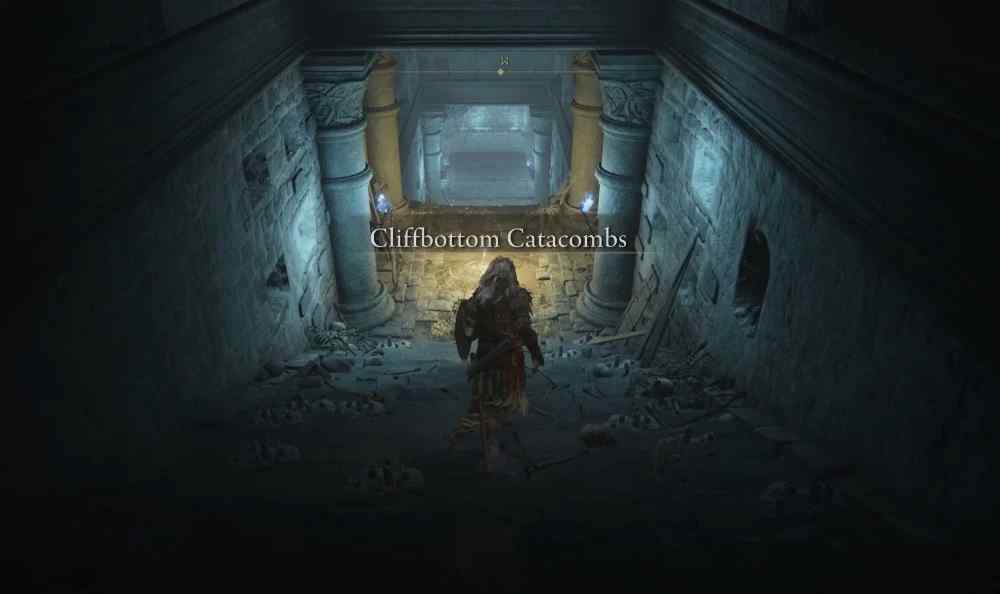 Catacombs found at the bottom of the cliffs in the eastern side of the Liurnia of the Lakes region, now infested by Imps and Omens
The Cliffbottom Catacombs is a location in Elden Ring that can be found in Liurnia of the Lakes. To access the catacombs, one must follow the cliffside heading south along the eastern edge of Liurnia of the Lakes. The entrance to the catacombs can be found there.
Exploring the Cliffbottom Catacombs can be a rewarding experience for players looking to stock up on items and gear. While some of the items found here may be low-level, there are also weapons and Rune Arcs that can greatly benefit players. In addition to the loot, players can also enjoy the challenge of battling through the catacombs and facing off against the enemies that reside within.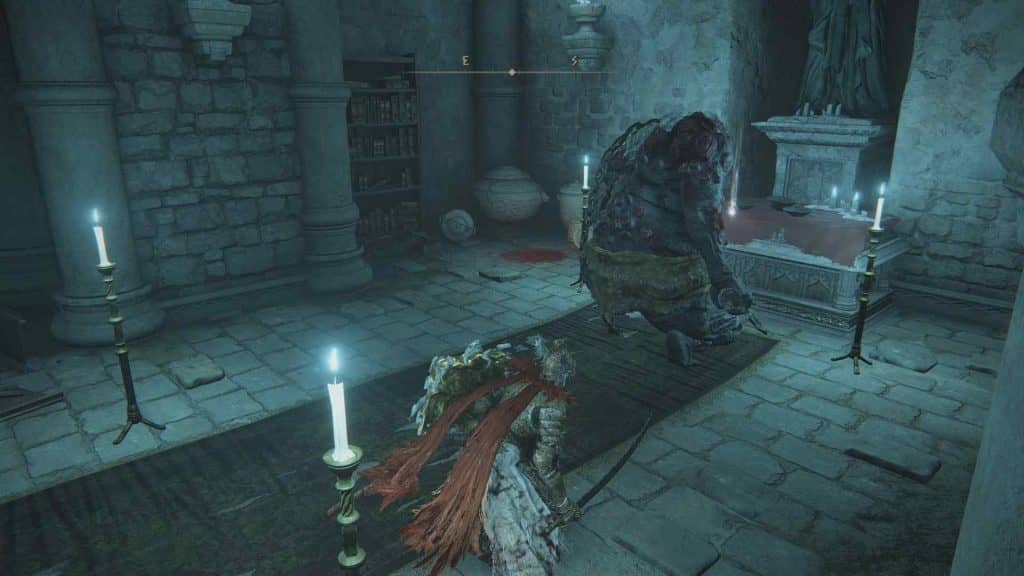 Indeed, reaching the Cliffbottom Catacombs isn't as difficult as it may seem at first. After following the blue beam of light emitted by the hunchback statue until it abruptly ends at the ground, all you have to do is keep moving downwards from there.
To easily navigate towards the Cliffbottom Catacombs in Elden Ring, players should initially travel in the southeast direction and continue moving towards the south direction.
After a brief period of travel, they should eventually come across a rocky archway. Once they arrive at the archway, they should continue moving in the south direction while staying close to the right side of the pathway.
After traversing through the archway and staying on the right side, players will soon be able to locate the entrance to the Cliffbottom Catacombs. It's a fun and rewarding location that's definitely worth exploring!
Related: Where to Go After Morgott in Elden Ring?
Is It Worth the Effort?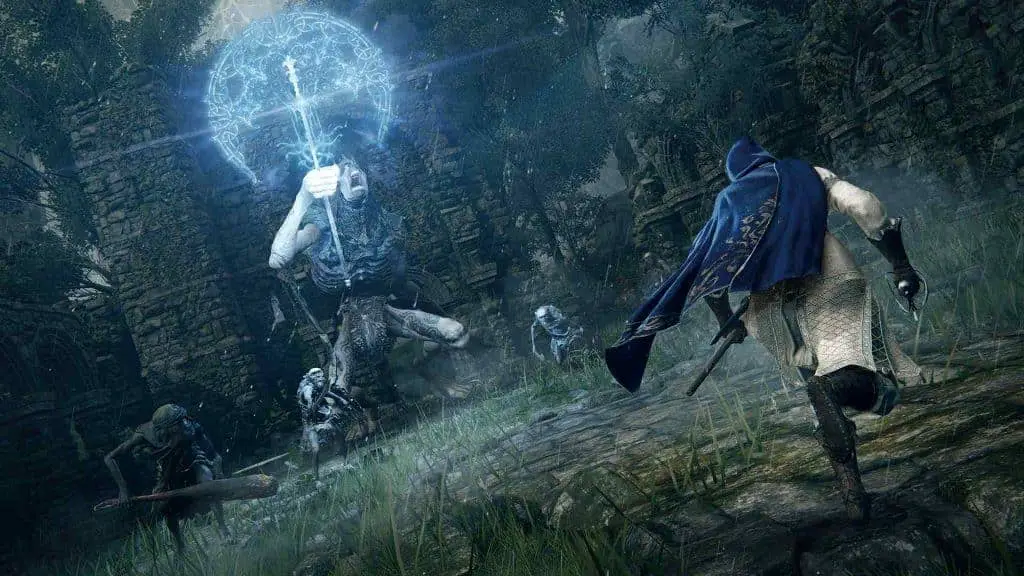 It's important to note that while we believe every aspect of Elden Ring is worth exploring, some players may have different preferences. For those on a tight schedule or who simply want to focus on the main story without grinding, the catacombs and hunchback statues may not be a top priority.
However, for players who enjoy side content and are looking for a challenge, these locations offer a great opportunity to earn valuable items and experience. Ultimately, it's up to each player to decide how they want to approach the game and what aspects they want to prioritize.
Items in the Cliffbottom Catacombs
These are all the items that you can gather and farm:
Grave Violet
Root Resin
Hefty Beast Bone
These are the upgrade materials that you can find:
Grave Glovewort (2)
Grave Glovewort (3)
Ghost Glovewort (3)
This is all the equipment and magic you will come across:
Nox Mirrorhelm
Scythe
Warped Axe
These are the unique items, Ashes, and Keys in the area:
Rune Arc
Prattling Pate "Wonderful"
Page Ashes
Kaiden Sellsword Ashes
Enemies in the Cliffbottom Catacombs
The only regular creatures that you will encounter:
There is only one minor boss in the Cliffbottom Catacombs:
Also Read: How To Get Past Bridge of Iniquity in Elden Ring?
Conclusion
That concludes today's guide on the Liurnia Highway North Statue in Elden Ring. Elden Ring boasts the most extensive and sprawling world ever crafted by FromSoftware, surpassing even their previous masterpieces. Within this world, it's all too easy to find oneself in uncharted territories, uncertain of what direction to take next.
However, this sense of disorientation is also what makes exploring the vast expanse of the Lands Between so enchanting. Even losing one's bearings can be an exhilarating experience, as it often leads to the discovery of unexpected, and wondrous sights.
We sincerely hope that our guide helped you learn more about the Liurnia Highway North Statue and what it entails. If it did, be sure to leave a comment down below and let us know. Your feedback is much appreciated. Good luck, Tarnished!